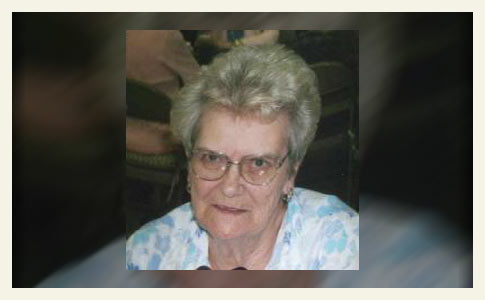 Rosie Humphreys and her poodle were killed by a neighbor's loose pit bull.
Police Press Conference
UPDATE 12/04/09: Police Chief John Nicholson said the attacking dog was indeed a pit bull, an unaltered 3-year old male, with full registration papers. "The dog did not appear malnourished or abused and had no visible signs of mistreatment," he said. The dog did not slip its collar or break its chain either. According to Nicholson, the dog had gotten loose because the metal "D" ring on its collar failed. No criminal charges are expected to be filed against the owner, Brian Pennington.
Statement from Chief John Nicholson:

"The incident that occurred on November 30th at 235 Austin Avenue in Flora has devastated several families.

This was a very tragic event for not only the families involved, but the neighborhood a well.

Rosie L. Humphreys, 85, of 235 Austin Avenue Flora, Illinois was not only a citizen of Flora, but was so much more to so many.

After speaking to several neighbors and friends in this neighborhood, it became apparent that Rosie was everybody's Grandmother within that area.

This is exactly why this case is so tragic, as Ms. Humphrey could have been anybody's grandmother at any town USA.

Before I go into a timeline of the events of November 30th, I would like to clarify some misinformation, clear some disinformation and stop some on going rumors.

The particular breed of the dog involved in the attack was an American Pit Bull Terrier.
He was an unneutered 3 year old male, with full registration.

The dog was purchased from a registered breeder at 6 months of age by Brian Pennington of Flora.

There is no available information that it had ever been trained by its owner, Brian Pennington to attack or fight in any manner.

The dog was Pennington's family pet.

The Flora Police Department or the Clay County Health Department Animal Control office have never received a single call as to this particular dog or the owners address at any time.

There has been no documented or reported cases, where this dog has displayed any aggression towards people or other dogs.

The dog did not appear malnourished or abused and had no visible signs of mistreatment.

The dog did not slip its collar, break the chain or dig its way out of the kennel..."

--snip--

"...All available evidence indicates that the factory installed metal "D" ring on the leather collar broke, which released the dog.

The metal "D" ring was of normal size for this collar type.

The metal appeared normal in wear and condition.

On December 1, 2009 a forensic autopsy was conducted by Dr. John Heidingsfelder at the Clay County Hospital.

The preliminary results showed the cause of death was due to Exsanguination, due to transected Carotid Artery, due to bite mark lacerations to the face, neck and extremities.
The manner of death was ruled accident.

After careful review of the applicable criminal statutes that could apply to this case and all physical evidence, witness statements, and background investigations, it was determined by the Clay County State's Attorney's Office that there will be no criminal charges filed at this time against Mr. Pennington."
12/01/09: Police Say Family Pit Bull "Snapped"
According to police, the family pit bull that killed Rosie Humphreys and her poodle on Monday had no history of displaying aggression. Neighbor David Bohnman, who lives across the street from the victim, said he heard screams and saw something he will never forget: his lovely neighbor and friend being killed by a pit bull. Geb Borders with the Illinois Police Department said that Humphreys suffered fatal injuries to her "neck and facial area."
The victim reportedly had two poodles and often walked them up and down the street. Neighbors said the pit bull was quiet, "so quiet many didn't know he was there until now." Yet on Monday, the pet pit bull broke free from its collar and fatally attacked Humphreys and her dog. Police say they have "no idea why" the pit bull that lived two houses down and has for years suddenly snapped. No previous reports of aggression have been made to authorities about the pit bull.
11/30/09: Woman and Dog Killed by Pet Pit Bull
Flora, IL - In a fatal dog attack that appears to have begun with "pit bull dog-aggression," an 85-year old woman was mauled to death by a pit bull after the animal killed her small poodle. Police say Rosie Humphreys had taken her dog for a walk Monday afternoon. The pit bull had reportedly been secured with a log chain and a heavy collar, but broke the chain, freeing the dangerous animal to kill Humphreys and her dog. An autopsy is scheduled for Tuesday.
Statement from Chief John Nicholson:

"On November 30, 2009, at approximately 2:18 p.m., Clay County 911 dispatch center received a 911 call of a pit bull attacking a woman at a residence on the 200 block of Austin Ave. here in Flora. The 911 telecommunicator dispatched Flora City Police Officers and Clay County Ambulance Paramedics to that location.

Upon officer's arrival, neighbors had gained control of the pit bull which had attacked an elderly female. The pit bull had apparently also attacked and killed a smaller dog owned by the victim. Officers along with citizens rendered first aid to the victim until paramedics arrived. The efforts to save the elderly female were not successful.

Pronounced dead at the scene by Clay Co. Coroner Gary Bright was 85-year-old Rosie Humphreys of Flora. It appeared she died of injuries she received from the attack by the pit bull. The dog's owner and police officers were able to contain the dog in a pet carrier until Clay County Animal Control personnel arrived. An autopsy has been scheduled for Dec. 1, 2009.

Nicholson would like to thank the assistance provided to his agency by the Clay County sheriff's office, Clay County state's attorney's office, Flora/Clay Co. animal control/health department and by the crime scene services provided by the Illinois State Police."
View Related ZUPF video
Related articles:
12/20/09: Son of Rosie Humphreys Starts Campaign to Ban Pit Bulls in Flora
08/12/09: 2009 Fatality: Leesburg Man, 20, Killed by His Two Pit Bulls...