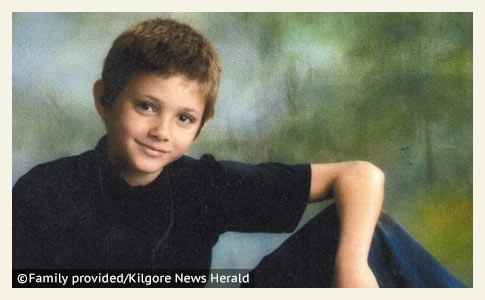 Going National
Henderson, TX - In a highly emotionally charged event, nearly 70 people gathered on the steps of the Rusk County Courthouse this morning calling for the banning of pit bull dogs. The protest comes about two weeks after 10-year old Justin Clinton was mauled to death by two family pit bulls across from Leverett's Chapel School. Among those attending the protest was Cynthia Kent, a Tyler attorney who served for several years as a district judge in Tyler.
Kent and others vowed to take the fight to ban pit bulls to the national level.
Kent said she would speak with U.S. Rep. Louie Gohmert of Tyler about the prospect of national legislation. This is undoubtedly due to the fact that the pit bull problem -- as well as the issue of dogfighting -- is a national problem, which has been inflicting traumatic injury and death upon American citizens for nearly 30 years. Please see DogsBite.org's recent video to the President: DogsBite.org Asks if the President's Plan Would Cover Victims of Violent Dog Attacks.
DogsBite.org praises Justin Clinton's family and all of his supporters for their brave efforts. The family has also started the "Justice for Justin: Outlaw Pit Bulls" campaign. The goal is to get as many Texas citizens as possible to sign a petition to outlaw pit bulls in Texas. Justin's Aunt, Pam Ford told reporters, "People need to be aware what's going on with this breed of dog." She then references the pit bull's "killer bite" that was artificially selected for the purposes of dogfighting.
The "killer bite" does exactly what it was designed to do: Maims and kills.

Related ZUPF video
Related articles:
06/18/09: 2009 Fatality: 2 Pit Bulls Kill 10-Year Old Boy in Rusk County, Texas