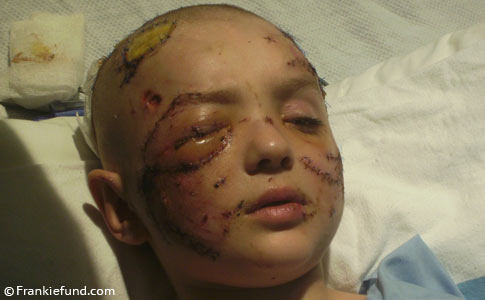 Frankie Flora was attacked by a pit bull adopted out by "Out of the Pits" rescue.
Hoe Bowl Mardi-Bob
Wappingers Falls, NY - A bake sale held last week at a Super Stop & Shop raised about $10,800 for Frankie's future medical care. Organizer Dora Celestino said, "It was outstanding. The whole community came together." Celestino said she called Frankie's mother, Maria Flora, during the event. The crowd shouted their greetings to the mother and son. Celestino said, "She told me for the first time she had cried tears of joy since the accident."
This Saturday, a Bowl-A-Thon will be held for Frankie, organized by Karen Runza. During the event, residents will get the chance to help the little boy who has been hospitalized at Westchester Medical Center since the attack. People can donate $20 and play three games at the Hoe Bowl Mardi-Bob in Poughkeepsie. Runza said she hopes people will turn out for the fundraiser. "The family is going to need money -- a lot of money -- for surgeries," she said.
Frankie Flora Bowl-A-Thon (May 30)
Hoe Bowl Mardi-Bob
55 Taft Ave., Poughkeepsie
Date: Saturday, May 30
Time: 2pm
Contact: lhicks930 "at" hotmail.com
Pay it Forward to Frankie (June 6)
Radio Woodstock WDST 100.1
LIVE at FishKill Pools
822 Route 9, Fishkill, NY
Date: Saturday, June 6
Time: 11am - 1pm
Contact: Fishkill, 845-896-1772
Rockin' Blues Concert and BBQ (June 28)
Kicking Horse Grill
17 Pease Ave, Southport, CT
Date: Sunday, June 28
Tickets: $20
Contact: roxyperry1 "at" aol.com
Frankie Flora Family Fun Day (Aug. 2)
Mid County Rod & Gun Club
650 Waterbury Hill Road, LaGrangeville
Date: Sunday, August 2
Time: Noon - 6pm
Tickets: $25 adults* (children under 12 are free)
Contact: frankiefund "at" yahoo.com
*The cost includes all-you-can-eat barbecue
FrankieFund.com
Frankie's family has set up a trust fund at
FrankieFund.com
and asks for donations to be used specifically for long-term reconstructive and cosmetic surgeries to minimize the deformities Frankie will be left with, as well as psychological ramifications from the trauma.

Related ZUPF video 1 | Related ZUPF video 2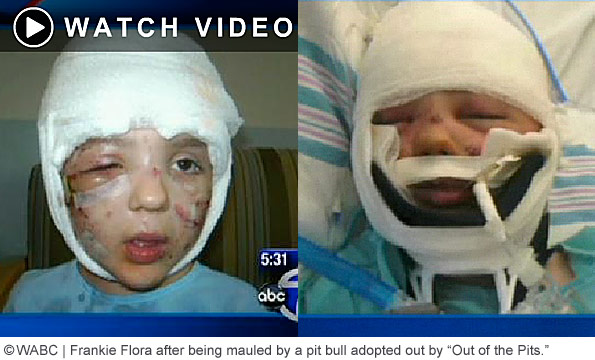 Related articles:
04/17/09: Coverage of the Frankie Flora Pit Bull Mauling - DogsBite.org