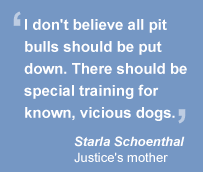 From left: Justice Paradis and mother Starla Schoenthal.
Meet Justice Paradis
Surrey B.C. - According to CBCnews.com, the parents of Justice Paradis have agreed to put their pit bull named Haze down after the animal attacked the boy. Yet the offending dog continues to be chained outside the father's home. At the time of the attack, Justice was visiting his father, Dejal-Blue Paradis, who lives across the street from his mother's home. Justice's mother, Starla Schoenthal, and father did not marry and reside at separate homes.
The pit bull belongs to the father's family, and Paradis said he blamed himself for letting Justice play with the family dog, which was not used to children, without adult supervision. Paradis intercepted the attack by strangling the dog and throwing the animal on a glass table. Justice, however, was bitten on the face and near the eyes, including a 15-centimeter gash on the face. He was rushed to Surrey Memorial Hospital and underwent surgery.
"I don't believe all pit bulls should be put down. There should be special training for known, vicious dogs," Schoenthal said.
Given the above quote by Schoenthal, it remains to be seen what will become of Haze. It seems she believes that by passing the dangerous dog off to a new owner after a period of "special training" (at a cost tax payers pick up?) that the animal will be a safe pet. What she does not know is that once that dog enters into the "pit bull rescue" market, the "special training" may not occur, and the history of the dog's vicious attack on her child may vanish.
Related articles:
02/06/09: Katrina Rescue Fraud: Dogs Hijacked by "Trainers" and Pit Bull Advocates
10/14/08: "Shuffling" a Pit Bull After a Dangerous Dog Court Hearing
07/31/08: Coverage of Pit Bull Attacks and SPCA Issues in Surrey, BC