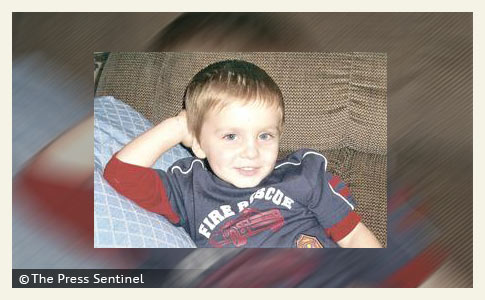 Dustin Faulkner, 3-years old, was mauled to death by his neighbor's husky.
Wolf-Hybrid Noted
UPDATE 03/25/09: A person under the username "family" left a message about the death of Dustin Faulkner indicating that the dog that killed the little boy was a wolf-hybrid, specifically a "half husky-half wolf." The last response written (March 23), said that the dog had been put down. No other details were provided. DogsBite.org will try to locate more information about the involved breed, in addition to whether or not the attack occurred "on-property."
03/24/09: Victim: Dustin Elijah Faulkner
Wayne County, GA - 3-year old Dustin Elijah Faulkner was killed by a neighbor's dog this past Sunday. Investigators are still puzzled as to why the dog, a pet husky that had played with Eli before, suddenly attacked. The dog was shot by its owner Aaron Ralph who attempted to rescue Eli at the scene. According to Detective Bruce Williams of the Wayne County Sheriff's Office, the dog had to break free from her collar on her chain before she could attack.
"Basically, what happened was the little boy and his neighbor were walking between the houses away from the dogs," Williams said. "The dog that attacked could not have gotten to them if he hadn't gotten off his leash." Eli was walking with another child, a 5-year-old girl who lived next door. He got a sand spur in his foot, and was crying out as his friend tried to remove it when Tasha, the dog, suddenly broke free from her collar and attacked.
Williams said that she ran inside and got her mother's roommate. He pulled the dog off and "shot the dog." Williams would not say at this point in the investigation whether or not negligence was involved in the case. Sheriff John Carter said that to the best of his knowledge, there have not been any problems with this dog showing vicious tendencies before. Carter also said that at this point, the case does not seem likely to lead to criminal charges.
Eli's mother had allegedly been reported to the Wayne County Department of Family and Children Services on more than one occassion. The incident is still under investigation.
Related articles:
04/23/18: Fatal Wolf-Dog Hybrid Attacks - The Archival Record - DogsBite.org

01/21/09: 2009 Fatality: Brianna Shanor, 8-Years Old, Killed by Chained Dog in Hanover
04/08/08: 2008 Fatality: Abraham Jonathan Tackett, Killed by Chained Dog