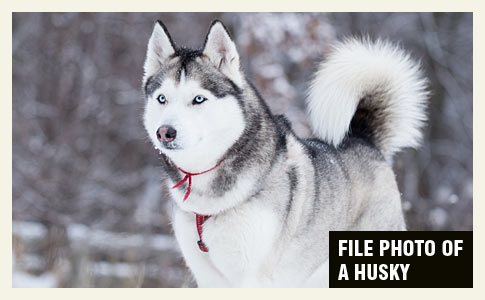 Abraham Tackett, nearly 2-years old, was killed by a chained husky-mix.
Chained Dog Kills Boy archived
Fort Yukon, AK - A boy was killed in Fort Yukon this week after he wandered into a neighbor's yard and was attacked by a chained dog. Abraham Jonathan Tackett was pronounced dead on arrival at the village clinic following the attack. He would have been 2-years old on May 19, said his grandmother, Mary Beth Solomon. The boy got his middle name from his great-grandfather, Jonathan Solomon, a prominent Fort Yukon orator and traditional Gwich'in chief, she said.
At about 3 pm, the boy and his father were preparing to run some errands on a four-wheeler, according to police officer Chris Inderrieden. They stepped outside into the front yard, and the father put the child down while he ran back inside for a moment, he said. In this time, the boy wandered into the neighbor's back yard about 50 yards away. There were a number of chained dogs in the neighbor's yard that had recently been fed and were still eating, Inderrieden said.
Sadly, the child approached a 3-year old husky-mix and the animal attacked, apparently protecting its food, Inderrieden said. When his father, Clayton Tackett, came back outside, he started looking for his son. Alerted by a neighbor girl, pointing him in the direction of the dogs, Tackett ran into the backyard and saw the dog on top of the boy. He immediately pulled the animal off the boy and rushed him to the Yukon Flats Health Center, where he was pronounced dead, Inderrieden said.
      The fatal attack is the second in the last dozen years in Fort Yukon, a village of about 600 that sits along the Yukon River some 145 miles northeast of Fairbanks. In 1996, a 4-year-old boy was killed by a previously nonviolent malamute-husky mix in a sled dog lot behind the village store, according to news reports at the time.
This dog also had no history of aggressive behavior, but police shot it Monday night in the interest of public safety, Inderrieden said. - James Haplin, Anchorage Daily News, Published April 29, 2008
Related article:
01/21/08: 1991-2002 Alaska Led US in Dog Bite Fatalities and Injuries