Pit Bull Attacks Increasing
Indianapolis, IN - Since June of 2008, DogsBite.org has recorded 4 limb amputations due to pit bull attacks in the State of Indiana, specifically in the South Bend/Elkhart and Indianapolis regions. To our knowledge, no other state matches this alarming record. As the recent case of Brenda Hill shows, the state also lacks a felony dog attack law. Under current state law, only a misdemeanor punishes owners of dogs that inflict serious and lifelong debilitating injuries.
Recent Indiana Amputations and Fatal Attack
Indianapolis Pit Bull Bite Statistics
A recent examination of animal control records by The Indianapolis Star shows that pit bull bites are at a record high -- 282 in 2008, an increase of 33% percent from the previous year and about three times the total from 2006. In addition, an ordinance adopted two years ago to try to hold owners more accountable has failed (it netted just one person). All the while, bites are increasing, and horrific maulings, such as what happened to Brenda Hill, continue.
The Star's review of dog bites found that pit bulls not only are responsible for more bites than any other breed, but that those bites more often cause significant injury. On top of this, Indianapolis' new shelter director wants to end the shelter's policy of routinely euthanizing pit bulls and adopt out as many as he can. "I really want to give every dog the last possible chance I can," said Douglas Rae, who took over Animal Care and Control last month.
We believe Rae's solution is a recipe for future disasters, like the one involving Brenda Hill and the 2006 attack on Amaya Hess.
Indianapolis Map of Pit Bull Attacks 2008
The map of police responses after pit bull attacks shows the danger existing pit bulls pose to residents already. Yet Rae wants to spend public funding to "rehabilitate" shelter pit bulls so that they can be adopted back into the community. The cost of retraining an aggressive dog to be a house pet is likely considerable. Shouldn't these funds be used to limit new pit bulls coming into the shelter instead, such as through a mandatory pit bull sterilization law?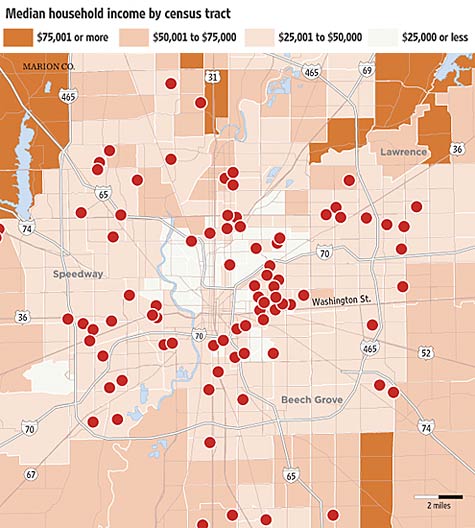 Animal Control Response Time: 23 Hours
On the heels of the pit bull bite article, another disturbing piece was released about Rae's department. City animal control's response time is an average of 23 hours. Cathi Wahnsiedler, who feared for her family's safety after a stray pit bull showed up on her lawn, said it took 3 days for animal control to respond. Her husband Ken said that the only way to get a faster response is when the dog actually attacks a person. This translates into a "non preventative" policy.
Improving the response time is critical. Stray dogs are disproportionately pit bulls with "unknown" and potentially unstable backgrounds.
In November, an internal study of response times found a number of areas where improvement was needed, including additional training for phone operators. Victim Mary Williams would hardly disagree. When she was bitten on the elbow by a pit bull-mix in August, the 73-year-old woman said she tried to alert authorities. But after the Mayor's Action Center put her "on hold forever," Williams said, she gave up and went to the doctor on her own.
When she came home, an ambulance was parked in front of her neighbors' house. The same dog had attacked 12-year old Christian Driskell, taking a chunk out of his leg.
The Indianapolis pit bull problem will not improve by altering existing shelter policy so that "more" pit bulls can be adopted into the community, nor does it seem a wise use of public funds. A preventative policy would be to reduce the number of new pit bulls arriving into the shelter in the first place. Little Rock, Arkansas has a progressive pit bull law that combines: mandatory sterilization, anti-tethering and a "no adopt out" pit bull policy in the city shelter.
This is the type of plan that will prevent future victims.
Related articles:
02/10/09: Brenda Hill, 68, Attacked by Pit Bulls While Taking Out the Trash
02/08/09: Elkhart Pit Bull Owner May Suffer Amputation After "Redirected" Attack
11/09/08: Indiana Attack Victim Responds to Recent Pit Bull Attacks
11/07/08: 2 Adults Severely Attacked by Pit Bulls in Indianapolis
09/14/08: Flashback: S.F. Pit Bull Sterilization Law Has Successful Results
07/01/08: Pit Bull in Greensburg, Indiana Chews Off Owners Arm
06/16/08: Flashback: Amaya Hess 2 Years After Violent Pit Bull Attack