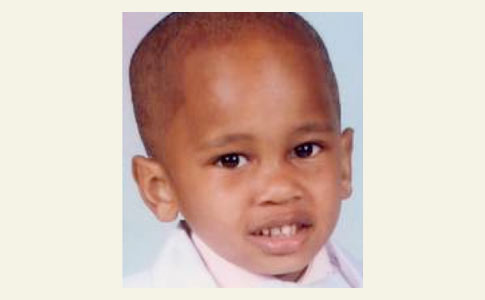 Tony Evans Jr., 3-years old, was killed by his neighbor's chained pit bull.
Child Killed by Pit Bull
Jackson, MS - On July 22nd, Chassidy Vardaman went to her front porch and called the children home. But when they came, one was missing. The family quickly began searching the neighborhood. Tony was last seen playing with some children across the street at the home of Shannon Reason. They knocked on his door to ask if he'd seen the toddler.
He hadn't, but a while later Reason walked under his carport and made a terrible discovery. He found Tony's lifeless body next to his white male pit bull. The search ended in screams for help. Vardaman tried to fight back tears as she recalled the moments before she learned her son's fate. "He was just over there playing," she sobbed. "He just wanted to play with that dog."
For most of the afternoon, neighbors strolled in and out of Reason's yard. Meanwhile, 10 children, including Tony, played out front. Vardaman said she left Tony with the other children because she had to take care of her infant son, Antonio. But she said she walked outside often to make sure Tony was OK. The last time she checked, the little boy was playing with some girls.
No one heard the attack or saw the boy being dragged into the doghouse.
Reason said he begged officers that night to kill the animal. "Kill it. Just kill it," he said. Reason doesn't want a dog anymore. He feels sympathy for the child's family, but is also upset over the way police and the media reported the attack. He said there was "no party" at his house that day and that the child wandered over to his yard when no one was watching him.
Reason said he got his dog named Blue Eyes as a guard dog. The dog was always chained and never allowed to roam, he said. "Believe me, this was no pet," he said. "I've had more stuff stolen from this driveway. You wouldn't believe it." On the front of Reason's house hangs a "Beware Of Dog" sign. He said the dog worked because it "scared people away."
Across the street, the Vardaman home is in mourning.
Related articles:
07/23/08: 2008 Fatality: Mississippi 3-Year Old Boy Killed by Pit Bull