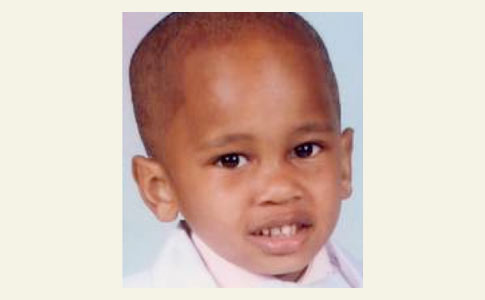 Tony Evans Jr., 3-years old, was killed by his neighbor's chained pit bull.
Pit Bull Kills Child
Jackson, MS - A 3-year-old boy was killed Tuesday night in south Jackson after he was grabbed and mauled by a neighbor's chained pit bull. Tony Evans Jr was transported to the University of Mississippi Medical Center, where he was pronounced dead. No one else was injured in the attack. Police spokesman Sgt. Jeffery Scott said police had to shoot the animal in self-defense. The pit bull survived the shooting and was taken into custody by the animal control unit.
Tony was last seen playing with a group of children across the street at the home of Shannon Reason. So, they knocked on his door to ask whether he'd seen the toddler.
He hadn't, but a while later Reason walked under his carport and made a chilling discovery: Tony's lifeless body next to his white male pit bull named Blue Eyes.
The search ended in screams for help. But Tony Evans Jr., 3, was dead ...
No one heard the attack. Police said the dog clamped down on Tony's neck and upper torso and dragged him inside a doghouse.
When police responded Tuesday night, Blue Eyes charged them, causing officers to open fire. The dog survived and is under quarantine. The 2 1/2-year-old pit bull will be observed for 10 days before officials decide whether it should be euthanized. - Mark Bonner, Clarion-Ledger, July 24, 2008
During a news conference, Assistant Police Chief Gerald Jones said the owner of the dog didn't violate any city ordinances because the dog was chained and confined to the property. Animal control will conduct an investigation to determine if
the dog is dangerous, he said. If the dog is designated as dangerous, the pit
bull can be euthanized or the owner will be required to follow stipulations in the city's dangerous dog ordinance, Jones said. Police continue to investigate.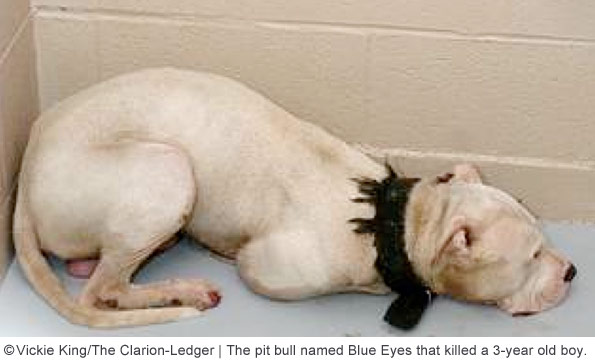 Related articles:
07/25/08: Mississippi Boy's Mother Discusses Fatal Dog Attack
07/23/08: 2008 Fatality: Mississippi 3-Year Old Boy Killed by Pit Bull
06/19/08: 2008 Fatality: Boy Killed by Pit Bull in Weslaco, Texas
05/19/08: 2008 Fatality: Boy Killed by Pit Bulls in Breckenridge, Texas