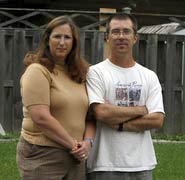 What Will It Take to Keep Dog Under Control?
Merideth and Patrick Kirmse want McHenry County officials to do something about their neighbor's dog. The pit bull has chewed through the fence two times, run loose numerous times, bitten other dogs and gone after people, including Merideth's husband. The dog has twice been declared "dangerous" by animal control. Yet, there are no laws in place to take further action.
Why not?
Most existing dog laws are outdated and written before fighting breeds became popular household pets. It's time to change these laws or continue to place our families and neighborhoods at risk.