Wednesday, January 24, 2018
Delta Tightens Reins on Untrained 'Support' Dogs in Cabin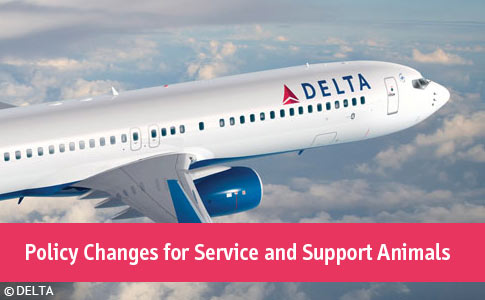 Delta creates stronger screening process for in-cabin service and support animals.
Delta's News Release
Atlanta, GA - Delta Air Lines has introduced "enhanced requirements" for passengers flying with service and emotional support animals. The policy change comes after a support dog repeatedly attacked a passenger in the face just before take off last June. The dog's owner could not stop his dog from attacking the victim, nor did the owner heed to multiple warnings the victim asked before the attack, "Is this dog going to bite me?" In July, we
issued a special report
about this attack.
Delta's new requirements provide stronger protection for passengers from untrained, uncaged emotional support animals in the aircraft cabin.
Our special report examined the widely abused loophole in three federal acts pertaining to service and emotional support animals (ESAs); the
unprovoked attack on Marlin Jackson
by a large unrestrained support dog just before "push back" of Delta Flight 1430; the
case against Delta Air Lines
and competing public interests; the
inconsistent federal and airline safety policies
in regards to service and support animals; and an addendum that examined psychiatric service animals.
Delta's Enhanced Requirements
Delta says the new requirements support their "top priority of ensuring safety for its customers," including passengers with trained service and support animals. Delta states they have seen an 84% increase in "animal incidents" since 2016, including urination, defecation and biting. In 2017, Delta employees reported an increase of aggressive acts from service and support animals, behaviors rarely seen in properly trained and working animals, according to the news release.
Prior to the "enhanced requirements" taking effect March 1, Delta required passengers traveling with ESAs and psychiatric service dogs to have a
signed letter
from a licensed mental health professional stating the passenger has a mental health-related disability; the passenger needs the animal as an accommodation for air travel or for an activity at the passenger's destination and that the person listed in the letter is under the care of the assessing mental health professional.
Under federal law, airlines must allow support animals for the disabled to travel free in the cabin. Delta is limited in how they can restrict them.
There are two new parts to Delta's enhanced requirements. Passengers traveling with an ESA or psychiatric service animal must submit a signed Veterinary Health Form and/or an immunizations record (rabies and distemper vaccinations) current within one year of the travel date and a signed Confirmation of Animal Training form to Delta's Service Animal Support Desk at least 48 hours before travel. Passengers with service animals must also provide proof of immunizations.
Up until March 1, Delta Air Lines did not require proof of rabies vaccinations for service or emotional support animals while traveling in the aircraft cabin. Delta simply exempted these animals, which are free to be uncaged in a cramped, crowded airplane. Some passengers bitten by these dogs likely had to receive
post-exposure rabies treatment
afterward because Delta, like most other airlines, did not require proof of a vaccination that is mandatory in all 50 states.
The
Confirmation of Animal Training
form consists of two questions 1.) I confirm that this animal has been
trained to behave in a public setting and takes my direction upon command
and 2.) I understand that if my service animal acts inappropriately, that it will be considered not acceptable for air travel and will be denied boarding or will be removed from the aircraft. A
similar requirement existed
when Jackson was horribly mauled in the face,
but required no signed form apparently.
The animal "must be trained to behave properly in public settings as service animals do," according to Delta's website. "A kennel is not required for emotional support animals if they are fully trained and meet same requirements as a service animal." -

Atlanta Journal-Constitution / Delta's website, June 9, 2017
Will the New Policy Reduce Fakers?
Hopefully, yes, but how many dog owners falsely claim, "
My dog doesn't bite?
" The enhanced requirements do show that Delta will be scrutinizing these cases more closely. "The rise in serious incidents involving animals in flight leads us to believe that the lack of regulation in both health and training screening for these animals is creating unsafe conditions across U.S. air travel," states John Laughter, Delta's Senior Vice President of Corporate Safety, Security and Compliance.
The policy changes show that Delta is creating a greater distinction between customers traveling with
trained
service and support animals and those with
untrained ESAs
, which by definition
do not require
any training. Delta is also requiring ESA owners to sign a pledge. The new measures are "intended to help ensure that those customers traveling with a trained service or support animal will no longer be at risk of untrained pets attacking their working animal," states the release.
"This new policy is our first step in better protecting those who fly with Delta with a more thoughtful screening process."

- Delta Air Lines
In addition to Delta's statistics, WebMD
published an article in December
citing national statistics from the U.S. Department of Transportation. "Complaints related to animals for people with 'unspecified' disabilities have surged by 400% in the last 5 years -- increasing from 411 in 2012 to 2,041 in 2016. In contrast, complaints related to service animals for people with visual impairments have remained relatively steady, about 13 each year for U.S. airlines," reports WebMD.
1
Groups that Oppose Delta's Changes
To help explain why the widely abused loophole in three federal acts pertaining to service animals and ESAs exists in the first place, one can look to the
organizations and people who oppose
Delta's modest enhanced requirements -- legal advocacy groups for the disabled and attorneys for the disabled. Such parties believe that requiring "proof" a service animal is in good health -- via a basic vaccination record -- is placing an undue burden on people with legitimate disabilities.
"The solution should involve poorly behaved animals not putting an increased burden on disabled people."

- Attorney and advocate Katie Tastrom

2
The only new requirement Delta placed on people with legitimate disabilities -- chiefly those with service dogs who have full protection under the Americans with Disabilities Act -- was the signed immunization form. When there are competing public interests in heightened security situations, such as flying in cramped quarters in an aircraft, both sides have to give ground. Delta requiring proof of vaccinations is not an "undue burden." This should have been a requirement already!
How to Strike the Right Balance?
With complaints about animals for people with 'unspecified' disabilities having swelled by 400% in the last 5 years, clearly a correction needs to be made. As pointed out by Delta and the WebMD article, people with legitimate disabilities are being negatively impacted by untrained dogs in the cabin and at airports by animals falsely identified as service animals and ESAs, primarily by online for-profit companies that promise letters from mental health professionals
so your pet can fly free!
Upon learning about Delta's new requirements, American Airlines said it was also looking into additional requirements,
reports Reuters
. "Unfortunately, untrained animals can lead to safety issues for our team, our passengers and working dogs onboard our aircraft. We agree with Delta's efforts and will continue to support the rights of customers, from veterans to people with disabilities, with legitimate needs," the Fort Worth, Texas-based carrier said in a statement.
As stated by Marlin Jackson's attorney last June, striking the right balance also includes his client, who was attacked in the face while trapped in a window seat, and the vast number of passengers who do not fly with service animals. "The other 99% of paying customers on that plane have a legitimate public interest as well to know that if they are seated next to a large unrestrained animal, that they can at least feel safe that that animal is trained," J. Ross Massey stated.
What is important to remember is that the Americans with Disability Act is guided by "reasonable accommodation," not any and all accommodation under any circumstances. As was so eloquently stated on a
Service Dog Central forum
, "reasonableness loves a compromise." It is reasonable for passengers to have the expectation that an animal will not attack them. It is reasonable for airlines to not have to accommodate
unusual service or support animals
in the cabin, such as snakes.
Lap-Held Service and Support Dogs
Delta's new policy still allows emotional support dogs to
sit on their owner's lap
. "The size of the animal must not exceed the "footprint" of the passenger's seat," states their website. Marlin Jackson, 44, was attacked in the face by a
50-pound support dog
seated on its owner's lap. That dog also had proof of a rabies vaccination. A repeat situation is possible if the owner of an untrained 50-pound support dog signs Delta's "Confirmation of Animal Training" form anyway.
Delta is taking the right steps in order to exclude more fake service and support dogs. However, the public is still stuck with the honor system.
In our special report last year, we argued that ESAs should be limited in size in airline cabins, particularly in lap-held conditions, because these dogs do not perform a task for persons with disabilities. The "sole function" of an ESA is to "provide comfort" to a person with disabilities. According to FAA regulations (
Section 3-3576
), lap-held service animals can be "no larger than a lap-held child," which is 25-pounds or less. Delta's new language does not state a weight limit.
Poor Policies Create New Victims
Since Delta's announcement Friday, there have been a slew of media reports, some expressing
annoyance at Delta and other airlines
due to the high volume of fraudulent service and support animals flying today. This is not limited to aircraft cabins either. One must consider the entire airport experience, as the
WebMD article portrays
, when Sharon Giovinazzo confronts an owner after its "alleged" service dog rushed up and bit her highly trained working dog at an airport.
Back in November, Brittany Langlois was
bitten by an "alleged" emotional support pit bull
while standing in the check-in line for JetBlue. What do you think her first question was afterward?
"Is the dog vaccinated?"
JetBlue told her they could not "legally" give her that information. JetBlue later issued a statement saying the pit bull owner was not a JetBlue passenger after all, thus this was not a JetBlue matter. Brittany Langlois had to undergo post-exposure rabies treatment.
The
vicious attack on Marlin Jackson
would have resulted in a dangerous dog hearing if it had occurred in a public place. It is unknown if there is "any" adjudication process after an "alleged" service dog or ESA inflicts an unprovoked severe attack on an airline passenger. Up until March 1, not even vaccination proof was required. Airlines and the U.S. Department of Transportation are now on notice that "Fakers plus poor policies" translates into real bite and mauling victims.
A Flying Municipal Shelter?
What is painfully clear in this melee of fake service and support animals traveling in aircraft cabins is that commercial airplanes are literally becoming flying municipal shelters, but have no expertise or operational means for this. Imagine after being bitten or attacked and the airline informs you: "We cannot legally share any information about the owner with you, including whether his dog is vaccinated against a fatal disease."
Pets in the cabin pose a bite risk
, trained service dogs do not.
Because pets will bite, urinate and defecate, possibly a quarantine section with a row of kennels should be built into airports or even larger airplanes? "Bite investigators" and persons skilled in sheltering and "temperament testing" could operate the area. A dedicated room for dangerous dog hearings would also be needed, along with a judge. That way, the owners of dogs who viciously attack could not rapidly be re-accommodated on a new flight and never heard from again.
3
Outrageous ideas are no longer outrageous, given the extraordinary volume of fake service and support animals flying today. In July, the U.S. Department of Transportation
will start taking public comments
about the "appropriate definition of a service animal" and how to reduce the number of passengers who falsely claim "their pets are service animals." We assume this rulemaking also regards ESAs and psychiatric service animals. We will be there and hope our readers will be too.
---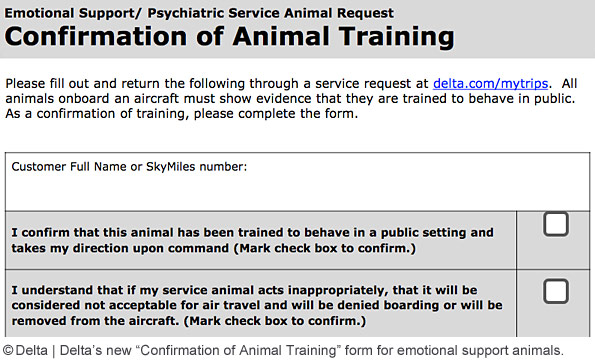 ---
1
WebMD made a common math error, the percent increase is nearly 400% not 500%, so we corrected this number in our piece.
2
That sounds a lot like, "focus on the bad dog or owner" after an attack, but take no prevention steps to reduce the risk of an attack beforehand. Tastrom's comment also falls flat in addressing the many fakers who are negatively impacting people with legitimate disabilities and their often highly trained working dogs while traveling by air.
3
Ronald Kevin Mundy, Jr., the owner of the dog that viciously attacked Jackson, was not charged by local law enforcement. Mundy was re-accommodated on a later Delta flight; his attacking support dog spent that trip in the cargo hold. He was never heard from again. The other mighty can of worms problem with pets in aircraft cabins is the jurisdictional one. The attack occurred in Georgia, Mundy resides in California and Jackson in Alabama. We guess one would call this an "en route" attack, making filing civil lawsuits against dog owners very complicated.
Related article:
07/13/17:
The Friendly Skies Fade After a Delta Passenger is Severely Attacked by an Unrestrained 'Emotional Support Dog'
Labels: Americans with Disabilities Act, Delta, Emotional Support Dog, ESA, Fraudulent Service Dogs, Psychiatric Service Animals, Service Animal

Please donate to support our work
DogsBite.org is a 501(c)(3) tax-exempt public charity organization. Learn more »
posted by
|
permalink
|
16 comments
|

email
|

blog rss
|

comment rss

16 comments:

Ka D | 1/24/2018 9:06 PM | Flag
Will it reduce fakers? I doubt it. The ADA needs to go back to the way it was with Guide Dogs for the Blind being the ONLY service animals, anything else should be approved on a case by case basis only and only for PHYSICAL disabilities since we have drugs and therapies for mental and emotional conditions, including Emotional Freedom Technique, a proven treatment and cure for PTSD even in combat veterans. https://www.deepdyve.com/lp/sage/the-treatment-of-combat-trauma-in-veterans-using-eft-emotional-freedom-NkHiVVOuN6
Does anyone really think we'd have ANY blind people if they could just take a pill for it? I have no doubt the VAST majority of people dragging their PETS with them are in no way disabled.

Farmer Jane | 1/24/2018 10:01 PM | Flag
Is it unreasonable to require dogs to be muzzled? This seems to me to be a way to prevent bites. But I'm a pragmatist who thinks it's less cruel to muzzle a dog than to have a human bitten. I'm tired of tip-toeing around because people think that dogs have the right to endanger humans.

Your Quiet Neighbor | 1/25/2018 7:20 AM | Flag
A signed form with only two questions. Yeah, that is a real crackdown.

Colleen Lynn | 1/25/2018 8:38 AM | Flag
What has to change of course is the federal law. It seems there would be a lot more latitude there to regulate ESAs. They provide no function except for comfort. Fake service dogs are a much tougher issue.

Sarah | 1/25/2018 10:42 AM | Flag
I'm assuming this was the best their lawyers could do, given the ADA law, but you'd think they could have made a case that aircraft/airline security is a special case and needs leeway. I wish they'd written something in that promised consequences to people who lied on the form and then had an incident with their animal.

Also, isn't it amazingly selfish of people to drag untrained pets onto airplanes? I'm not afraid to fly, but I find the noise of the engines, the sensation of pressure changes and the cramped quarters tiring and, if they go on long enough or if I'm not feeling well anyway, they get a little upsetting, particularly on a long flight. That doesn't even take turbulence into account. A normal family pet in that situation must think they're in hell. People who'd put their unprepared pet in that situation are either completely thoughtless or in need of much greater psychiatric help than a dog.

Lawrence Phelps | 1/25/2018 11:19 AM | Flag
This whole "Emotional Support Animal" is BS. My apartment complex bans dogs. The county band pitbulls. A woman moved in below me and brought a pitbull in with her. The dog barked nonstop all day. The landlord had to take her to court three times. She finally got evicted.

Colleen Lynn | 1/25/2018 11:58 AM | Flag
Sarah, about a dozen or so states have laws against faking a service dog. It is unknown if any case has ever been prosecuted. If a highly trained service dog was seriously attacked in an airport by a "fake" service dog, you would think there would be grounds for prosecuting. It does not seem there would ever be any state laws regarding ESAs, since they do not require any training.

The loud sounds of the engine, one would think would stress an untrained pet, as well as turbulence and cabin pressure changes. An untrained pet is much more likely to feel the stress/anxiety of its owner, if an owner is afraid to fly too. It really is selfish!


Your Quiet Neighbor | 1/25/2018 2:06 PM | Flag
Arizona legislator takes on this issue: http://tucson.com/news/local/arizona-lawmaker-wants-to-tighten-leash-on-fake-service-dogs/article_d2b6732f-8ca9-5d55-8470-3187357ce68a.html

Packhorse | 1/25/2018 4:38 PM | Flag
The number of dogs I have seen in concerts in recent years (and yes, they're usually pit bulls) has gone through the roof. If these owners don't care enough about their pets' safety and well-being in the high-decibel, crowded environment of a ROCK CONCERT, the stresses of air travel will mean nothing to them.

Christy D | 1/25/2018 5:20 PM | Flag
I have a neighbor who impulse bought a dog from a shelter and immediately started to call it a "service animal." Thankfully, it wasn't a pit. She claimed she was training it. She did not call it and ESA because she knew that it would be more limited in where it could go (ESAs can be in housing/apartments and airlines but can be banded from other places such as private businesses). She bought it a vest from Amazon.com. She then started to demand to be able to take it to the chain restaurant that she worked at when she was working. They of course, laid her off but then had an HR nightmare on their hands. These people will always find a loophole.

Ka D | 1/25/2018 5:50 PM | Flag
Lawrence Phelps: I have another name for 'emotional support dogs'- PET. It's a PET. This designation is as meaningless as 'therapy dog'.

Your Quiet Neighbor | 1/26/2018 12:04 PM | Flag
If someone started a pet-free airline, I'd be the first to buy a ticket.

Dayna Hamilton | 1/27/2018 9:34 AM | Flag
Other than a certified seeing eye dog, I do not want to sit anywhere near a dog, cat or whatever else that has the potential to bite, pee, poop, whine or bark. Could you imagine sitting next to the animal that has diarrhea because it's stressed out? Flying is already stressful enough.

thinkbasedaction | 1/28/2018 4:07 PM | Flag
Thank you for this site. If a person has a true disability let them pay for & go through with the SERVICE ANIMAL TRAINING.
My husband worked 21-24 hrs/day for 3 years to pay for our service dog & training. Keep the biting pets and ESAs out of public, they interfere with my dog's functions.
It's a misdemeanor to interfere with a SERVICE ANIMAL.
SERVICE DOG owners are confident of a dog's behavior because they are proven with YEARS of training AND must initially pass a rigorous test of personality and intelligence. This is why so many dogs are rejected as SERVICE ANIMALS. In addition, an animal who makes it to training can be rejected for the slightest problem. I know of an incident of a seizure dog (rare prediction capabilities worth $50,000) rejected for service work during training.
Tell me why, again, do we have ESAs????


thinkbasedaction | 1/28/2018 4:23 PM | Flag
EXPENSIVE NOTE TO AIRLINE ATTORNEYS:
Do you intend to pay for a new SERVICE ANIMAL ruined from an attack by an EMOTION SUPPORT ANIMAL OR PET? The value of these animals and their training can easily exceed $50,000.
If a person truly has a psychiatric disability, they need to go through the same process required by a SERVICE ANIMAL.
THE LAW IS CLEAR about one thing:
Interference with a SERVICE ANIMAL is a misdemeanor.
If you intentionally continue to allow ESAs & unconfined pets to exist in an airplane, you are allowing interference.

Colleen Lynn | 1/31/2018 10:28 AM | Flag
Many of you will be interested in this petition we just found. Please sign and share with others! The Air Carrier Access Act MUST Be Amended