Monday, June 6, 2016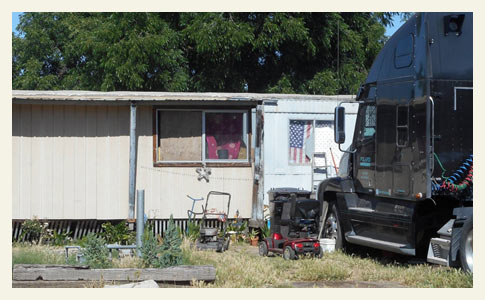 Earl Stephens Jr., 43, was was killed by a pit bull while visiting the dog owner's home.
'Repairing a Scooter'
UPDATE 06/06/16:
Earl Wayne Stephens Jr., was helping a friend repair a scooter in the friend's front yard on Saturday in east Stockton, the local paper reports. "Little did anyone know it would be the last thing he ever did," states the
Stockton Record
. Both men were inside the friend's home on North Gertrude Avenue at about 3:45 pm, when Stephens went outside to get some cigarettes from his car, according to Deputy Les Garcia with the San Joaquin County Sheriff's Office.
As soon as he stepped outside, the pit bull, named Harley, viciously attacked him.
The Record
reports the dog had been friendly to Stephens earlier when he was out in the fenced yard. After hearing the attack, Stephens' wife and friend rushed outside to help. The dog's jaws were clamped onto Stephens; the two tried to pry them loose. His wife was bitten on her fingers in the process. She also accidentally struck the dog owner's head with a hammer that she was using on the dog.
"Stephens' injuries were massive," states
The Record
. Garcia said Harley's owner has cooperated with the investigation, according to reports by deputies. Garcia called the attack an "unfortunate accident." Deputies shot Harley to death after arriving on scene. The two younger offspring pit bulls involved in the deadly attack are still in quarantine. It is unknown if they will be given back to their owner. The sheriff's office is still waiting on an autopsy to determine the cause of death.
06/05/16: Pit Bull Kills Man in Stockton
Stockton, CA - On Saturday, a pit bull killed a man in Stockton, according to the San Joaquin County Sheriff's department. Deputies were called to a home on the 500 block of North Gertrude Avenue about 4 pm Saturday. Authorities identified the victim as Earl Stephens Jr., 43-years old. He was bleeding from multiple dog bite injuries when deputies arrived. Officers shot and killed the pit bull in order to reach Stephens. The dog was loose and aggressive in the yard, authorities said.
Neighbors told KCRA that Stephens was visiting a friend who owned the pit bull, when the dog started attacking him. Both Stephens' wife and the dog's owner intervened, trying to get the dog off Stephens, but the dog then turned on its owner. The owner was also breeding pit bulls. Two pit bull puppies also attacked Stephens, according to neighbors. Deputies arrived and shot and killed the adult pit bull. Stephens was transported to a local hospital, where he later died of his injuries.
More Details in Evening Report
Fox 40 reported new information
in an evening report. The pit bull that fatally attacked Stephens was a male dog named "Harley," according to neighbor Stephanie Steffens, who was visibly shaken during the interview. Neighbor Ryan Juarez, who lives down the street, also spoke to Fox 40. "I heard what sounded like fireworks," Juarez said. "When I came outside to check, there was about three sheriffs and animal control outside, and they were actually shooting the pit bull."
"EMT were trying to get him on the gurney. It looked like he was pretty much 'gone' because he had neck damage from the dog."

- Ryan Juarez
These are predictable, fatal injuries inflicted by a pit bull. The dog
executes the killing bite
by ripping out the victim's neck. Severed carotid artery, severed jugular and "crushing" injuries to the spinal cord and cervical spine commonly occur in
fatal pit bull maulings
. Horrifically, just moments before the lethal attack, the pit bull was sitting on the victim's lap, Steffens said. When Ray, the dog's owner, told the dog, "Come on Harley, get off his lap," the pit bull went crazy, Steffens said.
2013 Pit Bull Fatality in Stockton
In 2013,
Claudia Gallardo
, 38-years old, was brutally killed by a pit bull on the 400 block of North Lillian Avenue in Stockton,
less than a half-mile away
from where Stephens was killed. Claudia was also visiting the dog owner's home at the time of the deadly attack. The owner of that pit bull, Brian Hrenko, was found guilty of involuntary manslaughter and keeping a mischievous animal that killed a person. It was the first fatal dog mauling case ever prosecuted in San Joaquin County.
Earl Stephens Jr. is the
493rd American killed by a pit bull
. The 297th since the
CDC stopped collecting breed
information in 1998.
The fatal pit bull attack archive will surpass 500 this year.

View the DogsBite.org Google State Map:
California Fatal Pit Bull Attacks
.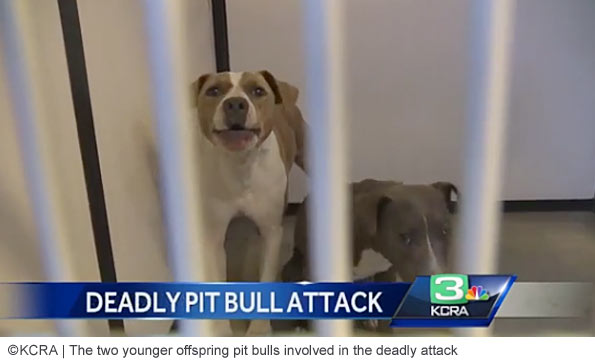 Related articles:
04/29/16:
2016 Dog Bite Fatality: Rehomed Pit Bull Kills Newborn Baby Boy in San Diego
04/04/16:
2016 Dog Bite Fatality: Boy Killed by His Sister's Three Pit Bulls in Yuba County...
01/29/16:
2015 Dog Bite Fatality: Gridley Woman Mauled To Death by Her Two Pet Pit Bulls
09/10/15:
2015 Dog Bite Fatality: Pit Bulls Kill Man, Injure Woman in North Shore, California
03/25/15:
2013 Dog Bite Fatality: Stockton Woman Mauled to Death by Pit Bull
Labels: 2016 Dog Bite Fatality, California, Fatal Pit Bull Attack, Police Shoot Aggressive Pit Bull, Visiting Adult

Please donate to support our work
DogsBite.org is a 501(c)(3) tax-exempt public charity organization. Learn more »
posted by
|
permalink
|
20 comments
|

email
|

blog rss
|

comment rss

20 comments:

EyesOpened | 6/05/2016 5:38 PM | Flag
Two Americans killed by pit bulls yesterday with puppies around...yes, let's pass those wonderful genes on. Disgusting. While millions of unwanted pit bulls are euthanized in shelters yearly and there's little space left for safer dogs, people keep pumping out pit puppies for money. Thank you to Dogsbite and the other dog safety advocates who are spreading the truth for informing us about these issues. Condolences to the families of these victims.

PutMeInCharge41Day | 6/05/2016 5:41 PM | Flag
I suppose the puppies will be taken in by some "rescue" and pawned off on someone who thinks its all how you raise them and into an unsuspecting neighborhood.



692ffa56-8c3b-11e3-902b-000f20980440 | 6/05/2016 6:15 PM | Flag
In this case, "How they were raised" includes participating with a parent in a fatal attack on a human, so it HAS to be relevant to their adopt-ability, right? RIGHT?

Ka D | 6/05/2016 6:44 PM | Flag
Abnormal aggression is highly inheritable in dogs. The pups should be euthanized. These typically uneducated pit owners should be banned from owning dogs again. http://thetruthaboutpitbulls.blogspot.com/2013/07/the-science-of-how-behavior-is.html

BeKind StopbreedingBullyDogs | 6/05/2016 6:54 PM | Flag
And those who fight the hardest against mandatory enforced bully sterilization pretend to care about pits welfare.

They don't. They're into pit warfare.

They never have considered what's good for pits.


BeKind StopbreedingBullyDogs | 6/05/2016 6:54 PM | Flag
Disgusting.

Christy D | 6/05/2016 8:33 PM | Flag
Any update on this attack?

http://www.latimes.com/local/lanow/la-me-ln-woman-pitbull-attack-fresno-20160405-story.html

Colleen Lynn | 6/05/2016 9:35 PM | Flag
Yes there was on April 27. Her name is Sanjuana Caceres. http://www.fresnobee.com/news/local/article74245742.html

Sputnik | 6/06/2016 3:07 AM | Flag
The pit bull fans always argue that 'man biters were culled, so no pit bull can be human aggressive'. As KaD pointed out, this kind of aggression has been scientifically shown to be strongly heritable -- and even the pit bull fans admit this when they chant the 'culled maneaters' mantra.

So if they really believe their own words, why do the pit bull fans object to culling man biters nowadays? In the Fresno case (Sanjuana Caceres), and in both of these weekend cases, parents, puppies and/or litter-mates of the man killers have been spared.

It would be helpful to concede the pit bull fans their propaganda point here -- and to start securely culling maneaters. The entire line of any pit bull that attacks, mauls or kills a human should be collected and humanely eradicated -- parents, siblings and offspring, the whole lot. After all, the pit bull fans themselves constantly cite secure culling as the solution that works to prevent human aggression in this type of dog.

It's time for us to adopt this solution that the pit bull fans so often point to. Surely they won't object to us agreeing they're right on that point?

James Lee | 6/06/2016 4:17 AM | Flag
sounds like the dog thought the owner said to kill the victim . just a misunderstanding ....methinks .

joelande | 6/06/2016 4:57 PM | Flag
Where do people think the dogs these breeders are breeding are showing up?

In your town, in your neighborhood.

A lot of them sell online or they ship the dogs to brokers in other states.

So you get dogs that were willing to kill even when they were puppies--- at your local parks and in the yard next door.

Then when the owners abandon them after they try to attack them, the dogs end up in your animal control department or local animal shelter, with a tutu on, being sold by teenagers to a public that really has no clue

EyesOpened | 6/06/2016 11:24 PM | Flag
The story keeps changing on this one. First, the neighbor said Harley was sitting on Earl's lap, the owner told him to get down, and that's when he attacked.

Now I've seen more than one article saying there was a fight going on and 911 had already been called about that before the call came in about the dog attack.

News reports are also speculating that maybe the man died of another health issue. We see these speculations all the time because people can't believe a dog killed a person. Whatever the case, it's very sad. It's also not the first time we've heard of pit puppies starting their human aggression early. :(

Colleen Lynn | 6/07/2016 7:44 AM | Flag
The story really has been changing! Please leave new links here that you feel are important. We are under double pressure this week so closely following the Detroit Murder Two trial and the Maine case. That 911/police were called about the fight before the attack? Apparently, neighbors have not been forthright.

EyesOpened | 6/08/2016 1:27 AM | Flag
I can't imagine how much time and effort it must take to track, verify, and post all of this! Ever since I became aware of the pit bull problem, I've come to realize how daily one could spend hours reading through all the news stories about dog attacks (almost all of them pit bulls).

When it's a DBRF, the information overload is unreal.

Here's just the first article I found mentioning the 911 call about the fight:

http://sacramento.cbslocal.com/2016/06/06/pit-bull-attack-in-stockton-leaves-man-dead/

EyesOpened | 6/08/2016 1:31 AM | Flag
I suspect that maybe the commotion neighbors reported was initially assumed to be an argument/fight, prompting a 911 call saying so. This article mentions a neighbor hearing "screaming and yelling": http://fox40.com/2016/06/05/police-fatally-shoot-dog-that-killed-stockton-man/

EyesOpened | 6/08/2016 1:37 AM | Flag
Sigh, and here it is: it's all in how they're raised. If I had a quarter for every time I've read that now...

http://m.recordnet.com/article/20160605/NEWS/160609830

"Ezekiel Steffens-Goeas, 31, a neighbor and the son of the woman who called authorities, said the pit bull was named Harley and was about 2 years old. He said Harley was the father of two puppies that also joined in the attack on Stephens. Those puppies were removed by animal control officers.

'I know the dog; the dog knows me,' Steffens-Goeas said, hesitant to describe the dog's general demeanor. 'It depends on how you raise the dog and how much time you spend with him.' "

2 years old? I guess Harley "turned on" at the right time, just as the dogmen wrote about.

EyesOpened | 6/08/2016 1:43 AM | Flag
Here's another one talking about the supposed argument: http://abcnews.go.com/US/wireStory/fight-prompted-pit-bull-attack-left-man-dead-39652759


Is it possible that narrative is also more palatable to report because people in comments sections on these articles tend to bring up how the dogs were probably protecting their owners?

If the first articles hadn't identified the victim as a friend of the pit bull's owner, there would have been speculation about the dog protecting against trespassers or something equally asinine. As if trespassers deserve to get mauled to death...

Sputnik | 6/08/2016 2:23 AM | Flag
I'll re-emphasize that the pit bull fans need to insist that the maneater juveniles now in AC custody must be humanely euthanized. Either that or else drop 'dogmen always killed manbiters' from their list of talking points.

I hope the pit bull fans will also explain elsewhere (not here) why they now think it's a good thing to keep maneaters and their offspring alive. Also why they reject the very solution to human aggression that they claim worked so well in the past.

I hope that in any case AC will agree with culling maneaters, and will humanely destroy the two juveniles they now have in custody.

EyesOpened | 6/12/2016 4:06 PM | Flag
Are there any updates to this case, such as pending charges? Do we know the fate of the "puppies"? It makes me a little sad that the cases involving children get so much more attention...I can understand why, but this man lost his life just as innocently and left a wife behind. He was just trying to help a friend fix a scooter. So very sad!

Colleen Lynn | 6/12/2016 5:26 PM | Flag
It is very sad, but we have not seen any follow ups. We should in a few days when the 10 day quarantine is up.