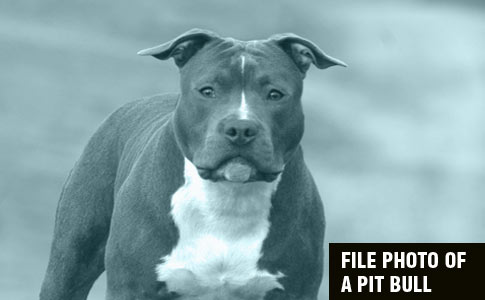 Maria Torres, 57-years old, died after being attacked by her two pet pit bulls.
Cause of Death Released
UPDATE 01/29/16: The Butte County Coroner's Office released the official cause of death of Maria Torres, 57. Sheriff's deputies found Torres dead inside her home on Dewsnup Avenue covered in bite marks on December 16. Two pet pit bulls were also inside her home. Miranda Bowersox, Sheriff's Office Public Information Officer, said that Torres died due to blood loss from the injuries she sustained due to a fatal dog attack. Both pit bulls were put down after the attack.
12/17/15: Killed by Family Pit Bulls
Gridley, CA - The Butte County Sheriff's Office said a Gridley woman is dead from injuries she sustained while trying to break up a fight between her two pit bulls. Gridley is about 60 miles north of Sacramento. When the victim did not show up for work Wednesday, deputies were asked to conduct a welfare check at her home on Dewsnup Avenue. Deputies arrived about 3:30 pm and found the woman inside covered in bite marks and two large pit bulls loose in the home.
According to a news release sent out Wednesday, investigators "determined that the dogs had been fighting, and the woman had tried to break them up. The woman sustained grave injuries as a result of her intervention and died as a result," the Butte County Sheriff's Office said. Animal control was called to the scene to contain the dogs. Relatives confirmed the two pit bulls were the victim's pets. The woman's name was not released pending notification of family members.
Afternoon Updates
The Butte County Sheriff's Office issued a statement today clarifying why they believe the victim was trying to break up a dog fight. The theory was "based on the fact that the dogs had injuries consistent with being involved in a fight with one another," states the release. Detectives are also evaluating if the victim died of natural causes and the dog bite injuries were inflicted post-mortem. The autopsy, which is scheduled for today, will determine the cause of death, states the release.
In an evening Fox 40 news report, the victim was identified as 57-year old Maria Torres. Butte County deputies discovered her body with injuries consistent with a dog attack. "The pit bulls had injuries themselves, indicating they had been in a confrontation, in a fight with one another," sheriff's spokesperson Miranda Bowersox said. The two male pit bulls were ages 3 and 5-years old; neither dog was neutered. Both pit bulls were euthanized at the request of Torres' daughter.
View the DogsBite.org Google State Map:
California Fatal Pit Bull Attacks
.
Related articles:
09/10/15: 2015 Dog Bite Fatality: Pit Bulls Kill Man, Injure Woman in North Shore, California
03/25/15: 2013 Dog Bite Fatality: Stockton Woman Mauled to Death by Pit Bull
11/04/14: 2014 Dog Bite Fatality: Pit Bulls Kill Modesto Man, Critically Injure Another
11/03/14: 2013 Dog Bite Fatality: Antelope Valley Woman Mauled to Death by Pit Bulls