Thursday, April 16, 2015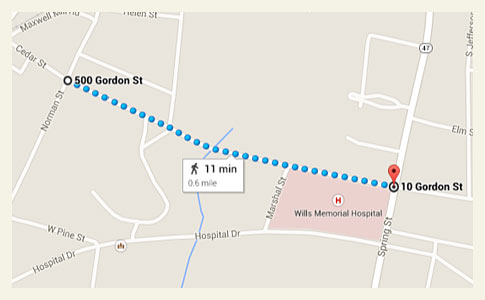 Little New Information
UPDATE 04/16/15:
There is little new information about the dog mauling death of Neta Lee Adams. Wilkes County Sheriff's Office continues to answer all calls about loose dogs, but none so far are suspected to be involved in her death. There are no known witnesses of the attack either, which left evidence of a disturbing struggle. "There was
evidence of a struggle on the ground
, with broken yard furniture and scratches, blood, and clothing on the ground," Sheriff Mark Moore said.
During a recent city council meeting
, this aspect was questioned again, the possibility that a criminal act might have occurred before the fatal dog mauling. Councilman Kimberly Rainey asked,
"Where is her money? What happened to her beforehand?"
The same meeting also discussed the local dog ordinance, which already prohibits dogs from running at large. City officials urged the public to report all dogs running loose to the Sheriff's Office or animal control.
"My issue is not the dogs," said Councilman Kimberly Rainey. "My issue is how did she wind up in the ditch? Where is her money? What happened to her beforehand? So I'm kinda real upset that we're not focused on that issue, because to me that's the real issue. What happened to her money? What happened to her pants? Nobody's addressing that issue. That's being glossed over. Yes the dog may have been the cause of death from what the GBI said, but how did she get in the ditch?"

- The News-Reporter, April 16, 2015
04/03/15: Dogs Kill Elderly Woman
Washington, GA - On March 31, an
elderly woman was discovered dead in a ditch
in Washington, Georgia. Local authorities were alerted at about 8:30 am that morning. Wilkes County Sheriff's Office and investigators from the Georgia Bureau of Investigation (GBI) completed an investigation at the scene and the body was sent to the GBI crime lab. On Friday, the autopsy results of 81-year old Neta Lee Adams were released. The cause of death was traumatic injury from a dog attack.
Though details continue to be sparse, we've gathered some background information below.
Location of Fatal Dog Attack
Thus far, news reports have simply stated "Gordon Street" without a block identifier. One can see that
Gordon Street is not very long
and that a quarter of it runs by Wills Memorial Hospital. Once pass the hospital,
Google Street View shows more rural stretches
, but a sidewalk is maintained on one side of the street the whole length. Also, The News-Reporter appears to be the most local newspaper, but news articles about the most recent two weeks are restricted to subscribers.
The Reporter's Facebook page
has not been updated since Friday, April 3, when the autopsy results were announced confirming the cause of death was multiple traumatic injuries inflicted by one or more dogs. Sheriff Mark Moore is following up on any reports of loose dogs in the city and states, "There is an ordinance that makes it illegal to allow your dogs to run loose in the city, but it's different now. We've had a senior citizen killed by a dog on the streets of Washington."
Dogfighting Activities Noted
Despite the city of Washington
only having a population of 4,042
(2013 data) and a 7.8 mile square radius, dogfighting activities have been in the area. A March 2009 raid on a home, where suspected illegal drug use and illegal dogfighting had been occurring,
yielded at least three
arrests. Lt. Joseph Nelson with the Washington Police Department said at that time, "This is the worst dogfighting or animal cruelty case that I've investigated or worked here in this community."
In 2012, after hoping they had eradicated the blood sport in their city and county, another incident occurred. A badly injured male pit bull
was dumped near the county landfill
. Washington-Wilkes Animal Shelter Director Gloria Wheatley said then, "I can't stop dogfighting here all by myself. It's going to take all of us to educate our neighbors, to report suspected dogfighting, and to tell dog fighters to go to another county." The rural animal shelter serves Washington and Wilkes County.
Related articles:
05/23/13:
2013 Dog Bite Fatality: Fulton County Infant Killed by Family Pit Bull
04/17/13:
2013 Dog Bite Fatality: Bryan County Toddler Killed by Family Pit Bulls
09/08/12:
2012 Dog Bite Fatality: Missing Georgia Child Killed by Dog
08/17/12:
2012 Dog Bite Fatality: 23-Year Old 'Dog Rescuer' Mauled to Death by Own Dogs
Labels: 2015 Dog Bite Fatality, Georgia, Georgia Bureau of Investigation, Senior Citizen, Senior Citizen Fatality

Please donate to support our work
DogsBite.org is a 501(c)(3) tax-exempt public charity organization. Learn more »
posted by
|
permalink
|
10 comments
|

email
|

blog rss
|

comment rss

10 comments:

Your Quiet Neighbor | 4/03/2015 5:36 PM | Flag
Yeah, right. Being killed by dogs is an accident.

Animal Uncontrol | 4/03/2015 5:54 PM | Flag
Sometimes I wonder how many death-by-dog fatalities are NOT reported. There HAS to be more than 45 americans killed every year by dogs.

Not that I want such a thing to happen, of course.

Colleen Lynn | 4/03/2015 9:22 PM | Flag
I "generously" estimate we capture about 70%.

Animal Uncontrol | 4/04/2015 6:49 AM | Flag
"I "generously" estimate we capture about 70%."

Interesting - would you apply that same ratio to maulings and other serious injuries?

One thing I hear about often are parents who do not obtain medical assistance for their child after a dog bite - they are trying to protect the dog, usually, or simply don't want to get into trouble with child protective services or the like.

Colleen Lynn | 4/04/2015 12:16 PM | Flag
No way for serious injuries and mauling injuries. You might ask Clifton that question, who may have already done an extrapolation estimate. Currently about 9,500 (2008 data) people are hospitalized each year for dog bite injuries (indicating serious injuries and would include all mauling injuries) and about 355,000 receive ER treatment (2011 CDC data). We know that some in the latter group are severe cases. This woman was never hospitalized. She was treated in ER and released (scary!).

We presume a much a higher percentage of deaths are known because a death garners more media attention. CDC does track the total number of dog bite fatalities combined with the total number of people "struck" by dogs and killed based on death certificates. Here is 10-years of CDC data here. 1.) We presume these numbers are also an underreporting due to variances/deficiencies in state death certificate reporting 2.) Unknown if the CDC data includes Indian reservations 3.) Contributory cases likely would not be included, some of which involve very severe injury, but the actual cause of death was a heart attack…

Colleen Lynn | 4/06/2015 2:16 PM | Flag
This post has been updated with some background information: Location and previous dogfighting in the area.

Jaloney | 4/07/2015 12:59 AM | Flag
An old high school friend told me she had to get rid of her pitbull which was such a great dog cause it got into a fight with a raccoon and it had not been vacinnated so they had to put it down. I found out later the dog bit her sisters child in the face and then ran out into the road and was hit by a car. Stories like this are not reported to the news as its all in the family. Then there was the Memorial Day Weekend attack in my town that the police deliberately covered up. I think we are lucky if we get 50 percent of the attacks as only the attacks that go over the police scanner as "dog attacks" get the news reporters attention.

Colleen Lynn | 4/26/2015 10:40 AM | Flag
Slowly but surely, the archives over at the Reporter are opening up. This is from April 9. "City of Washington officials declined to comment on the incident because of pending legal action against the city." Articles from April 16 are not open yet. Once again authorities are baffled by an unprovoked attack. Seriously.
----
http://www.news-reporter.com/news/2015-04-09/Front_Page/Death_of_elderly_woman_on_Gordon_St_confirmed_to_b.html

Escape This Insaneness | 12/01/2015 11:09 AM | Flag
My daughter was on a ride along with EMS this day. Thankfully, she was never allowed out of the ambulance and was taken back to school immediately. She did not see the injuries.
Unfortunately, two days later she witnessed our rescued pit bull severely attack me, which I was lucky to survive.
We are convinced he was used for dog fighting and then dumped. Dog fighting is a huge problem in this small town.

truthbirdtoo | 12/01/2015 2:24 PM | Flag
Thank goodness they did not allow her out of the ambulance. Oh my gosh, you were attacked two days later by your own rescued pit bull? What happened? Was it a dog from the county shelter? Yes, the area has had dogfighting activity for some years, though it seems authorities do not like to admit this.