Tuesday, October 14, 2014
Vote No on Pit Bull Ballot Question, Proposition 2D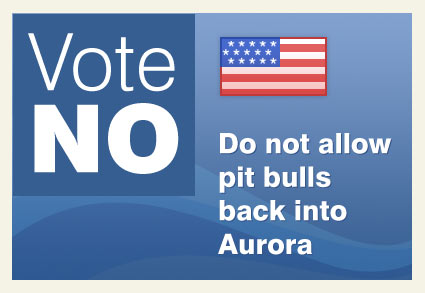 Vote No on Proposition 2D
Aurora, CO - On October 14, ballots will begin to be mailed to all registered voters in Aurora, Colorado. In a first ever general election vote, the public will be asked the following: "Shall the people of Aurora adopt an ordinance allowing pit bulls back into their city?"
We urge residents of Aurora to vote no
. The City of Aurora adopted a pit bull ban in 2005. Since this time, serious pit bull maulings have virtually been eliminated.
The Aurora pit bull ban is a proven success
.
The Aurora pit bull ban is a proven human success, a proven humane success and a proven legal success.
Proven Human Success
The number one goal of a pit bull ban is to drastically reduce and to eliminate horrific pit bull maulings. Aurora's pit bull ban has accomplished this. There has not been an extreme human mauling in Aurora in many years.
Statistics provided by the city's animal care division in March
also show that overall pit bull bites have been reduced by 73% since adopting the ban. The Aurora pit bull ban is a proven human success. May Aurora residents continue to enjoy this safety!
"Since the ban has been in place, bites are down 73 percent from pit bulls," said Cheryl Conway, a spokeswoman for the city's animal care division.
--- snip ---
"There hasn't been a human mauling in many years. Complaints and requests related to pit bulls are down 50 percent."

- Cheryl Conway, Aurora Sentinel, March 2014
Proven Humane Success
The Aurora pit bull ban is a proven humane success. In the same March article, Cheryl Conway, a spokeswoman for the city's animal care division, said that before the ban was enacted, up to 70% of shelter space was occupied by dangerous or unwanted pit bulls. The level now is only 15%. Moreover, since the adoption of the ban,
euthanasia of pit bulls is down 93%
. Achieving this 93% reduction is a victory that most city shelters in the U.S. can only dream of accomplishing.
Why is the euthanasia of pit bulls so low in Aurora? Because the heart of a pit bull ban contains the critical ingredient to make this possible: mandatory sterilization of existing pit bulls. When Aurora's ban was adopted, grandfathered in pit bulls were required to be registered, sterilized and insured. This, combined with prohibiting new pit bulls, dramatically reduces the population of pit bulls within a community, thus dramatically reduces shelter intake of unwanted pit bulls.
According to city documents, before the ordinance was enacted in 2005, up to 70 percent of kennels in the Aurora Animal Shelter were occupied by pit bulls with pending court disposition dates or with no known owner. That number is now only 10 to 20 percent of kennels.
--- snip ---
"Euthanasia of pit bull dogs is down 93 percent. Of those few that are put down, they are primarily those that come in as strays and their owners don't come to claim them."

- Cheryl Conway, Aurora Sentinel, March 2014
Proven Legal Success
Both the Aurora and Denver pit bull bans have withstood numerous legal challenges and prevailed each time. These ordinances are both legal and constitutional in the eyes of appellate justices. Additionally,
back when Aurora's ban was challenged in 2009
, it was a fighting breed ban that included 7 dog breeds, and their derivative breeds, along with pit bulls. Aurora's original fighting breed ban is a proven legal success and continues to serve as the
Model Fighting Breed Ban
.
What if the Ban is Repealed?
Denver, officially the City and County of Denver (the Denver pit bull ban pertains to both), directly borders Aurora. Nearby Commerce City also bans pit bulls. Prior to Aurora adopting its ban in 2005, not only did the city experience vicious pit bull maulings, but also a high influx of pit bulls banned in bordering and nearby jurisdictions into their shelter system. This scenario will replay itself within 15 months of the ban being repealed. Aurora, essentially, will be back to square one.
Because of the boarding jurisdictions that ban pit bulls
, the situation in Aurora might be worse than what occurred in Cincinnati after it repealed its longstanding ban in May 2012.
15 months after the repeal
, shelter occupancy of pit bulls in Cincinnati city shelters increased up to 85%. Horrific maulings began as well, beginning with
Bulah Shaef, 73, in December 2013
and the extreme mauling of
Zainabou Drame, 6, in June 2014
, causing city officials to reconsider the repeal.
The public outcry after the
horrifying Zainabou attack was immense
. Her grandfather described her injuries as, "One dog grabbed her face and literally tore it off. The other one pulled her mouth off." He was not exaggerating. She has severe facial injuries, a dislocated and broken jaw and she lost her tongue in the attack. Current medicine has no way of restoring her speech.
She is home from the hospital now, but faces years of future surgeries
and may never be able to speak again.
Turn the Corner on the Pit Bull Problem
Cities like Aurora and Denver have turned the corner on the pit bull problem. Across the country, in cities that do not regulate pit bulls, there has been a dramatic rise in pit bull maulings since 2007, the year of Michael Vick. Last September, we compared
Pawtucket's successful pit bull ban to what is occurring nationally from 2002 to 2013
. Pit bull attacks in Pawtucket nosedive after adopting a pit bull ban in 2004. Nationally, pit bull maulings across the U.S. skyrocket post 2007.
View
Colorado Breed-Specific Laws
in a larger map
Related articles:
08/31/15:
Who Can Identify a Pit Bull? A Dog Owner of 'Ordinary Intelligence'...
07/02/14:
Director of the Division of Craniofacial and Pediatric Plastic Surgery at Cincinnati...
09/17/13:
Dramatic Decline in Attacks by Pit Bulls Since Pawtucket Adopted Pit Bull Ban in 2004
08/16/12:
Vote in Miami-Dade County to Repeal Pit Bull Ban Fails by Wide Margin
08/25/09:
The History of the Denver Pit Bull Ban and the Victims that Prompted New Law
Labels: Aurora, Ballot Item, Breed-Specific Legislation, Colorado, Constitutionality, Denver, High Court, Pit Bull Ban, Pit Bull Statistics, Successful Pit Bull Law

Please donate to support our work
DogsBite.org is a 501(c)(3) tax-exempt public charity organization. Learn more »
posted by
|
permalink
|
4 comments
|

email
|

blog rss
|

comment rss

4 comments:

Your Quiet Neighbor | 10/04/2014 3:20 PM | Flag
Wish I could vote against this one, but I'm in Pima County, AZ. Where we're being asked to approve Prop. 415, a $22 million bond issue for building a larger county animal shelter.

Our current shelter is too small to house all the pit bulls that keep pouring in. Want proof? Here's the adoption list:

http://webcms.pima.gov/cms/One.aspx?portalId=169&pageId=34986

Vote NO on Proposition 415!

Ka D | 10/06/2014 8:24 PM | Flag
Aurora has NOTHING to gain but a lot to lose. Kids and people killed and injured, pets killed, and in two years the SLEW of pit bulls from backyard breeders will start glutting the shelters. Public safety should be up for a vote. There are over 400 dog breeds and no damn reason anyone MUST have a pit bull.

Staceyjwsolar | 10/13/2014 3:47 PM | Flag
It is ridiculous that this is even on the ballot. It is like voting to allow drivers to be wasted!
Another thing that pisses me off- why must nutters demand that every goddamn city accept their maulers? Most places do allow them- go live there. Why screw up a place that is safe?
Most regular people want pits banned, I sure hope they show up to vote.

Hone tawaroa | 11/04/2014 10:51 PM | Flag
Great news suck it up pit pushers.