Friday, April 11, 2014
No Steroids in Second Dog
UPDATE 04/11/14:
Steroids tests performed on the family's second pit bull came back negative. The second pit bull, Khloe, was not involved in the violent attack on March 25 that took the life of a little girl and ended after police officers fired 13 bullets into the 130-pound pit bull named Niko. Despite Niko's sire,
UKC's Most Wanted Kimbo
(a
UKC registered American Pit Bull Terrier
), also weighing 130-pounds, Houma police suspected that Niko's "hefty" weight was due to steroids.
It is not rocket science when a sire produces a dog similar to itself after a chosen mating with another UKC registered American Pit Bull Terrier.
This is "doggie breeding" genetics 101 readers. Surprisingly, Donna Reynolds of BadRap appears in the latest Houma Courier article and gets backed into a corner when asked about Niko's size. Reynolds is connected to the "hive mind" of the
Pit Bull Propaganda Machine
and like all of its drones, denies that genetics plays a role in the pit bull breed. Instead, "
It's all how you raise them
." Reynolds doubted that steroids affected the dog's size, but that genetics were the likely cause.
"I've never met a dog whose size was exaggerated by steroids, so I tend to doubt the theory of them being used to increase this dog's size," said Donna Reynolds, director of BadRap.org, a pit bull advocacy group based in Oakland, Calif.
If the dog wasn't injected with steroids, its genetics may be the cause for its large and muscular build, Reynolds said.

- Donna Reynolds of BadRap
04/04/14: Testing Second Dog
On April 1, HoumaToday.com reported that
Niko's owners are "still not talking"
and that the investigation into the mauling death of Mia DeRouen, 4, had come to a standstill. Megan Touchet, the girl's mother who was also injured in the attack, and her boyfriend Kerry Dominique are not talking to police
under advisement of their attorneys
. "We're still investigating this case aggressively. We're just at a roadblock right now," Houma Police Chief Todd Duplantis said.
We know what our officers saw that night. We know what animal control saw that night. But the investigation won't be complete until we've talked to them.

- Houma Police Chief Todd Duplantis
The April 1 article also states that police officials are unclear about the dog's breed despite the animal having an online pedigree, along with Niko's
sire
and
dam
-- both UKC registered American Pit Bull Terriers -- also having online pedigrees. Niko's sire,
UKC's Most Wanted Kimbo
is also 130-pounds.
Niko could not be tested for steroids post-mortem
, according to police. Tests for performance enhancers are being conducted on the second pit bull, not involved in the attack.
What we find most disturbing in the past few days is that
police want to know why Niko attacked
, as if an unpredictable attack by a pit bull is unusual? As if it is not well established in
appellate decisions upholding pit bull ordinances
that these dogs often show no warning signals before an attack? No such befuddling mystery surrounds why a herding dog herds or why a retrieving dog retrieves. Nor is it a mystery why a dog breed, selectively bred to fight to the death, attacks.
the Pit Bull bites to kill without signal. Starkey v. Township of Chester (1986) ... the American Pit Bull Terrier breed possesses inherent characteristics of aggression, strength, viciousness and

unpredictability

not found in any other breeds of dog ... pit bulls are especially dangerous due to their

unpredictability

... American Pit Bull Terriers have been known to be friendly and docile at one moment, willing to sit on your lap and lick your face, and at the next moment to attack in a frenzied rage ...

Such frenzies can occur at any time and for no apparent reason

. Garcia v. Village of Tijeras (1988) ... to increase its effectiveness as a fighter, certain pit bull traits have been selected and maximized by controlled breeding, including ... an extraordinary directness in their method of attack that does

not include the common warning signs

such as barking or growling displayed by other breeds; American Dog Owners Ass'n v. Dade County (1989) ... Pit Bulls have the following distinctive behavioral characteristics ... undying tenacity and courage and they are

highly unpredictable

. Vanater v. Village of South Point (1989) ... Pit bull dogs possess a strongly developed "kill instinct" not shared by other breeds of dogs. This testimony indicated that pit bull dogs are unique in their "savageness and

unpredictability

." Hearn v. City of Overland (1989) ... At the hearing regarding the ordinance's constitutionality, the trial court was presented with evidence which established that the specific breeds targeted by the ordinance possess inherent characteristics of aggression, strength, viciousness and

unpredictability

not found in other dog breeds. Singer v. Cincinnati (1990) ... The trial court also found that pit bulls tend to be stronger than other dogs, often

give no warning signals

before attacking Colorado Dog Fanciers v. Denver (1991) ... The referee found that the qualities of a pit bull as depicted by the logo are loyalty, persistence, tenacity, and aggressiveness. We consider this as a charitable set of associations that ignores the darker side of the qualities often also associated with pit bulls: malevolence, viciousness, and

unpredictability

The Florida Bar v. Pape (2005) ... The Majority of jurisdictions have accepted the proposition that dogs of this type have a propensity to be aggressive and attack

without provocation

Hardwick v. Town of Ceredo (2013)
03/30/14: Owner's Instagram Page
While researching BTM Kennels' Facebook page, we also discovered the kennel owner's public Instagram page in the early hours of Thursday morning. Initial reader responses to the kennel owner's Instagram page can be read in the comment section of this blog post. "Repulsion" best describes these responses. On Friday, the owner of Niko and Khloe privatized his Instagram page, but by that point, DogsBite.org had already taken over 100 screenshots for research purposes.
We are sharing a selection of these photos to shed more light on Niko, as well as designer XL, XXL pit bull breeding.
The PDF contains about 30 images and reinforces the lineage of Niko -- both his sire (
who also weighs 130 lbs
1
) and dam are UKC registered American Pit Bull Terriers. The document also contains images with hashtags written by the owner calling his dogs #pitbulls. The last portion, "The results of pit bull 'designer' breeding," may repulse some readers. It must be included, however, to show readers the deformity and exaggeration of designer XL, XXL pit bull breeding.
03/26/14: BTM Kennels Cached Page
Two of the below images are from BTM Kennels' Facebook page, breeders of XL pit bulls serving the Baton Rouge and Houma areas. BTM Kennels pulled their Facebook page at some point, but the page is still in Google Cache (See:
PDF document version
). It is no coincidence that images of pit bulls named Niko and Khloe covered their timeline. News articles posted an image of Niko earlier today and Khloe has been described as a
6-month old female pit bull by Houma police
.
Do readers think this is the
same Niko that killed Mia
? How many offspring do you think Niko has produced? One post on the BTM Facebook page (likely posted on March 9
2
) is an advertisement that promotes, "TG's Hidden Treasure - Niko - Open for Stud." A February 5 post reads, "My baby boy Niko." A January 14 post reads, "Niko at 25 months. This boy will have an exciting 2014. 40 points away from being an ABKC XL champion. Cardiogram, semen, pennhip tested. OFA soon."
BTM Kennels is quite literally breeding "killer" XL pit bulls and their near champion stud dog, Niko, just killed an innocent child.
Also, by clicking on the
sire
and
dam
names of
Niko
, you will see they are both UKC registered American pit bull terriers.
XL
and
XXL
pit bulls (yes there is a heavier class) are part of a growing trend of "designer" pit bulls being called "American Bullies."
All registered American pit bull terriers and American staffordshire terriers are "automatically" American Bullies
, according to the American Bully Kennel Club (ABKC). Cross registration of the breed is "standard practice."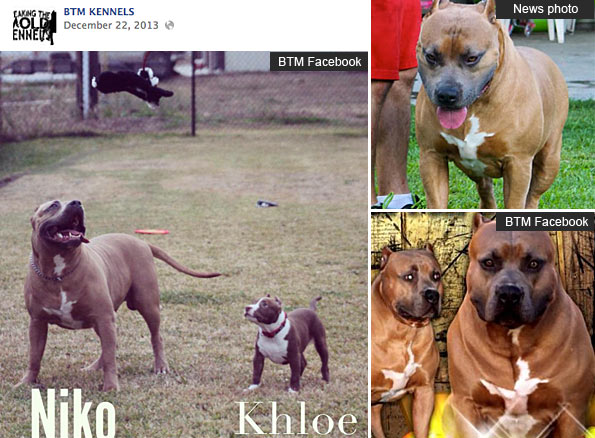 03/26/14: Fundraiser Soars
Family and friends have set up a fundraiser at GoFundMe to help the girl's family pay for funeral expenses. Through 344 contributors and only 3 hours so far, the effort has surpassed its goal of $15,000, by raising $16,570 (3:46 pm CST). Mia DeRouen, 4-years old of Houma, was brutally attacked and killed by her family's pit bull on Tuesday evening. The child was bitten
numerous times 
on the face, shoulders, and back
, according to Houma Police Chief Todd M. Duplantis.
WWLTV reports additional details
. The attacking pit bull, who was "staying at the home," was categorized as a "monster" by responding police officers. Duplantis described the scene as "horrific" and said that counseling was being offered to the officers who were on the scene. The dog was initially shot three times by officers, who then tried to enter the apartment. Unfazed by the trio of bullets, the dog charged the entering officers and was shot 10 more times before dying.
03/26/14: Passed Through Window
Houma, LA - A family pit bull killed a 4-year old girl
3
Tuesday night at the Houma Highlands apartment complex and attacked her mother who intervened. The dog was running wild in the apartment when police arrived just after 7 pm, forcing the mother to barricade herself and 4-year old Mia DeRouen inside her bedroom. She passed her injured daughter to paramedics through a window.
4
Mia was taken to the hospital with severe facial and head injuries; she did not survive.
By 9 pm, police had cornered the animal in the apartment and tried to shoot it through a window from the second floor balcony. The dog then bolted out of the apartment and was shot repeatedly by officers. Animal control personnel carried the animal away on a tarp. A second pit bull owned by the family was also seized by authorities, but was not believed to be involved in the attack. The child's mother, 27-year old Megan Touchet,
remains hospitalized in moderate condition
.
More details will be released by police during a news conference at 1:30 pm Central time.
Image of Niko, the attacking family pit bull (FOX 8)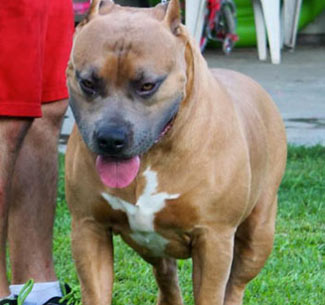 View the DogsBite.org Google Map:
Louisiana Fatal Pit Bull Maulings
.
1
For additional repulsion, please see the website of the owner of Niko's sire, UKC's Most Wanted Kimbo.
2
The Google Cache time stamp is March 9, so all posts labeled 6, 7 or 8 hours ago, were presumably from that day.
3
WAFB reports that she would have celebrated her 5th birthday next week. On January 17, 2014 Kara Hartrich of Bloomington, Illinois was killed by her family's pit bull on her 4th birthday.
4
Several fatal pit bull attacks have involved critically injured children passed through a window because the "family" pit bull was still berserking in the home, thwarting responders from entering, most notably, the death of Izaiah Cox.
Related articles:
02/28/14:
2014 Dog Bite Fatality: 3-Year Old Girl Killed by Family Pit Bull in North Carolina
01/30/14:
2014 Dog Bite Fatality: 4-Year Old Girl Killed by Family Pit Bulls in Bloomington
08/11/13:
Father of Pregnant Pacifica Woman Killed by Her Pet Pit Bull Writes Letter
05/31/13:
Westwego Woman Loses Eye, Ear and Both Arms After Pet Pit Bulls Attack
08/15/11:
2011 Dog Bite Fatality: Pregnant Pacifica Woman Killed by Family Pit Bull
05/28/10:
2010 Dog Bite Fatality: 2-Year Old San Bernardino Boy Killed by Family Pit Bull
04/01/09:
2009 Dog Bite Fatality: 7-Month Old Boy Killed by Grandmother's Pit Bulls
Labels: 2014 Dog Bite Fatality, Bad Rap, Breeder-Related Fatality, Disproportionate Response, Fatal Pit Bull Attack, Louisiana, Pit Bull Kills Family Member

Please donate to support our work
DogsBite.org is a 501(c)(3) tax-exempt public charity organization. Learn more »
posted by
|
permalink
|
31 comments
|

email
|

blog rss
|

comment rss

31 comments:

scorched earth | 3/26/2014 12:15 PM | Flag
How many dead children are enough?

When will lazy/corrupt lawmakers turn their backs on professional pit bull advocates, a small, shrill, well funded special interest group?

When will lazy/corrupt lawmakers realize that normal dogs don't have, or require professional breed specific advocates?

truthbird | 3/26/2014 12:55 PM | Flag
Add "watching TV" to pit bull attack triggers.
---
Police say a pit bull fatally attacked a 4-year-old girl who was watching television in a southern Louisiana apartment and injured the girl's mother when the woman pulled her daughter away.

http://www.thestate.com/2014/03/26/3349831/pit-bull-kills-owners-4-year-old.html#storylink=cpy

truthbird | 3/26/2014 12:59 PM | Flag
"Luxury" apartments...
----
http://www.apartmentlist.com/la/houma/houma-highlands?rid=p109267-92

Houma Highlands features luxurious apartment homes in a convient, picture perfect location. From exceptionally spacious dwellings, to temporary living space for a busy executive, Houma Highlands' state-of-the-art amenities and services suit so many lifestyles. Call and achedule your tour today, or visit our website; houmahighlands.com and discover for yourself the Houma Highlands Style. - 1132 sq ft

Your Quiet Neighbor | 3/26/2014 3:19 PM | Flag
Meanwhile, in Phoenix, Arizona, the child mauler named Mickey has been saved from euthanasia.

When will this madness end?

RSM | 3/27/2014 1:21 AM | Flag
A dog that needed 13 bullets to fell it? Thats what nightmares are made of.



Anita | 3/27/2014 2:14 AM | Flag
I don't understand. The dog was living with the woman in the apartment, but still belonged to the breeders? Is she connected to the breeders?

Also, I never thought I would say this, but I feel sorry for Khloe having to live with Niko. That right there seems to be a cruel- offence, not to mention them both living with a child, not to mention one killing a child. Hard to know where to begin here, but unfortunately we see how it ended.

scorched earth | 3/27/2014 8:36 AM | Flag
How do you think Karen Delise will spin this one?

Farmer Jane | 3/27/2014 12:10 PM | Flag
I'm sorry, but I could never donate money to this family for a funeral. Maybe if the little girl had lived and needed surgery, I would. That would be for the little girl who was an innocent in this nightmare. The parents should be in jail, not making $$ from their daughter's horrific death.

Colleen Lynn | 3/27/2014 12:36 PM | Flag
Anita, it clearly appears that the mother is connected to the breeder either by dating, friends or otherwise. Notably, this person's name has been kept out of the media fray so far. They attempted to keep the BTM Kennels name out as well, but they did not succeed. BTM stands for "Breaking The Mold Kennels" and Niko was just 40 points away from being a "champion" (aka stud fees set to rise). Alas, this will never occur. 13 bullets guaranteed it.

(PS. Given that BTM Kennels advertised Niko as a stud dog with an email address and phone number online, it would not take rocket science research to find out who the owner is. And, here you go...)

truthbird | 3/27/2014 2:21 PM | Flag
They are also testing to see if the 130 pound dog had been injected with steroids. If steroids are found in the dog's system, Houma police say that would be illegal and charges could possibly be filed.
----
http://www.bayoubuzz.com/louisiana-news/new-orleans-news/item/636897-pit-bull-that-killed-4-year-old-tested-for-steroids-rabies

truthbird | 3/27/2014 2:32 PM | Flag
There has been a correction already about the steroids testing:

Earlier reports indicated that police were testing for steroids, but officials with the Houma Police Department said no tests were being requested by the Department for steroids. Police said no further comment in the case would be discussed Thursday.
----
http://www.wdsu.com/news/local-news/new-orleans/dog-that-killed-4yearold-girl-injured-mother-in-attack-being-tested-for-rabies/25195584

Anita | 3/27/2014 2:49 PM | Flag
Thanks, Colleen. Mercy, that was a raunchy scroll. I can't believe it, but it was so raunchy, I even felt sorry for Niko. I am feeling all kinds of new things with this story.

The story gets even more disgusting if they were pumping the dog with steroids.

I just don't even know what to say.

If anyone has time, the NYDN story on this has a lot of comments (last time I checked),about him being too big to be a pit bull, and no counters. Maybe they could use an education on XL and XXL.

Mercy.

I hope this doesn't become the new way to raise money online. Have a kid, get a pit bull, and let nature take its course. I just wouldn't put anything past these people anymore.

Colleen Lynn | 3/27/2014 3:18 PM | Flag
Raunchy cannot be expressed enough -- they are breeding grossly deformed, exaggerated dogs. I talked to an animal expert today about the health problems Niko would have if the dog had aged (the dog was only 2-years old). "I imagine those later health problems would be significant," the person wrote after seeing the photos. The XL, XXL and Pocket and Pocket Extreme pit bulls are an obscene designer pit bull breeding trend. It's not going away anytime soon either.

Jenn E. Fur | 3/27/2014 3:59 PM | Flag
The breeder was her boyfriend and lived in the home as well.

Anita | 3/27/2014 4:44 PM | Flag
wow. eye opening. I can't wait until they are all running loose on the streets. not.



orangedog | 3/27/2014 7:45 PM | Flag
Puppy caption:
"Keeper girl off Niko and Z at 15 weeks Super correct and a cold stare"

aka Future Mauler

PutMeInCharge4OneDay | 3/28/2014 11:12 AM | Flag
I would hazard a guess that somewhere there is a "nanny" picture of Niko with the deceased child or someone elses.

Just what the world needs XXL pit bulls. I heard of the pocket pit bulls many years ago and there has been at least one at the dog training class my friend runs.

13 bullets to stop him. Wow. What is an ordinary citizen supposed to do to stop an attack. I presume most folks don't have a conceal/carry permit.


truthbird | 3/28/2014 2:52 PM | Flag
Well, that was a trip down raunchy road lane that I do not want to ever repeat, reviewing the breeder's Instagram site. I have one question: Where is Kash? Kash is the breeder's OTHER 135 pound pit bull. There are plenty of photos very recently of both Kash and Niko in the home together; there is at least one that shows all three dogs together from 2 months ago. That's a heck of a lot of dog in one apartment. Mr. Breeder can continue his breeding program (of deformed mutant dogs) with Kash and Khloe like nothing ever happened. Here the pedigree of Kash.

TX ACO | 3/28/2014 3:48 PM | Flag
The "caring $$" has gotten over $32,000, and still pouring in. Such a sickening reward for feeding your child to the wolves. Wonder if they spend a thousand on cremation and keep the rest. That would be more lucrative than breeding killer XL pits.

RSM | 3/28/2014 4:18 PM | Flag
OMG, that one link with the XXL pits has maulers as big as I am! And I am not a lightweight. Its a horror show. 175# pit bulls? You would need an assault rifle with extended mag just to stop it. This is what they want, I am sure.

I don't fear these particular dogs, because I am sure they are valuable and kept under lock and key with their owners, so only a danger to them (like killer NIKO was). My worry is when some idiots buy a few of these, then they go add them to their own pit bull breeding, enlarging the whole bunch.

BSL NOW.


TX ACO | 3/28/2014 4:48 PM | Flag
Yes to PutMeInCharge. The dead child and a substitute in case she was not ready for her next close-up.
https://fbcdn-sphotos-b-a.akamaihd.net/hphotos-ak-frc3/t1.0-9/10007072_451225984980844_622009426_n.jpg

https://www.facebook.com/btmkennels/photos/a.593023684075877.1073741826.592995287412050/623213644390214/?type=1

Also, the "Caring$$" site has raised over $32,000 for the parents who fed her to the monster. Imagine the horror if they spent $1000 on simple cremation, and kept the rest since their big bucks high dollar sperm machine is dunzo.

Branwyne Finch | 3/29/2014 10:40 AM | Flag
The "American Bully" world is quite interesting, and if you venture onto any of the breeders websites or message boards, please be prepared to take a shower after...you will want to. Most of the "breeder" websites look like a teenagers low budget rap video. Most of the breeders are very young men, high school drop outs, gansta wannabes, and run of the mill unemployable thugs looking to make quick, easy money breeding status dogs. They have developed fake registries and "dog shows", where they parade these deformed monsters around a parking lot and hand each other ribbons.

The American Bully breeders have set themselves up like an MLM, marketing dogs to young thugs and convincing them to pay outrageous prices for worthless dogs so that they can breed them and sell them to OTHER aimless young men as valuable "show dogs". People are not buying American Bullies as pets, they are buying them as a "business investment", as a way to make money. The dogs themselves are structural and genetic train wrecks, in fact, many breeders of the fad "blue" color have disclaimers on their websites that the inherited allergic, chronic skin problems the dogs have are not their responsibility.

None of the American Bully breeders have likely passed a high school science class, so understanding the genetics of dog breeding is beyond them...these dogs are almost certain to have unstable temperaments, as temperament is not a word these breeders could spell, much less understand.

PutMeInCharge4OneDay | 3/30/2014 9:15 AM | Flag
I see the "nanny dog" pictures with the poor deceased child and other children exists. Not surprising at all. That the dog can behave with a child for one moment in time seems to be proof to some of the dogs disposition.

Now their deceased child is apparently their "cash cow" and more profitable then their monstrous dogs. It sickens me that they are going to profit off the childs death. When you surround yourself with this kind of dog this is never an "accident".

So, I ask again, what is a person supposed to do to defend oneself or their loved ones against a dog that takes 13 bullets to stop it.

RSM | 3/30/2014 7:30 PM | Flag
We'll, putmeincharge, that's the whole point. They don't want you to be able to defend yourself, or your family, or even your own dogs. I would bet my that the breeder and his fan's are impressed by the amount of gunfire it took to stop the mauler. Among themselves, this is the kind of "pit legend" they love to share, and boast about. It makes them feel proud and powerful. These are people with little actual power, so they borrow it from their beasts, and relish the terror on others faces.
There are fewer penalties for the owner if a killer, than for someone that kills one to protect themselves! Since they have zero accountability you can see why they ramp up the fear factor. What's anyone gonna do, give them a ticket for no leash? The laws are BS, and they know it.
It's an arms race w maulers.

Charlotte Welcker | 4/01/2014 7:45 AM | Flag
A beautiful little girl brutally torn apart and killed. It is well known that pitbulls are likely to do this. So preventable!

PutMeInCharge4OneDay | 4/03/2014 6:10 PM | Flag
According to an article in the UK Mail the mother and boyfriend are "refusing to speak to investigators"

http://www.dailymail.co.uk/news/article-2596316/Parents-refusing-talk-investigators-four-year-old-girl-mauled-death-130lb-pit-bull-belonging-mothers-boyfriend.html

PutMeInCharge4OneDay | 4/04/2014 6:26 PM | Flag
Colleen I hope that someone is reaching out to Law Enforcement with the information you posted today (4/4).

Perhaps there is just one sensible person on the investigation who might just understand how dangerous these animals are and when they attack its not an accident.

Ok I know I am expecting to much but one day I am hoping everyone "gets it" and stops giving these animals and their owners a pass.



Colleen Lynn | 4/08/2014 12:15 PM | Flag
Notice was just sent in by a hot tipper -- Niko's online pedigree has changed. The "known offspring" that were previously listed have now been removed.

Known offspring of Niko include:

1. BIGGIE SMALLS OF WHISKEY BAY
(Still in Cache, has been removed!)

2. WBB BIG BOOTY JUDY
(Still in Cache, has been removed!)

3. WBB JOKER'S WILD
(Still in Cache, has been removed!)

truthbird | 4/11/2014 12:17 PM | Flag
No steroids found in second dog at fatal attack, police say
By Jordan Gribble | Staff Writer
Published: Friday, April 11, 2014 at 11:19 a.m.
------
http://www.houmatoday.com/article/20140411/ARTICLES/140419881

Charlotte Welcker | 5/15/2014 9:06 AM | Flag
After seeing how the mom is not cooperating with the investigation, I think this entire situation is a mess. The detectives seem to be asking questions from far out in left field . Will there ever be justice for Mia?

Karen Bellard | 6/16/2014 4:01 PM | Flag
It's now 6/16/14 And the mother and boyfriend are still refusing to talk to police. I really don't understand how that is even an option. A child in your care was murdered by a dog in your home. Neglect, Supervison...something. I live in this part of Louisiana and have seen people who know these people personally comment how the dog had bit her before and the female dog in the apartment at the time was in heat.....will anybody ever be held responsible????