Monday, January 9, 2012
How Dangerous Breed Advocates are Redefining Our Relationships with Dogs and Why We Should Stop Them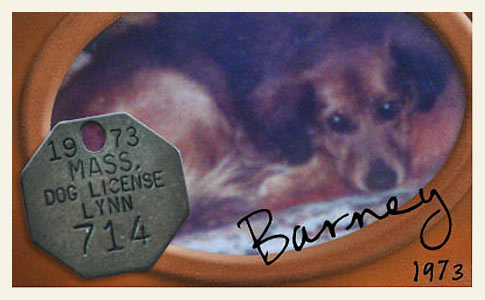 Barney was the runt of a litter born to the neighbor's mutt. We conned our mom into keeping him, when we brought him home one day "just to show her." He never left. We think he was a Border Collie-Sheltie-Golden Retreiver-Cocker Spaniel...oh, hell, we had no idea what he was.
By Branwyne Finch
A guest writer for the DogsBite.org Blog.

It was like so many other pit bull attacks; totally unprovoked.
Sixty-two-year-old Joseph Finley
went jogging in Rainbow Beach Park, Chicago, after his overnight shift at a hospital. It was a Monday morning at 6:00 AM, when two loose pit bulls attacked him. A neighbor who heard his cries came to his aid, trying to fend the dogs off with a baseball bat, to no avail. Mr. Finley was mauled severely, the dogs attacking relentlessly, tearing at his arms, legs and face. "They were just going after the man
like he was a piece of steak
," said Stanley Lee, the good Samaritan who tried to intervene. The dogs continued attacking Mr. Finley until they were shot dead by police. Mr.Finley was rushed to a local hospital in critical condition.

Local and national news outlets picked up the story, and predictably, the comments under each news article revealed the bizarre psyche of pit bull advocates. Was there empathy for the victim? Was there a condemnation of the backyard breeding practices that produces killer dogs? Hardly.

"There is no proof this was done by pit bulls". Pit bull fanatics suggested that, unless there was a photo, a DNA test, and a sworn affidavit from the owner, the dogs responsible could NOT have been pit bulls. "The owner must have
trained them to fight
." Alternately, some pit bull advocates felt that the owner "failed" to train these dogs NOT to attack people. Others felt that the owner of the two dogs was "irresponsible"-- not for owning vicious animals capable of killing an innocent neighbor, but for "allowing them to get loose".
Pit Bull Apologists Flog Comment Sections

As serious pit bull attacks increase in frequency across the United States, a pattern has emerged;
pit bull apologists
show up en mass to comment on the news stories and demonstrate their misanthropic worldview. Regardless of the circumstances surrounding a reported attack, pit bull apologists show no empathy for the victim, but often for the "poor dog", who they insist, was "abused or mistreated" or perhaps "not trained and socialized". In many cases, pit bull advocates show an alarming lack of normal and appropriate response to human tragedy, and seem totally disconnected from accepted social mores. In cases where children have been severely mauled, or even killed, pit bull lovers will show up defending the dogs, seemingly oblivious to the fact that an article about a dead or dying child is NOT the place to demand attention.
Victims are often blamed for the attack
, as pit bull apologists will insist that these dogs would never attack unless "provoked".

It has become increasingly apparent that a relatively small but vocal group of people who are fanciers of dangerous dog breeds have managed to form an unholy alliance with the dog breeder lobby and animal welfare organizations to ensure that the breeding and ownership of dangerous dogs goes completely unregulated. The cost to the dogs has been tremendous. Pit bull type dogs are now abused, abandoned, and
euthanized in greater numbers
than any other dog breed in history. Dog fighting, though now a felony in all 50 states, funds an enormous underground economy, with the breeding and selling of fighting dogs a lucrative and legal source of income for criminals and animal abusers.

The price paid by victims of pit bull attacks is incalculable. From 2005 to 2011,
pit bulls killed 127 Americans
. The number of serious and disfiguring injuries caused by these dogs is exponentially greater, and harder to calculate. Yet these numbers pale in comparison to the most common victims of pit bull attacks -- other domestic pets. Since
dog-on-dog attacks
are seldom covered by media outlets, the frightening frequency of news stories about family dogs killed or seriously injured by a neighbor's pit bull indicates the problem is much more serious than reported.
Rebranding Pit Bulls as a Perfect Family Pet

Given these facts, one would imagine the logical response that fanciers of "normal" dog breeds would have. For instance, a call for cracking down on criminals and backyard breeders
producing the glut of unstable dogs
, a call for breed clubs to redefine ethical breeding practices, and a strong commitment to breeding away from the aggressive behavior, including dog aggression that defines the pit bull breed. The sad reality is, none of this has happened. Instead,
animal welfare organizations
and backyard breeders have manipulated the lunatic fringe of the nation's dog lovers in an attempt to redefine what is "normal" behavior in a family pet. For the criminals and backyard breeders, a lot is at stake: pit bulls have become a cash crop for the underclass; a source of quick cash for drugs, alcohol and more. Most of the dogs produced by "pit bull breeders"-- gang members, dog fighters, drug dealers and aimless young people who lack the work ethic to make an honest living -- end up dumped or abandoned into our nation's shelter system. Since most middle class families looking for a pet dog do NOT want a
fighting breed
, and since many of these poorly bred dogs have been purpose-bred for aggressive temperaments, shelters and animal welfare organizations find themselves deluged with unadoptable pit bulls.

How has the animal welfare community dealt with the constant glut of unwanted dogs? Euthanizing healthy animals has become an issue with donors, who have embraced the concept of "No Kill" animal sheltering. While it is safe and politically correct to advocate spay and neuter education, education has not been effective with pit bull breeders who, even in the Northeast where dog overpopulation is not a problem, rely on breeding pit bulls for income. So the solution has been to launch a massive PR campaign to market and
"re-brand" these dogs as the perfect family pet
.

Animal welfare organizations quickly found strong support from dog breeder lobbyists, who have a financial interest in fighting any and all
regulation on animal breeding
. They also found support with owners of the pit bull breeds. Pit bull owners, it seemed, were a vocal and aggressive group. Most were young, female, under-educated, yet web savvy. With no practical knowledge of basic animal husbandry or the science of genetics, they eagerly believed, and repeated, any Internet source that supported their worldview. A fabricated history of the pit bull breed sprouted up on a few Internet sites and was embellished and repeated over and over until it became "fact". The dogs were "
nanny dogs
" that babysat children! The dogs were farm dogs, herding dogs, and "cherished family pets". They were "America's dog", the
most popular dog in the country
"at one time". The dogs had to be "forced" to fight and were "naturally friendly toward humans". None of this
manufactured history of the breed
can be supported with facts. The writings of virtually all famous dog fighters
reveal a much darker past
.
The Emergence of Pit Bull "Rescue" Groups

As the glut of abandoned pit bulls increased, "pit bull rescue" organizations appeared and began promoting the dogs also. With no major animal welfare organization to refute their claims, these rescues quickly learned how to push all the right buttons with dog loving donors. They used abused and abandoned fighting dogs to solicit donations, labeling any scarred up ex-fighter a "
bait dog
"; they used language from the civil rights movement to declare the public's fear of pit bulls as "
discrimination
". They blamed the increasingly frequent pit bull attacks on "irresponsible owners". The indisputable genetic tendency for pit bulls to display dangerous levels of dog aggression were minimized as "easily managed".

Instead of the age-old common sense method of trying to match families with dogs whose behaviors would be a good fit with their lifestyle, rescues and shelters began trying to "sell" the public on pit bulls. As rescuing a dog became increasingly popular and the politically correct way to acquire a family pet, the rescue community had to up the anti; it wasn't enough for a family to adopt a popular dog breed who would find a home anyway. You could demonstrate your
moral superiority
by adopting an "unwanted" pit bull that would surely otherwise face euthanization if you didn't! In fact, adopting a pit bull with behavioral problems that needed "rehabilitation" elevated you to sainthood! You could join one of hundreds of online communities where your ego would be stroked by strangers who fawned over you with exclamations of "Bless you for helping a Pittie!" For the young, the bored and the gullible, the instant status amongst other pit bull owners became an almost irresistible draw.

There was only one problem with this marketing campaign; it worked too well. As dog fighting continued to flourish, and breeding pit bulls to guard drug ops, as thug fashion accessories, weapons, or cheap burglar alarms increased, more and more pit bulls found their way into our communities. Clueless owners, who believed the mantra of pit bull advocates --
it's all how you raise them
-- were shocked when their "sweet pittie" grew up and ripped the throat out of the neighbor's elderly beagle. What happens when a marketing campaign comes up against the science of genetics? The headline making attacks showed no sign of abating. Pit bull apologists offered no solutions, but instead decided to redefine what a normal family pet is.

Backed into a rhetorical corner, pit bull advocacy has had to put all their eggs in one basket; the "irresponsible owner" excuse. By
anthropomorphizing
dogs into misunderstood, furry people, its easier to deny the basic fact that they are selectively bred, "man made" domestic animals, whose physical appearance and behavior is greatly controlled by genetics. This fundamental fact is understood by farmers breeding livestock and ten-year-old 4-H'rs breeding rabbits to show at the county fair. Yet in the world of pit bull advocacy, breed becomes irrelevant, dogs are labeled as "
individuals
", whose temperament and behavior can be quickly determined in a ten minute shelter "
temperament test
". And how to explain the frequent and serious attacks on humans and other pets? That is blamed on a "lack of training" and "irresponsible owners."

Pit bull apologists want us to believe that every family dog is an accident waiting to happen. "Any dog is capable of these things" they whine. They blame parents for the attacks on children. In a pit bull fanatic's world, a dog can "never" be left alone with a child "even for a minute." Really? Does anyone actually believe that a family can live that way? Does the average family fear the family dog so much that they have to crate him every time they use the bathroom or answer the phone? Do you tether the dog to your waist as you do chores around the house? And what of attacks on children
playing in their own backyards
, or
riding a bike on their own street
? Once again, the pit bull apologists blame the parents for "not supervising" their children. In their world, it's the responsibility of the rest of us to be ever vigilant for attacking dogs. Is that the way most people expect to live in a civilized society?
What Exactly Is a "Responsible Dog Owner?"

What, in essence, makes a good pet? According to pit bull advocates, dog owners need "training and education" to own a dog. Is that even remotely realistic or practical? Should every dog owner be required to have a PhD in animal behavior, take special training classes, learn to read their "
body language
", and carry special equipment (like a
break stick
for prying your pit bull off of another dog)? Does the average American family -- the "good enough" dog owner -- really have the time, the desire, and the money to invest in managing a dog that if anything goes wrong, will pose a deadly threat to their neighbors?

And what, exactly, is a
responsible dog owner
? Pit bull apologists define a responsible dog owner as someone whose dog remains contained on their property. They do NOT consider it "irresponsible" to own a dog that, if it gets loose, will attack and kill a neighbor or another pet. They have labeled unprovoked aggression in pet dogs as normal dog behavior -- just "dogs being dogs". If a pit bull gets loose and puts a meter reader in intensive care, the dog is excused for just "protecting his territory". If a pit bull chews through a wooden fence to disembowel the neighbor's collie, he was "
just being a dog
" and "some dogs don't like other dogs." They deliberately put "dog bites" in the same category as "dog maulings". For them, a border collie that nips the heels of playing children is just as aggressive as a pit bull that breaks bones and causes
limb amputations
.

In the world of the pit bull fanatic, society must change to accommodate their fetish for a
dangerous dog breed
. They excuse the right of pit breeders to continue to breed dogs with the genetic drive and physical ability to kill other dogs. They consider the occasional
dead child
or
permanently disabled adult
victim of pit bull attacks a price worth paying for their right to keep aggressive dogs as "pets". They insist that pit bulls represent the "new normal" in our relationship with domestic dogs, and we Americans had better just get used to it. For many of us who remember what owning a dog used to mean, remaining silent is no longer possible.

Growing up in 60's and 70's, dogs were a common sight in my working class neighborhood. In those days, there were no leash laws, and spaying and neutering your dog was not common practice. Dogs and kids often roamed unsupervised. Dogs existed along side us. They played ball with us in the street, chased cars, occasionally knocked over trash cans and ate what was inside. There were no training classes, no "puppy kindergarten". They lived on cheap supermarket food and table scraps. Occasionally they roamed beyond our neighborhood, but they always came home.

Dog fights were common, especially amongst unneutered males; we kids regularly broke them up. None of us was ever bitten or injured breaking up one of these fights. In fact, with the exception of an occasional scrape, the dogs themselves never really injured each other. And while a dog might bark at a stranger or the mailman, it was generally understood that an aggressive dog would not be tolerated in this neighborhood environment. There was an unspoken social contract with neighbors: a dog that posed a danger to your neighbor or their children would be "gotten rid of". No excuses were made for aggressive dogs. There was no talk of "rehab", or doggy psychologists. The definition of "family pet" was clear and understood.

Luckily, no one ever had to "get rid" of a dog in the neighborhood of my childhood. I remember with great affection the collection of "Heinze 57" mutts I grew up with; dogs whose watered down genetic heritage made them amazingly stable and even-tempered. They followed us to school, and (sometimes) met us again at the end of the day. They slept on the bed with us, played in the snow with us, followed us around as we played games. They blew our cover during hide and seek, comforted us when we fell and cried over a scraped knee. Dog bites happened, but were never serious. A child got nipped by an excited dog while riding a bike or a neighbor's cranky, elderly collie would snap at us if we startled her awake. No one was ever seriously injured, no trips to the ER or stitches required. Dogs integrated seamlessly into our world, and we were grateful for their companionship.
How Did We Survive Our Childhoods?

The idea that a pet dog could be dangerous was completely foreign to us. If you had told me 40 years ago that it would become fairly common for "pet" dogs to
maul
or even
kill
humans, I would have called you crazy. Yet here we are today. What has changed in the relationship between families and dogs? How did we all survive our childhoods? Current advice regarding dog ownership would indicate that we were in grave danger of untrained dogs, dogs in "packs", dogs not spayed or neutered, and totally unsupervised kids. What kept us safe and allowed us to develop this wonderful relationship with our dogs was twofold: 1.) A community commitment to owning safe and friendly pets, and 2.) An absence of dangerous dog breeds. It's this very relationship we risk today when we accept the
death and disfigurement
of innocents as the occasional result of dog ownership.

When the "experts" in animal welfare organizations excuse pit bull attacks by telling us that "any" dog is capable of killing us, what does this mean for the future of our pets? Can we believe these same "experts" who tell us that therapy dogs are perfectly safe to have around children and the elderly? If
explosive and unpredictable aggression
in dogs is considered a "normal" part of dog behavior, can we expect to see dogs banned from more and more public places? If injury from a dog attack is considered an acceptable risk for dog owners, will dog ownership eventually be banned by all
rental properties, homeowners and condo associations
as "too risky"? Will our children grow up believing that all dogs are dangerous and unpredictable, and that they can never approach or interact with any dog they don't know? Will they be robbed of the joy of relationships with various canine friends?

The "experts" have descended upon Chicago to pledge "tougher penalties" for "irresponsible" dog owners. Yet across the country, owners of dangerous dogs are being punished for attacks with prison time, stiff fines, and probation. None of these penalties have served as a deterrent, or have resulted in a reduction of dog attacks. The reality is that most owners of aggressive dogs don't really believe their animals are capable of killing someone, until it happens. And punishing owners of violent dogs after an attack does nothing to help victims. Such punishments won't give a mauling victim back her face and it won't bring a dead child back to life. That's why it is time for people who love dogs and humans to stand up and say "enough".

My life shouldn't depend on whether or not my neighborhood pit bull owner forgets to lock a gate. No one should own a dog for a "pet" that, if he gets loose, will attack and kill the first person or dog he comes across. Pit bulls have been selectively bred to do just that, and the histrionic wailing of the legions of online "pit bull mommies" should be ignored. Breed bans are an option for some cities, but are in no way necessary. There is certainly NO reason for any "responsible" pit bull owner to have to give up their dog either. Its time for cool heads and grown ups to step in and outlaw the breeding of pit bulls.
Mandatory spay and neuter laws
won't affect responsible dog owners, but will put an end to dog fighting, and pit bulls inflicting attacks upon pets and humans. Such laws will also end the shelter killing of hundreds of thousands of these dogs.

And maybe, just maybe, we can salvage our relationship with the family dog before it is lost forever.
Learn more:
Is an American Bulldog a Pit Bull?
The Pit Bull Hoax: The ATTS
The Nanny Dog Myth Revealed
Related articles:
01/04/12:
2011 U.S. Dog Bite Fatality Statistics - DogsBite.org
11/19/11:
1911 Pit Bull Terrier Depicted as 'Outcast American' to Victimize the Breed
10/22/11:
Mother of Two Responds to 'Pit Bull Awareness Day' in Massachusetts
01/03/11:
Parent of Mauling Victim Responds to North Carolina Pit Bull Fatality
09/17/10:
Craven Desires: Weekly Frankenmauler Round Up Collection
10/30/10:
Collection of Best Friends Animal Society Related Posts - DogsBite.org
03/20/10:
Dog Bite Victim Attorney Responds to 'Blame the Victim' Comment
02/06/10:
Pet Pit Bull Unleashes Explosive Attack on Owner and Two Others in Hoboken
10/28/09:
In Massachusetts, Landlords May Be Liable When Tenant's Pit Bull Attacks
08/24/09:
2009 U.S. Shelter Data: Pit Bulls Account for 58% of Dogs Euthanized
06/29/09:
I'm Tired of 'Pit Bulls Before People,' A Response to Carrie Pollare
01/28/09:
Lancaster Passes Mandatory Pit Bull and Rottweiler Sterilization Law
09/29/08:
Break Sticks: A Tool Used to Pry Open a Pit Bull's Jaws
Labels: Activist, Editorials and Letters, Guest Writer, Massachusetts, Pit Bull Propaganda

Please donate to support our work
DogsBite.org is a 501(c)(3) tax-exempt public charity organization. Learn more »
posted by
|
permalink
|
16 comments
|

email
|

blog rss
|

comment rss

16 comments:

dawn james | 1/09/2012 1:29 AM | Flag
and here is the pit bull apologia, right on cue.

DubV | 1/09/2012 10:09 AM | Flag
Excellent.

OT | 1/09/2012 1:03 PM | Flag
That may be the best description of what I remember growing up with neighborhood dogs that I've ever read. Now people jump back when they are near a dog that barks, even an obviously harmless one. I've seen them do it with my 30 lb slobber machine of a furry mutt. The effect is real, just watch people around dogs, it's not like it was 30 year ago.

dawn james | 1/09/2012 1:19 PM | Flag
Branwyne's words inspire me and give me hope.

snack sized dog | 1/09/2012 2:40 PM | Flag
There is so much good in here!

The myth of the "irresponsible owner"! Beautiful!

"My life shouldn't depend on whether or not my neighborhood pit bull owner forgets to lock a gate."

Why is this simple concept so hard for so many to understand.

Thanks for this!

april 29 | 1/09/2012 6:08 PM | Flag
"Its time for cool heads and grown ups to step in and outlaw the breeding of pit bulls. Mandatory spay and neuter laws won't affect responsible dog owners, but will put an end to dog fighting, and pit bulls inflicting attacks upon pets and humans. Such laws will also end the shelter killing of hundreds of thousands of these dogs.
And maybe, just maybe, we can salvage our relationship with the family dog before it is lost forever."

This is the most honest and thoughtful statement I have read in a very long time. Amen!

Decatur AL livin nt to 4 pits | 1/09/2012 8:20 PM | Flag
This is written with the same honesty and straight-forward simplicity as Fulton R. Gordon, Washington D.C., 1911 - America's Dog - Thank You Branwyne for putting these words into a form for those like me to "lean on".

Anne King | 1/09/2012 8:42 PM | Flag
when we first went public after a pit attacked our child, we suffered horribly...it was incredibly difficult enough dealing with the realization that someone's consumers choice probably meant to kill my child...and that the gift given to me, my son, his face had been in the mouth of a pitbull. But then came salt in a gapping, raw open wound, the words of the pit zealots, bashing and blaming him and I. Articles like this, help ease this part of the journey for me, it helps me feel less alone, and justified in my wondering who pitbull owners are...and that me standing up, wanting changes is 100% justified.

Opalina | 1/10/2012 12:54 PM | Flag
100% agreed! I grew up in the 60's and 70's on Air Force Bases. Most family's had dogs, and most dogs were chained in the yards. Few yards had fences, due to the fact that most people only stayed on a base for 2 years and didn't bother erecting a fence. And kids roamed freely unsupervised all the time. If chaining or tethering or unsupervised kids cause bites, then there should have been lots of dog bites on the bases. There was not. I only knew one person that was bitten by a dog the whole time (17 years). And that bite was a small puncture wound to the arm.

Sputnik2009 | 1/13/2012 5:37 AM | Flag
I'm relieved that someone finally wrote this column! And a brilliant job of it to boot.

I hope all will send the link to various prominent gurus and organizations (eg Jean Donaldson, Ian Dunbar, the APDT) who are betraying all of science and all we know about normal dogs in order to defend this artificial, non-real-dog human creation. They don't care a shite about what their betrayal means for the real domestic dog.

Donaldson even instantly forgets what she said two seconds ago about evolution, selection and genes, in order to remind us this applies to all creatures in the universe EXCEPT PIT BULLS! She suddenly becomes Lamarckian. I'd be ROTFWL if it weren't so sad -- and so vicious.

Kinda makes you wonder what kind of corruption is at play...by which I mean both legal financial corruption of the mind as well as any internal rotting processes that might be taking place.

How about we remind them that saying 'I love pit bulls' means you can't also love the domestic dog. It's kinda like saying 'I love child rapists, they musn't be hindered in any way, nor imprisoned, nor executed if they also torture then murder the child' but then wanting us to believe you love children too.

Thank you for this column. Let us PLEASE keep these corrupted minds and souls from getting the rest of us to agree that Charles Manson is definitive of what the human race is...oops, I mean that the pit bull defines what the domestic dog is.

THANK YOU!

vintage | 1/15/2012 6:25 AM | Flag
This Pit Kook has an unbelievable influence on public safety in the US....Hiding her ripper from police at age 6!

"Ledy Van Kavage's first and best friend was an American Pit Bull Terrier (APBT) named Boody, a stray puppy her family adopted when Ledy was 4. Boody was a partner in all of Van Kavage's childhood exploits. She recalls hiding out with Boody in his dog house when she didn't want to come indoors. But that was decades ago, "before the time of responsible ownership," says Van Kavage of Maryville, Illinois, who is now the Midwest regional legislative liaison for the American Society for the Prevention of Cruelty to Animals (ASPCA).

Not only was Boody allowed to roam, he was never neutered, and he often fought with other dogs. Intact adult male dogs of all breeds are well-known to be more likely to fight than neutered males or females. Adding a biological imperative to a bully breed's genetic programming is like pulling the pin on a hand granade. "I remember jumping into the middle of a dog fight when I was 6 and pulling Boody off another dog because someone had called the police," Van Kavage recalls. "I didn't want the cops to shoot my dog."

Tragically, Boody's propensity to fight and his unneutered status were his undoing. "He got in a fight," Van Kavage remembers. "He was able to drag himself to our street, where he met me every day on my walk home from school. I found him on my way home. We took him to the vet, but he died of his fighting wounds. To this day I grieve for him."
---
http://www.dogchannel.com/dog-magazines/popular-dogs/articletraining_bully_breeds.aspx

Didn't know it was amoral to allow your fighting breed to wander and rip neighborhood pets...

"Yeah, that's the ticket!"

vintage | 1/15/2012 6:29 AM | Flag
Another Pit Kook who should be barred from the public safety debate.

Dr Randy Lockwood emerged onto the scene in the late 80's with the HSUS and more recently with the ASPCA...He wrote the template for the laughable Pit Bull advocacy talking points and is responsible for many deaths and maulings. In this article he rallies against wolf-hybrids and describe his experiences owning one...

http://news.google.com/newspapers?id=G_laAAAAIBAJ&sjid=4E0NAAAAIBAJ&pg=5212,2521549&dq=ripped+apart+by+dogs&hl=en


"The animal slept in my sleeping bag and appeared friendly but was eventually shot for hunting down and killing a sheep"

New indian name:

"Sleeps with Sheep killing Wolves"

suizou | 7/30/2015 11:00 AM | Flag
Excellent article. Bookmarked for future battles.

WENDY THAYER | 8/18/2015 9:04 PM | Flag
Excellent!!

EyesOpened | 6/30/2016 11:10 PM | Flag
Thank you for this truthful article! It's extremely well-said, and I so agree with it.

After becoming aware of the pit bull problem just a few months ago and subsequently reading through the comments sections of hundreds of dog attack articles, I too have noticed the changing attitudes toward dogs and dog ownership. They're extremely disturbing. Most notable is the seeming belief that dogs protecting their territory is not only just normal canine behavior but is also DESIRABLE. People actually boast that their dogs would tear a trespasser to shreds and feel safer with the "protection" of an aggressive dog.

I have never felt it was the job of my dogs to protect me; rather, it's my job to protect them! Sure, a dog alerting me to someone's presence by barking does make me feel safer (even the much-maligned small dogs can make great alarm systems), and I know that the very presence of any kind of dog can be a deterrent. Maybe if someone tried to hurt me and my dog intervened, I would be glad for the protection, but I wouldn't expect it. My dogs have always been my companions. They're supposed to be pets, not security systems or bodyguards. I am heartily sick of the excuses made for dog aggression and the elevation of what is now somehow considered positive behavior. Guard dogs are meant to bark and warn intruders, not maul them to death; yet on news articles people are praising dogs for killing someone just for entering a yard.

It's shocking and appalling--and, yes, shows that our relationships with dogs are being redefined by these apologists.

No, thank you! I am glad that my dog allowed a stranger to come in the house when no one was home, because she was there to take care of him. It made me feel like a proud parent that she left a note saying she loved him after just that one brief encounter. Does that mean I raised him right? He was well-socialized and went to puppy and obedience classes, but a great deal of his temperament is attributable to good breeding along with being of a breed that's intended to find, flush, and retrieve birds gently, not maul 1,000-pound animals or other dogs to death. Genetics matter!

I refuse to allow the bullies to change my attitudes and beliefs about dogs, and I'm grateful for the resources that are working on spreading the truth. Thank you, and please keep up the good work!

Belinda Knoblock | 4/26/2018 1:23 AM | Flag
I remember the same things about the dogs in the 70s. If a dog you didn't know showed up in your yard it wasn't a big deal. You just made a new friend was all. Tethered dogs were usually hunting dogs like beagles, coon dogs, and fox hounds. The ones I knew were all very sweet dogs. The only danger you were in was if one tripped you with his chain or knocked you down because he was so happy and excited to see you. A dog that was chained for being aggressive was usually easy to spot. His behavior would be a dead give away, but pitbulls often don't give any clues that anything is wrong. That is why we hear about them just "snapping".
Have any studies been done on pitbull brains? I see things on tv that show how the brains of people with different disorders appear in medical imaging. I have often wondered if those same things could be seen in images of a dog's brain.