Tuesday, June 8, 2010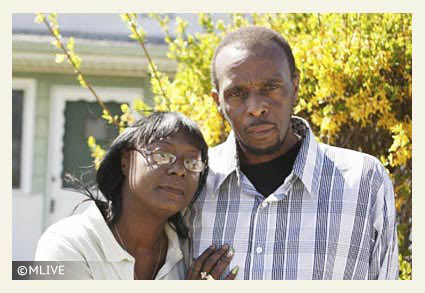 Pit bull attack victims: Bridgetta Hadley and Duane VanLanHam.
Judge Ups Sentence
UPDATE 0608/10:
Despite the oddly "carved up" verdict in the case against Anthony Hunt, County Circuit
Judge Janet M. Boes
did not hesitate in sentencing Hunt beyond the Department of Corrections recommendation by two years. Boes sentenced Hunt to five to eight years in prison. Hunt had asked Boes to follow the correction's guidelines and give him a "straddle cell"
1
sentence, or one that would allow for house arrest or boot camp and not prison.
Judge Boes is scheduled to sentence the other convicted Defendant, Shamarrow Amos, on June 22. Amos was convicted of two of the six counts of possessing a dangerous animal causing injury by the sympathetic jury, while Hunt was convicted of four. According to the Saginaw News, because Boes did not remand Amos to jail prior to her sentencing, it's unlikely she will be sentenced to prison. Unlike Hunt, Amos also appears to not have a criminal past.
05/17/10:
Jury Oddly "Carves Up" Verdict
On the fourth day of deliberations, jurors returned a "carved up" verdict in the trial involving Anthony Hunt and Shamorrow Amos. The jury found Hunt guilty of four counts of possessing dangerous animals causing serious injury and Amos guilty of two counts. Three pit bulls were involved in March 5, 2009 attack, but the jurors could only agree that the Defendants owned two of them. Both Hunt and Amos face up to four years in prison and $2,000 in fines.
Due to his previous criminal record, Hunt was ordered to jail to await sentencing.
05/08/10:
Victim Takes the Stand in Trial
On Friday, Duane VanLanHam took the stand and testified at the dog owners' trial. He told a jury exactly what happened when he helped save the life of Bridgetta Hadley who was being attacked by the dogs (See:
Courtroom video
). The owners of the pit bulls, Shamorrow S. Amos and Anthony D. Hunt, are charged with six counts of possessing dangerous animals causing serious injury. Both claim they did not own the dogs at the time of the incident.
2
04/19/10:
Victim Awarded; Trial Set to Begin
Buena Vista Township, MI - On March 5, 2009, Duane VanLanHam placed himself between three frenzied pit bulls and a childhood friend the dogs were attacking. The dogs turned on Duane nearly chewing both his legs off. In a May 11 article, he describes the incident to the Saginaw News, "It was a feeding frenzy. They were like piranhas,'' said VanLanHam. "It was unreal. My legs was meat to them -- they just snatched out hunks of meat, just snatched it out."
VanLanHam was hospitalized for 30-days after the attack. He returned to the hospital for another month after infection ravaged his wounds. The emergency department physicians said they had never seen a case like his before. Dr. Tom Veverka said, "
It was like a shark attack. His legs were like hamburger
.
3
" The dogs mauled off nearly all of VanLanHam's heels and shredded the tendons in the back of his legs, Veverka explained. A lot of flesh and skin was
simply gone
.
4
VanLanHam returned to the Intensive Care Unit at St. Mary's of Michigan in July after collapsing in his home. His body had been unable to shake the infection; it settled into his bloodstream. By October 23, due to the infection, doctors removed four fingers from VanLanHam's left hand. His right leg, which received the worst injuries, was still bandaged and in a stabilization boot at the time. Doctors next amputated all five toes from his right foot after gangrene set in.
It was reported on April 15, 2010 by the Saginaw News
5
that the Pittsburgh-based Carnegie Hero Fund Commission is awarding Duane E. VanLanHam the
Carnegie Medal for the civilian heroism
he displayed last March. The powerful news comes nearly on the eve of the criminal trial set to finally begin Tuesday, April 20. Thus far,
Judge Janet M. Boes
has delayed the criminal trial for pit bull owners Shamorrow S. Amos, 25, and Anthony D. Hunt, 33, three times.

Related ZUPF video

Duane VanLanHam Medical Fund
Please make checks payable to "Duane VanLanHam" and mail to:
P.O. Box 1053, Saginaw MI, 48607
1
A "straddle cell" appears to be a Michigan State sentencing feature that allows the judge to sentence either to prison or to intermediate sanctions, and "intermediate sanction" cells that preclude state imprisonment.
2
A standard and well-trodden defense used by owners of dangerous dogs.
3
Since 1988, medical journals have compared pit bull bite injury to shark attack injury. See: Pit bull attack: case report and literature.
4
Because pit bull attack injury may result in massive amounts of skin and flesh loss, such victims are directly airlifted to burn centers. As Amaya Hess's mother stated last year: "The question that everyone asks me, is 'how was she burned?' Well, she wasn't burned. She was attacked by a dog."
5
Writer Gus Burns and The Saginaw News did an outstanding job covering VanLanHam's story.
Related articles:
12/31/09:
2009 Pit Bull Attack Victims and Their Stories - DogsBite.org
04/20/09:
Pit Bull Attack Victim Airlifted to Regional Burn Center in Tampa
08/07/08:
Flashback: Man Receives Carnegie Medal for Stopping Pit Bull Attack
08/02/08:
Hero Stories: Honoring Those Who Have Stopped a Deadly Pit Bull Attack
Labels: Acts of Heroism, Amputation Injury, Disfigurement Injury, Duane VanLanHam, Michigan, Pit Bull Attack Survivor, Shark Attack, Zupf Video

Please donate to support our work
DogsBite.org is a 501(c)(3) tax-exempt public charity organization. Learn more »
posted by
|
permalink
|
12 comments
|

email
|

blog rss
|

comment rss

12 comments:

Donnie Brasco | 4/19/2010 2:38 PM | Flag
It's refreshing to see average Americans step up to help others in need.

Dark | 4/20/2010 2:21 AM | Flag
It's nice that he's getting recognition for what he did, but it's a shame that the monetary amount is only a small drop in the bucket compared to his medical bills and the utter loss of quality of life this man suffered in doing the right thing. I'm completely in awe of his bravery and the strength he has shown after the attack. There is more of value and worth in this gentleman than in all of the pit bulls and their advocates in the entire world.

trigger770 | 4/22/2010 5:47 PM | Flag
Trial postponed for a fourth time, set to begin May 6th. The pit bull owners had a homespun breeding operation going (What a shocker!):

Dog-attack victim recounts events while preparing for reward ceremony in Saginaw Township
http://tinyurl.com/23x3zqc

It lasted at least five minutes, Hadley said, before emergency officials arrived and shot one of the pit bulls. VanLanHam said he thinks it was the most ferocious of the three, a mother that had recently given birth to puppies, that police shot and killed. Animal control employees captured the other two dogs, and they remain at the Saginaw Animal Care Center pending trial. One has a calm demeanor, Animal Care Center workers said. The other is too aggressive for workers to handle. It's cage is fashioned with a divider. The dog is locked into one section of the cage whenever caretakers clean the other. Prosecutors charged Anthony D. Hunt and Shamorrow S. Amos on six counts of possessing dangerous animals causing serious injury. The trial was postponed multiple times since the pre-trial a year ago, Hadley said. The trial is currently scheduled to begin May 6.

ItsATragedy | 4/23/2010 1:30 AM | Flag
Have these breeders been reported to the IRS and state tax authorities?

My heart breaks for this man. What a hero he is, and how this judge makes him continue to suffer.

The less affluent suffer the most from pit bull attacks, and suffer the most from court misbehavior.

I wish that a powerful lawyer with a heart could get involved in this pro bono to advocate for this wonderful hero.

It is very possible that the dog fighting lobby is supporting the pit bull breeders financially, and stacking the deck against this innocent victim in a court gone mad.

trigger770 | 4/23/2010 9:15 AM | Flag
The Joplin Globe (who last year at least had a horribly pro-pit bull writer claiming to be a "journalist") has come out with a hero story:

Empire crew honored for intervening during pit bull attack in Joplin

http://www.joplinglobe.com/joplin_metro/x563629927/Empire-crew-honored-for-intervening-during-pit-bull-attack-in-Joplin

Recognized on Thursday at Empire's headquarters were linemen Kayle Scott, Jonathan Huffman, John Clyburn, Pete Peterson and Matt Warner, and line foreman Rick Sprenkle.

Good job crew from Empire District Electric Company!

ItsATragedy | 4/24/2010 4:22 AM | Flag
trigger, I think many of us are living a life that is essentially wartime conditions. Where every time we take out our garbage, get our mail, go for a walk, let our children play in our yards, or even sit in our houses, we may be hit with a pit bull bomb or grenade.

trigger770 | 4/24/2010 10:50 AM | Flag
The Molalla man, who intervened in a pit bull attack, was also recognized by the Carnegie Hero Fund Commission.
---
http://www.oregonlive.com/clackamascounty/index.ssf/2010/04/molalla_hero_cited_for_saving.html

Recall the story of Christopher Friesen:
---
http://blog.dogsbite.org/2008/12/pair-of-pit-bulls-attack-molalla-man.html

trigger770 | 5/09/2010 1:03 PM | Flag
VanLanHam testified that he never lost consciousness throughout the attack and estimated that it was 15 to 20 minutes before Austin arrived.

Many people mistakenly presume that victims of horrific pit bull maulings, even fatal attacks, must "pass out" as their face or legs are being shredded to the bone. Untrue. These victims are conscious during each second of the attack.

trigger770 | 5/14/2010 3:11 PM | Flag
There appears to be a "one slime ball" hold out:

The jurors returned about 9 a.m. this morning and were in court about 3:40 this afternoon after writing Boes a note that incidicated they had decided on six counts but were at an 11-1 vote on the other six counts and are "at a standstill." The jurors did not indicate which counts against which defendant they were unable to agree on.

http://www.mlive.com/news/saginaw/index.ssf/2010/05/jury_in_pit_bull_attack_agree.html

P. | 5/18/2010 1:26 PM | Flag
Probably a pit bull owner/breeder was the hold out. When there are cases like this one, jurors should be asked what kind of dog they have. If it is a pit bull, then excuse them.

cravendesires | 6/08/2010 9:18 PM | Flag
5-8 yrs in prison in exchange for a permanent physical disability?

considering people's dogs kill and they get zilch, i must say this is good news.

Dark | 6/08/2010 11:50 PM | Flag
I am really pleased that the judge went above and beyond the recommended sentence and hope that prison is the place of incarceration. I'm sick and tired of pit owners whose dogs maul and kill getting off scott free or with slaps on the wrists. This sentence should have every pit nutter shaking in their boots. The more precedents that are built, the greater the chance that they're next.