Friday, February 19, 2010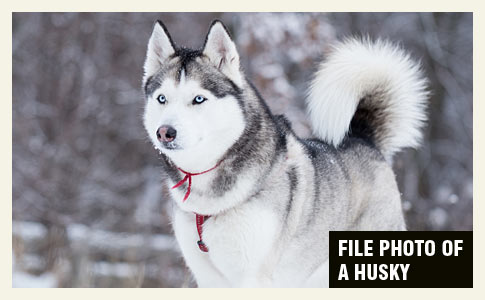 Robert Hocker, 11-days old, was killed by his family's husky dog.
Newborn Killed
(
Page 2
)
Independence, MN - In another instance of a newborn being killed by a family husky dog, it is reported that 11-day old Robert D. Hocker suffered the same horrific fate Thursday. According to West Hennepin Public Safety Director Ray McCoy, "The infant boy was in his car seat on a bed in the bedroom, when he was bitten by the family Siberian husky." Emergency personnel "exhausted all life-saving measures, and the infant was pronounced dead at the scene," McCoy said.
An Independence family's newborn boy was killed by the family's Siberian husky, which jumped onto a bed where the 11-day-old was in a car seat and bit his head, authorities said Friday.
Robert D. Hocker "died of head injuries suffered in [a] canine attack," according to the Hennepin County Medical Examiner ...
McCoy said emergency crews tried to resuscitate the baby for 40 minutes before pronouncing him dead. He declined to say how many times the dog bit the boy. Although an "active death investigation" continues, he said, the boy's parents haven't been arrested.

- Abby Simons, Paul Walsh, Star Tribune, February 19, 2010
In the recent DogsBite.org fatality report (See:
Report: U.S. Dog Bite Fatalities January 2006 to December 2008
) husky type dogs were responsible for 4 deaths (in comparison to pit bulls with 52), two of which involved infants:
Alexis Hennessy
, 6-days old (Hopatcong, NJ) and
Kylie Daum
3-days old (Warren, OH) and the other involving 11-month old
Trey Paeth
. In 2009, huskies were involved in two deaths, one involving 3-week old
Olivia Rozek
, who was survived by her twin.
Related articles:
01/21/09:
2009 Fatality: Olivia Rozek, 3-Weeks Old, Killed by Family Husky
09/28/08:
2008 Fatality: 3-Day Old Infant Killed by Family Dog
09/08/08:
2008 Fatality: Alexis Hennessy, 6-Days Old, Killed By Family Dog
Labels: 2010 Dog Bite Fatality, Crib Snatcher, Fatal Husky Attack, Minnesota, Newborn Fatality, Robert Hocker

Please donate to support our work
DogsBite.org is a 501(c)(3) tax-exempt public charity organization. Learn more »
posted by
|
permalink
|
7 comments
|

email
|

blog rss
|

comment rss

7 comments:

Anonymous | 2/19/2010 6:25 PM | Flag
Huskies are a problem with very young infants (note that huskies are notorious cat killers - animal aggression that also manifests as PEOPLE danger)

Dogs with a high prey drive are a danger to people.

But pit bulls overwhelmingly are to blame for mass murder in ALL age groups, as well as disfiguring injuries that alter lives

Even huskies, when they bite, don't remove arms, eyes, ears, legs, scalps, etc like pit bulls do EVERY DAY.

P. | 2/19/2010 9:17 PM | Flag
Huskies are known for killing infants. I read once that there was a study being done on huskies because they had never killed an adult. It was felt that since huskies are strong pack animals that they aren't accepting the new infant as a member of the pack. Two huskies killed a 24 day old baby in Rialto a few years ago. One had been with the family for 6 years.

Anonymous | 2/19/2010 11:37 PM | Flag
I would never own a husky or a samoyed. Both of these breeds are highly small animal aggressive, which could always translate to aggression against infants. Honestly, I'd never choose any breed known for having a high prey drive, which excludes all terriers, too. Tragedies like this are avoidable.

Anonymous | 2/20/2010 4:18 AM | Flag
Seems like we have three risk groups for DBRFs:

1 Pits/Rotts for any reason including heightened sun spot activity or Y2K.

2 Packed up Feral Dogs

3. Newly introduced infant into the home...I wonder sometimes if the dogs even know that the baby is a human.

The notrthern breeds do seem to be showing up regularly though.

Anonymous | 2/20/2010 9:02 AM | Flag
This is why, although I admire husky's, I will NEVER own one if I ever have children. If I own one and become pregnant, no matter how long I've owned the dog, it will go to a new home. I will never take this chance with any child.

Felony | 3/10/2010 12:49 AM | Flag
the owner of the dogs has been named.
Deonte Stevens
no charges yet.

http://www.wapt.com/news/22793251/detail.html

Lucu Lencia | 10/07/2016 8:40 AM | Flag
Just don't own a husky if you'll re-home it for any reason, there's enough dangerous dogs in rescue already. If I was worried my dog would attack my infant I certainly wouldn't consider rehoming it so it can attack someone else's infant - would rather just euthanize the dog.