Friday, November 20, 2009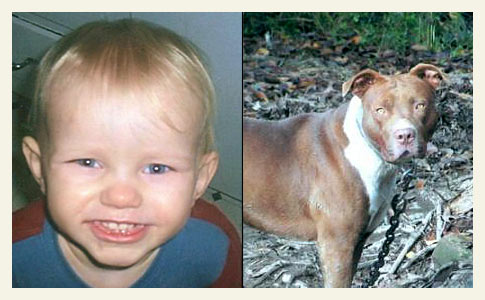 Matthew Hurt, 2-years old, was killed by a neighbor's chained pit bull in Prescott.
City Passes Pit Bull Ban
Prescott, AR - Nineteen days after a pit bull killed
Matthew Clayton Hurt
, the Prescott City Council
declared an emergency
to approve an ordinance banning pit bulls. The ordinance was approved on November 16. Prescott now joins a number of Arkansas cities that ban pit bulls including: De Queen, Dierks, Dover, Jacksonville, Lonoke, Maumelle, Mineral Springs, Mountain Home, Nashville, North Little Rock, Mayflower, Russellville, Salem, Sherwood, Truman and more.
The recent death of a 2-year-old boy motivated the Prescott City Council to approve an ordinance banning pit bull dogs from the city, said Mayor Howard Taylor.
The ordinance, approved Monday night, makes Prescott the fifth town in Southwest Arkansas to ban the dogs. Similar ordinances have been approved by Nashville, De Queen, Dierks and Mineral Springs.
The council was going to consider the ordinance banning pit bull dogs in the December meeting, but decided to declare an emergency and approved the ordinance Monday night.

- Texarkana Gazette
Other Arkansas cities regulate pit bulls by declaring them "dangerous" or "potentially dangerous" and include: Little Rock, Morrilton Pine Bluff and more. View all related
Arkansas ordinances
.
From left: Attacking pit bull and his doghouse, Chief Brian Russell and Richard Ray Smith.
Related articles:
10/29/09:
2009 Fatality: Toddler Wanders from Babysitter's Home; Killed by Pit Bull
06/22/09:
Troy, Missouri Bans Pit Bulls; 60 Days to Register Current Dogs
06/22/09:
Fayette, Alabama Passes Pit Bull Ban in City Limits
Labels: Arkansas, Fatal Pit Bull Attack, Pit Bull Ban

Please donate to support our work
DogsBite.org is a 501(c)(3) tax-exempt public charity organization. Learn more »
posted by
|
permalink
|
7 comments
|

email
|

blog rss
|

comment rss

7 comments:

cravendesires | 11/21/2009 12:59 AM | Flag
nineteen days, i think that is a record.

Anonymous | 11/21/2009 1:54 AM | Flag
Too bad they waited until the fatality occurred....

Trigger | 11/21/2009 2:48 AM | Flag
"Nineteen days" is lightening speed and indicates they will not tolerate future pit bull maulings.

Aj Ansuz | 11/21/2009 5:39 AM | Flag
I am AMAZED to see that Pine Bluff has a pit bull ban. That city is the crack and meth capitol of Arkansas. When I worked as a cop there, we constantly had trouble with pits and drug dealers.

Anonymous | 11/21/2009 12:20 PM | Flag
Thus the pit bull ban AJ!

Anonymous | 11/26/2009 3:36 AM | Flag
BSL is the public defending itself after a total breakdown in breed stewardship by the Pit community...Breeders pumping out maulers and owners carelessly containing them. It's is their failure!

Anonymous | 12/21/2009 8:21 AM | Flag
Apparently, another human aggressive Pit Bull breeding operation...just trying to make a tax free, honest buck!

"There were three dogs in the yard, including the dog that attacked Matthew, a female of the same breed and a puppy.

The pit bull responsible for the attack is currently in the custody of the Nashville Animal Shelter where it will remain until a judge determines its fate, Russell said. The female pit bull is also being held by animal control. Russell said the puppy could not be caught at the scene but said there are efforts currently underway to trap the dog."