Wednesday, August 19, 2009
York Schweder, one of the couple's two sons, speaks to media after mauling deaths.
Dogs Euthanized
archived
UPDATE 08/18/09:
Authorities have rounded up 16 dogs (11 dogs and 5 puppies) suspected in the attack that killed two people. The court-ordered euthanasia of the mongrel dogs
1
began Tuesday. Authorities are still seeking two other dogs seen in the area. It was also reported that the Schweders owned 20 cats and seven dogs (eight if Sherry's missing dog is included). There were no witnesses to the attack, and their bodies were found a few hundred feet from their home.
Sheriff's deputies, code enforcement officers and other officials spent most of Monday and Tuesday rounding up 11 adult dogs and five puppies, Oglethorpe County Sheriff's Capt. Shalon Huff said. One more was trapped Wednesday morning, leaving one still to be captured, she said.
"We're just lucky this hasn't happened before," said Susan Fornash, director of the Madison Oglethorpe Animal Shelter in Danielsville, where the captured dogs were held before being euthanized Tuesday under orders from a local judge ...
It took about 90 minutes to euthanize all 16 dogs, several of which were maggot-infested, Fornash said. No one asked that they be checked for rabies, and the sheriff directed that the carcasses be cremated immediately, she said.

- CNN, August 20, 2009
08/17/09:
Dogs Kill Two People
archived
Lexington, GA - A retired college professor and his wife were found dead Saturday along a rural northeast Georgia road after being mauled by a dozen dogs the night before. Oglethorpe County Corner James Matthews said it was impossible to determine "what kind" of dogs killed Lothar Karl Schweder, 77, and his wife, Sherry Schweder, 65, (also known as Sherry Allen) a longtime UGA librarian. Matthews said the suspected dogs were not aggressive when he arrived on scene.
The owner of the dogs, Howard Thaxton, had moved away from his home about a month ago. Neighbor Lanier Bridges said the dogs remained on the property after medical problems forced him to leave. A friend would bring him over to feed the dogs, Bridges said. He added that the dogs had never been a problem in the past. According to Matthews, Thaxton's dogs were rounded up Monday by animal control officers and showed no signs of malnourishment or rabies.
A report from Fox 5 News shows some of the dogs in a video clip, which appear to be mixed combinations of German Shepherds, Labs, Chows, and Dobermans and bred among each other as well. Investigators believe Sherry went for a walk Friday night when she was attacked by the animals. When she didn't come home, her husband went to look for her. He drove down the road in his car and when he discovered her body, he got out. The same dogs then attacked him.
As the investigation into the double fatal attack continues to unfold, open questions remain. First and foremost, are Thaxton's dogs actually to blame? The Schweder's reportedly owned 6 dogs, but no further information was provided about them. Matthews, who lives just two miles down the road from the attack, said: "There are a lot of weird circumstances with this one," he said. "I've been a coroner for 28 years, and this is one of the weirdest cases I've investigated."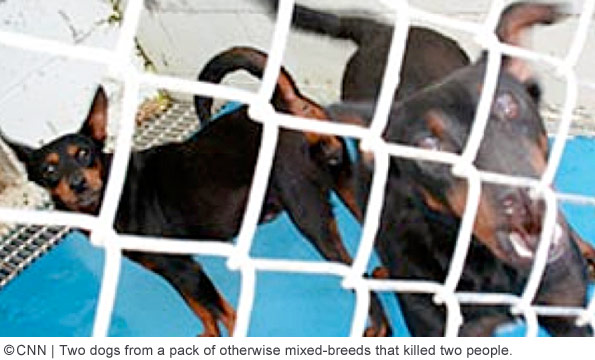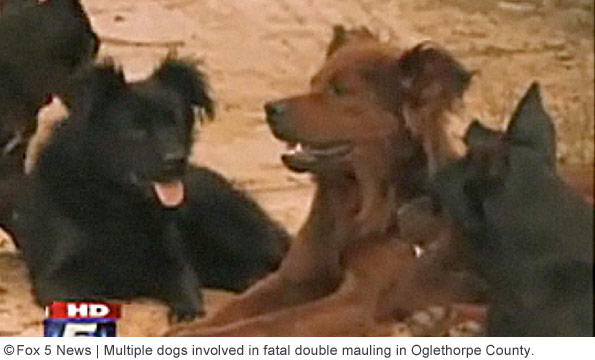 1
The term "mongrel dog" refers to a lack of breed distinction amongst dogs born in the wild, or born into homes due to their owners allowing free roaming. We've gathered some of the dog images into a viewable PDF file. It must be noted that the first image appears to show a full-blooded Doberman Pinscher.
Related articles:
07/01/09:
Pack of Wild Dogs May Have Killed Elderly Man in Alabama
04/14/09:
2009 Fatality: Winterhaven Man Killed by Pack of Dogs
Labels: 2009 Dog Bite Fatality, Double Fatal Mauling, Fatal Pack Attack, Feral Dog, Georgia, Mongrel Dog, Senior Citizen Fatality, Stray Dog

Please donate to support our work
DogsBite.org is a 501(c)(3) tax-exempt public charity organization. Learn more »
posted by
|
permalink
|
11 comments
|

email
|

blog rss
|

comment rss

11 comments:

Anonymous | 8/17/2009 10:24 PM | Flag
"Sherry Schweder was valued as a veteran bibliographer, with 30 or more years at the library, Howard said. But her kindness showed in how she adopted and cared for animals, Howard said. "Sherry had a very generous spirit and a love of animals. She couldn't stand to see an animal suffer."
--
http://www.onlineathens.com/stories/081709/bre_482712918.shtml

Trigger | 8/17/2009 10:33 PM | Flag
An early report (8/15/09):

"We definitely haven't ruled out foul play," said Oglethorpe County Coroner James Mathews. "We are looking at a lot of things that seem strange." ...The couple loved animals and may have been looking for a pet that wandered off, Mathews said, though authorities don't yet know what killed them. Other pets were at their home not far away when authorities arrived Saturday."
--
http://onlineathens.com/stories/081609/new_482215035.shtml

Felony | 8/18/2009 12:04 AM | Flag
What a horrific way to die.

Anonymous | 8/18/2009 3:15 AM | Flag
Even more horrific that the husband had to WITNESS his mutilated wife just before he suffered the same death. There isn't any question that one or more sub plots is going on in this tragedy. Whether Georgia officials make these sub plots public (and prosecute) is a separate matter. This is a DOUBLE FATAL ATTACK. Why do I think that Georgia officials will accomplish less than 1% of what Livingston County officials did after their 2007 double fatal mauling?

http://www.dogsbite.org/blog/2009/07/history-channel-airs-segment-of-double.html

Anonymous | 8/18/2009 4:34 AM | Flag
How can an incompetent elderly man be allowed to have a dozen dogs that he allows to roam? How uncivilzed is it in that county in Georgia?

cravendesires | 8/18/2009 10:26 AM | Flag
i wonder if howard thaxton is related to randall thaxton?

http://www.pet-abuse.com/profiles/14838/

P. | 8/18/2009 9:53 PM | Flag
That area is still pretty red neckish. It's a lot of open forest land, plenty of room for animals to roam. And people stay to themselves. Yep, you'd call it uncivilized to a degree although the burbs are encroaching fast and life is changing. But all in all, I can believe it. There was a mauling 2-3 months ago in the same area that made the news.

Trigger | 8/18/2009 11:24 PM | Flag
Looks like 16 dogs total are being court ordered euthanized. Though, authorities are still searching for "other" dogs in the area. Additionally, it is finally mentioned how many animals the Schweders' owned (27):

"By Tuesday evening, 11 dogs and 5 puppies had been taken to the Madison-Oglethorpe animal shelter, where the staff was beginning court-ordered euthanizations. Authorities were still trying to catch two other dogs seen in the area. Meanwhile, the shelter has been asked to look for homes for the Schweders' 20 cats and seven dogs."

http://www.washingtonexaminer.com/nation/ap/53570327.html

Anonymous | 8/19/2009 9:43 PM | Flag
The Georgia Department of Health considers dog bites and dog bite prevention a joke. They actively killed a Federally funded program a few years ago specifically dedicated to this issue. Georgia on the whole has one of the most antiquated and primitive dog bite laws on the books. How many GA citizens are going to have to suffer this fate before the state officials get off their fat butts and do something?

Anonymous | 8/20/2009 1:16 PM | Flag
"It took about 90 minutes to euthanize all 16 dogs, several of which were maggot-infested, Fornash said. No one asked that they be checked for rabies, and the sheriff directed that the carcasses be cremated immediately, she said."
--
http://www.cnn.com/2009/US/08/19/georgia.dog.attack/index.html

Trigger | 11/04/2009 8:29 PM | Flag
Nov 4, 2009 -- "Oglethorpe County is a vote away from finally getting an animal control ordinance and an official to enforce the local law."
--
http://www.onlineathens.com/stories/110409/new_512288207.shtml

*sigh*