Tuesday, March 3, 2009
Pit Bull Attack Movie
On October 25th 2008, DogsBite.org released a
video tribute to attack victims
. Pit bull advocates celebrate this day as, "Pit Bull Awareness Day." We thought it only appropriate to create a video that remembers victims of pit bull attacks on this day. We were not alone in our efforts. YouTube artist Zupf also dedicated a special video to this day. The video contains important textual content about each victim's story. DogsBite.org exported Zupf's original movie into a web page slide show so that viewers can more easily read this text.
The 100-page slide show documents many pit bull attack victims' stories and injuries. It also briefly explains the history of the pit bull breed and highlights central arguments about why lawmakers need to regulate pit bull type dogs. Zupf has an amazing sense of timing and sequencing in this piece. But we do issue a word of caution in that, at times, a viewer will not expect a sudden image of severe injury when clicking the Next Slide button. This is similar to the way a victim does not expect the sudden nature of a pit bull attack.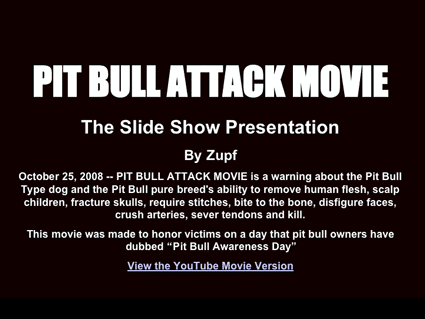 Victims Included in Movie:
Annette Rojas, 8-years old
Zachary King Jr, 7-years old
Amaya Hess, 2-years old
Scott Warren, 6-years old
Greg Jones, Jr, 10-years old
Destiny Campbell, 3-years old
Cierra Anyaso, 3rd grade
Ellie Johnson
Nick Foley, 10-years old
Hannah Shreves, 3-years old
Nicholas Fabish, 12-years old
Zac McPhillips, 13-years old
Jai-Quone Nelson, 7-years old
Danny Jones, 15-years old
Erin Dickinson, 7-years old
Elise Donaldson, 9-months old
Anthony, 2-years old
Kasey Eyring, 7-years old
Jordan Wisby, 5-years old
Charlotte Blevins, 16-months old
Emily Page Stinnett, 4-years old
Kamar Reynolds, 3-years old
Jayden Garrison, toddler
Sabin Jones-Abbott, 6-years old
Thomas "TJ" Knight, 24-years old
Jimmie Mae McConnell, 71-years old
Angela Silva, 32-years old
Sabrina Harris, adult
Ona Deane-Gordly, 63-years old
Mattea Flanigan, child


Angelina Wilkins, 42-years old
Lori Woods, young adult
Isis Krieger, 6-years old
Henry Piotrowski, 90-years old
Anna Cieslewicz, 48-years old
Alan Hill, senior adult
Lillian Stiles, 76-years old
Annette Williams, adult
Kelli Chapman, 24-years old
Kelly Caldwell, 45-years old
Tanner Joshua Monk, 7-years old
Sean Bajwa, 11-years old
Justin Kowalczy, 22-years old
Tonya Potter, 23-years old
Kiara Lynn, 19-years old
April Smithell, 23-months old
Tina Canterbury, 42-years old
Dandre Fisher, 3-years old
Seth Lovitt, 11-years old
Amber Jones, 10-years old
Roger Lindee, 41-years old
Kelly Edwards, 62-years old
Mary Duella, 35-years old
Huong Le, 71-years old
Joyce DeFreitas, 56-years old
Rayvin Crawford, 3-years old
Sue Ann Gorman, 59-years old
Delaney Williams, 6-years old
Carshena Benjamin, 71-years old
Robert Wall, 28-years old
NOTE: DogsBite.org updated several slides. In the aftermath of Katrina, the loose bull did not kill the attacking pit bull. A national guard soldier shot the dog dead. In the instance of Kelli Chapman, we added that she had defensive wounds, indicating that she had tried to stop the attack.
Related articles:
01/09/09:
DogsBite.org Announces Our Annual Awards for the Year 2008
12/22/08:
Coverage of Zupf's Pit Bull Attack Victim Videos - DogsBite.org
10/25/08:
On Pit Bull Awareness Day, DogsBite.org Releases Video of Attack Victims
Labels: Zupf Video

Please donate to support our work
DogsBite.org is a 501(c)(3) tax-exempt public charity organization. Learn more »
posted by
|
permalink
|
6 comments
|

email
|

blog rss
|

comment rss

6 comments:

Anonymous | 3/03/2009 1:48 PM | Flag
The stuff about ATTS on that video bothers me.

ATTS is run by pit bull breeders.

All its tests have been roundly discredited.

The ATTS just simply lies.

Anonymous | 3/03/2009 1:50 PM | Flag
Also the part about questioning attacking bulls is not accurate.

Pit bulls CAN take down a bull.

Pit bulls take down horses and 500 lb llamas no problem.

And those are the smaller pit bulls doing that!

Anonymous | 3/03/2009 4:01 PM | Flag
Yay Youtube! The only supporting evidence that we are right in our quest!

FoolMeOnce | 3/03/2009 6:48 PM | Flag
Wow. Zupf really makes it hit home with the quotes about dismemberment, being eaten alive, and lions on a gazelle. I'm still reeling. Kudos on a very riveting video. I continue to study all the photos I see of pitbulls, so that I will be able to readily identify them and when I do, I'll get the hell away as fast as possible. I will be moving in the future and have realized that one of my requirements will be a pit-bull free neighborhood. I'll give it my best shot anyway.

don | 3/03/2009 10:46 PM | Flag
Thank you dogsbite for sharing the talents of zupf with dogsbite's very broad audience! Information is POWER.


Don

Anonymous | 3/06/2009 9:14 PM | Flag
OMG zupf! Thank you for sharing these stories!