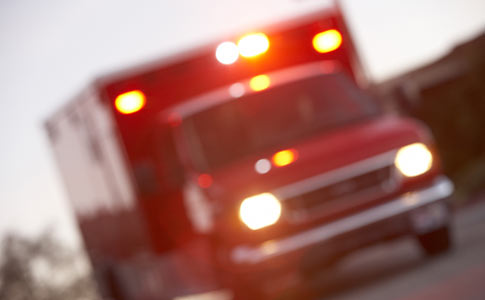 Makai Williams, 15, was killed by a pair of American bully-mixes in Raytown, Missouri.
Dogs Kill Teenager
Raytown, MO - A teenager is dead after being attacked by two American bully-mixes. On November 14, at approximately 3:30 pm, officers were dispatched to a front yard of a home in the 9300 block of East 77th Street for a report of an unresponsive person. Upon arrival, they found 15-year old Makai Williams suffering from severe injuries. The teenager was transported to a local hospital, where he died three days later. Authorities confiscated both dogs from the home. No arrests have been made.
Since the American bully -- which comes in four different sizes (Pocket, Standard, Classic and XL) -- is a "natural extension of the American pit bull terrier," and is comprised of "multiple" bull breeds, it seems redundant to call these dogs "American bully-mixes." Police did not release the size or coloring of these dogs. The United Kingdom recently banned the XL bully due to a growing number of fatal attacks inflicted by the XL bully since 2021. The investigation into the boy's death is ongoing.
Released by: Captain Dyon Harper
Release Date: 11-20-2023
Dog Attack Victim Identified

Raytown, MO – The Raytown Police have identified the teen who was killed from an apparent dog attack on Tuesday, November 14th as Makai Williams, a 15-year-old Raytown resident.

On the afternoon of November 14th, 2023, at 3:36 p.m., Raytown Police responded to a residence in the 9300 block of East 77 Street regarding an unresponsive male. Upon their arrival, they located a 15-year-old male suffering from several severe injuries. The victim was transported to an area hospital but succumbed to his injuries on November 17th. It was determined that the victim's injuries were caused by dog mauling.

Two apparent American Bully mixed breed dogs have been impounded from the residence. No arrests have been made. The investigation is ongoing.

Report Number: 23-3057
In October of 2022, a pair of American XL bullies -- a name interchangeable with XL pit bulls -- killed both children in their Tennessee home, 5-month old Hollace Bennard and 2-year old Lilly Bennard, and severely injured their young mother who intervened. Both children were pronounced deceased at the scene. The father called the dogs "house lions" on social media. The couple had owned the male and female pair of XL pit bulls for at least eight years before the dogs killed their two children.
Discovered Inside Home
KCTV reports that Williams was discovered inside the home -- not in the front yard -- and that family members were on scene. "Raytown police found a 15-year-old male lying on the kitchen floor with apparent head trauma. He was identified as Makai Williams. There were several people on scene who police presumed to be family members. According to the incident report, they told police Williams was located in the back of the home and were unsure of the cause of his injuries," reports KCTV.
Related articles:
10/25/22: 2022 Dog Bite Fatality: Amazon Driver Found Injured and Dead in Ray County, Missouri
09/11/22: 2022 Dog Bite Fatality: Pit Bulls Suspected in Multi-Victim Attack, Killing One, in St. Louis
12/08/21: 2021 Dog Bite Fatality: 61-Year Old Missouri Woman Killed by Daughter's Familiar Pit Bulls
---
Baseline reporting requirements:
Law enforcement departments across the United States should release consistent "baseline" information to the media and the public after each fatal dog mauling,
including these items
.