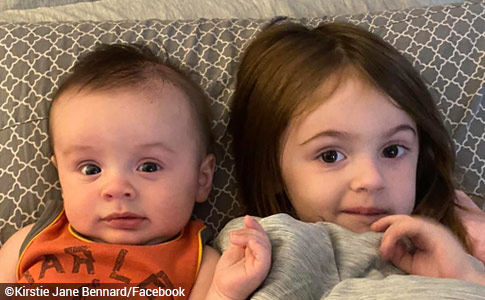 A pair of family pit bulls killed two siblings, a 5-month old boy and a 2-year old girl.
King Lion Bloodline
UPDATE 10/11/22: On October 5, a pair of pit bulls a young family had owned for eight years fatally attacked their two children in the home, 5-month old Hollace Bennard and 2-year old Lilly Bennard. The mother, Kirstie Bennard, 30, was critically injured from trying to save her children. She remains hospitalized. Both pit bulls, a male and female pair, Cheech and Mia respectively, were confiscated by Memphis Animal Services and euthanized a day after killing the children.
We located the breeder of the female pit bull that was acquired by the Bennard family in 2013. Part of her bloodline is RGB's King Lion.
Less than a day after the attack, the father and mother deactivated their Facebook pages, but we had already taken screenshots of the dogs. We then noticed that one of their friends, Jason Perry, stated on a 2017 photograph of Mia, the female of the pair, "I'd say Chunk did a good job..." indicating that a dog named "Chunk," which is Perry's dog, sired Mia. Sure enough, that turned out to be true. Jose Rubio of NextgenBullies is presumably the kennel where Perry obtained Chunk.1
On Perry's 2013 thread advertising puppies from the breeding of RGB Jefe Son RGB Mulatto AKA Chunk to RGB King Lion Daughter RGB Circe, Perry speaks directly to the father of the children, Colby Bennard. Since Colby deactivated his Facebook page, part of that conversation is missing. Needless to say, Perry tells Colby there were only four girls in the litter, one of which was named "Mia." Eight years later, Mia, along with the male dog, Cheech, will kill Colby's two children.
Perry placed the puppies for sale in a photo album called, "Royal Cross Kennels -- pups for sale." Royal Cross (RCK) did the breeding, but the dog's bloodlines are "King Lion," which is the foundation stock for Jose Rubio NextgenBullies. RCK, apparently now defunct, billed itself as a "well-established kennel located in Memphis, TN. We are dedicated to producing top quality XXL American Pit Bull Terriers with great temperaments." They called their dogs "traffic stopping."
Royal Blue Generation, AKA Saul Cervantes (as seen on Perry's advertisement for the puppies) may be related to RCK, which promoted the "Royal Cross Bloodline," or they may be one in the same. Royal Blue Generation (RBG) is the beholder of RBG's King Lion. That dog was on the cover of the Bully League magazine Issue #6 after it died. A "special tribute to The King, 2002-2010." RGB also memorialized "El Jefe" on the same webpage, the bloodline of Mia's sire.
In 2018, Cervantes claimed that King Lion was "the Godfather of the XXL Movement" and that the RGB bloodline became the foundation of "new up and coming kennels." Another "Godfather" of the XL movement that became the foundation of the XL breeding community is UKC's Most Wanted Kimbo. That dog had multiple offspring that attacked people, including killing at least one child in 2014. Kimbo was well known to "spit HA (Human Aggression) in his offspring." XL dogs that have killed people are among the "XL American Bullies you want to see in your pedigree if you're truly purchasing a top quality dog," according to the XL fan club.2
RGB Pit Bulls, King of the XL, Home of KingLioN and KingLiger, continues to have an active Instagram and Facebook page. The owner, Saul Cervantes, loves to hashtag the terms #LionsOnLeashes, #LionOnaLeash, #LionKing, #KingLion, #Lioness, #Monster, #FreakOfNature, #FrozenSemen and more. The idea that the parents of Hollace and Lilly, who purchased these XL pit bulls over eight years ago, did not know they were high-risk, "freak show" dogs is doubtful.
What we know about the family's male dog, Cheech, is that he was brought into the home about a year before Mia. The father of the children, Colby, referred to both of his dogs as "house lions." Therefore, it is conceivable that both dogs carried the King Lion bloodline, #LionsOnLeashes. At the very least, both dogs were papered. We wonder how Perry feels now? Does he still feel that "Chunk did a good job," producing the offspring Mia? Gee, what else are motorcycle buddies for?
The horrific tragedy of two innocent children killed by a pair of designer pit bulls, known interchangeably as XL pit bulls or XL bullies, is further marred by their parents who purchased dogs advertised as #LionsOnLeashes, #Monster or worse. NextgenBullies even warns buyers, "If you're looking for a gorgeous pet or a freak on a leash, this boy is the ticket! PM me if you're interested. Please speak to your spouse, partner, financial advisor, etc. before contacting me."
---
10/07/22: Mother's Condition Improving
The pair of family pit bulls that killed two young children and seriously injured their mother on Wednesday had never been aggressive before, according to a family friend who spoke to Fox News. "If there was any inkling of danger, she would have never had those dogs near her kids," Kelsey Canfield, the mom's best friend, told the news group. The couple had owned the two pit bulls, Cheech and Mia, for over eight years without a violent incident, according to Canfield.
On Friday, Canfield and the mother's sister were on their way to Regional One Health in Memphis to visit the mother. Kirstie Bennard suffered critical injuries trying to pull the dogs off her children. Her condition has been upgraded from critical to stable. She's awake now, and she's aware [of what happened]," Canfield told Fox News. Both of Bennard's children, 5-month old Hollace and 2-year old Lilly, were pronounced dead at the scene after being mauled by the family's pet pit bulls.
The father's uncle, Jeff Gibson, stated in a Facebook post Thursday, "Kirstey is still in the hospital with an uncountable amount of stitches and bite marks over her entire body including her face. Both arms and legs are bandaged/wrapped up completely. As of now it looks like there isn't any permanent damage." He added that the "attack lasted over 10 minutes and she never gave up trying to save these babies." So far, no funeral arrangements have been made for the children.
---
10/06/22: Pit Bull Kill Two Children
Millington, TN - Late Wednesday, WREG reported that a pair of family pit bulls attacked and killed two young children. The multi-victim attack, which also left the mother critically injured, occurred at a home in the 700 block of Sylvan Road near Shelby Forest State Park around 3:30 pm. The pair of pit bulls attacked a 2-year old girl and a 5-month old baby boy. Both children were pronounced dead at the scene. The Shelby County Sheriff's Office said both dogs appeared to be pit bulls.
Both dogs were seized by animal control. The mother was transported to Regional One Health in Memphis in critical condition. WREG and Fox13 continue to keep pressing the Shelby County Sheriff's Office for more information. In the history of this nonprofit, which turns 15 years old on October 15, we have never recorded a double fatal dog mauling perpetrated by family dogs on household members. We have located photographs of both dogs on the father's Facebook page.
On Thursday, the Daily Mail named the parents and their two dead children. The couple had many photographs of a male and female pit bull on their Facebook pages. The father, Colby Bennard, referred to the two dogs as "house lions" in 2014 and referred to the male dog, "Cheech," in 2017 as "our little home security system." The two young children, Hollace and Lilly, seen in the Daily Mail article are absolutely precious. It's unfathomable that both of these children are now dead.
---
Shelby County Fire paramedics transported the mother in critical condition to Regional One Health. This remains an active investigation. 2/2 pic.twitter.com/gCYxeqAQSC

— ShelbyTNSheriff (@ShelbyTNSheriff) October 6, 2022
View the DogsBite.org Google Map:
Tennessee Fatal Pit Bull Maulings
.
1
We suspect this because Jose Rubio of NextgenBullies posted many comments on photos of "Chunk," such as "Chunk looking good as ever" and "love this boy" and "The man right there." Cervantes also thanks Rubio for taking on several of King Lion's sons. Rubio of NextgenBullies based his foundation on a son of King Lion (screenshot).
2
The Top 15 XL AMERICAN BULLY LEGENDS! Pitbull Legends!
1. Juan Gotty - Gotty Line
2. RBG's King Lion
3. ICK's Disciple
4. NIS Arnold The Terminator aka Arnold
5. Lor's Blue Terminator aka "Comet"
6. BGK's The Rock
7. BGK's Cujo
8. Next Level - Show Stopping Ace
9. Probulls - King Kong aka Kong
10. UKC's Most Wanted Kimbo
11. The Unstoppable Juggernaut
12. De La Cruz - Escalade's 5150
13. DDK's The Hulk
14. Mugleston's Blue Boogie Monster aka Boogie
15. Mr. Markoff
Related articles:
06/26/20: Family Dog Characterized as 'Docile' Kills Newborn Twins in Brazil
---
Baseline reporting requirements:
Law enforcement departments across the United States should release consistent "baseline" information to the media and the public after each fatal dog mauling,
including these items
.