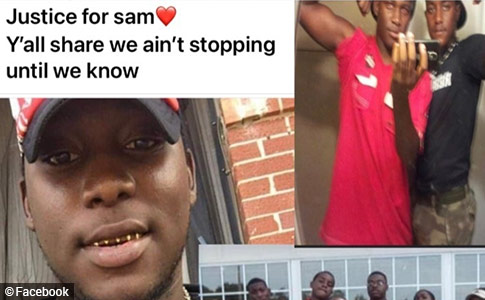 Demarcus "Sam" McKenzie II, 27, of Skipperville, was killed by a dog pack.
Man Killed by Dogs
Skipperville, AL - What began as a murder investigation on Saturday, turned into a fatal dog mauling, according to Sheriff Mason Bynum of the Dale County Sheriff's Office. Authorities initially thought that that 27-year old Demarcus "Sam" McKenzie II, of Skipperville, died due to a gunshot wound to the head. After obtaining a search warrant, and reviewing outside surveillance footage, however, McKenzie is seen leaving his home when multiple dogs began attacking him.
Ozark-Dale County E911 received a call at approximately 9:15 am Saturday morning of an unresponsive man in the 5500 block of County Road 33 in the Skipperville, Ozark community, Sheriff Bynum said. When deputies arrived, they found McKenzie lying dead in the driveway. His body was turned over to the Dale County Coroner's Office and transported to the Alabama Department of Forensic Sciences for an autopsy. Ozark police assisted in the investigation.
"When investigators arrived and began processing the scene it initially appeared that the victim suffered a gunshot wound to his head. As investigators and a crime scene technician processed the victim and collected statements from witnesses there were some inconsistencies and a lack of physical evidence to support those initial thoughts." - Sheriff Mason Bynum, Dale County Sheriff's Office
The attack began with one dog, then several more joined in, causing McKenzie to trip and fall at the end of his driveway. Up to six dogs are seen violently attacking McKenzie as he struggled to stand. "Late Saturday night, I met with the victim's mother and family and provided them with our findings," Sheriff Bynum told media outlets. The Dale County Sheriff's Office will consult with the Dale County District Attorney's Office as the investigation progresses, Sheriff Bynum said.
This isn't the first time authorities suspected a homicide via gunshot injuries to the head, which turned out to be a fatal dog attack instead. The two other two victims were also African American men and were killed by the same dogs 2.5 months apart. In that case, in Mississippi, police did not connect the dots that both men discovered in nearby ditches were killed by dogs until after the second victim. That dog owner was eventually found guilty on two counts of manslaughter.
Discrepancies that currently exist include McKenzie's home. Some reports say he was exiting his home when the dogs attacked, and another report states he was "was exiting the residence" where he had been "present inside the home prior to the incident." It's also unknown who owns the dogs involved, and which witnesses provided inconsistent statements. Finally, there was also surveillance footage, which is relatively uncommon, especially for a home in a rural area.
Back in March, close to the 5500 block of County Road 33, a pack of three loose dogs broke into a fenced-in yard and "killed one of our cats, a possum, and my dad's two rabbits," according to Elizabeth Dobbs, who lives in or around Summerville Road, which is southwest of the fatal attack location. She also knows the victim and reposted a post 17 hours ago titled, #Justiceforsam. At that time, Dobbs and other local residents thought McKenzie had been shot and murdered.
Autopsy Results
On August 2, autopsy results confirmed that McKenzie was killed by dogs. The official cause of McKenzie's death of was "sharp force trauma" caused by the dogs, according to Sheriff Bynum. Authorities confiscated ten dogs on the property and euthanized them. "With cooperation from the homeowner, we did get an order from the courts, and the homeowner did consent to us taking possession of the dogs, and those dogs have already been euthanized," Sheriff Bynum said.
Related articles:
03/01/23: 2023 Dog Bite Fatality: Dog Pack Kills 74-Year Old Man in Jefferson County, Alabama
01/20/23: 2022 Dog Bite Fatality: Public Health Employee Killed by Pack of Dogs in Alabama...
---
Baseline reporting requirements:
Law enforcement departments across the United States should release consistent "baseline" information to the media and the public after each fatal dog mauling,
including these items
.