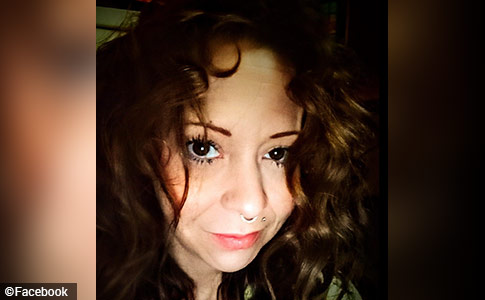 Kristen Potter, 38, was killed by a pair of great danes in Perry County, Pennsylvania.
Woman Killed by Dogs
Perry County, PA - A 38-year woman is dead after being attacked by a pair of great danes she agreed to feed while their owners were away. The attack occurred on March 16 around 5:15 pm in the 700 block of Clouser Hollow Road in Centre Township, near New Bloomfield. Perry County Coroner Robert Ressler said that Kristen Potter died of multiple traumatic injuries sustained in the dog attack. The manner of death was ruled an accident. Both dogs were subsequently euthanized.
The fatal attack occurred about two days after Potter published a distressing post to her Facebook page: "My life should be full and thriving and yet I'm here just surviving." Other posts show that her 11-year old son, Trevor Potter, died in May of 2020 in a tragic accident. The boy's father, Ryan Potter, passed away three months earlier, according to the child's obituary. Both tragedies occurred when the pandemic reached our nation's shores, causing lockdowns, panic and fear.
Her finacee, Jacob Presley Fickett, told the Daily Voice, "She was the Light of my life ... She has done nothing but good to anything she touched. I love her so much I can't even believe that she is gone." Fickett is a combat veteran. "She was able to teach me to love myself and her deeply," he said. She was also looking forward to moving to Florida, where her family would start a new chapter. "She wasn't that unhappy," Fickett said. He added that he is now "lost without her."
During the 2021 Covid year, there was another fatal dog mauling in Perry County. Rhoda Wagner, 60-years old, was killed by three pit bulls she was dog sitting for her roommate. Also, two other women between the ages of 43 and 49 were recently killed a pair or more of their own great danes. In 2022, Mindy Kiepe, 43, was killed by her five great danes in rural Clay County, Iowa. In 2019, Mary Matthews, 49, was killed by her two rescue great danes in Warren County, Ohio.
Prior to these three deaths, our nonprofit has only recorded one other fatal attack inflicted by a great dane since 2005. In 2009, Barbara Chambers, 59, died after being attacked by her prize-winning male great dane named "Lemonade" in Garland, Texas. Information from the 19th Century CDC study (Breeds of dogs involved in fatal human attacks in the United States between 1979 and 1998) shows that great danes were involved in seven fatalities during this 20-year period.
There was a third great dane at the home where Potter was attacked, but authorities say the dog was not involved. To add additional tragedy, Potter had gone to the home to feed the dog with her young son. He ran to get help when two of the three dogs attacked her, according to Ressler. Emergency responders were unable to reach Potter until animal control arrived and tranquilized the dogs. No information about the dogs' history or their owners has been released thus far.
A Penn Live article, behind a paywall, states the great danes are owned by Wendy Sabathne, who lives on the other side of the road from Potter's home. Sabathne was breeding and selling "AKC Registered Great Dane Puppies," according to her Instagram page, 240 weeks ago. In June 2019, a person on the Perry County Talk Facebook group reported there were "2 great danes running loose on Clouser Hollow." Sabathne chimed in saying, "They are harmless ... they just bark."
Dogs May Have Been Fighting
Potter's 10-year old son witnessed the start of the attack. "He screamed and ran down the driveway ... two of the great danes had attacked her from behind," Potter's father Bill Keefer said. Despite being "attacked from behind," police speculated the dogs may have started fighting while Potter was feeding them and turned on Potter as she tried to intervene. Sabathne stated that her third great dane sustained injuries she believe is the result of the dogs attacking each other.
Keefer also said the same dogs had bitten Potter two or three years ago. It was also not the first time Potter had agreed to feed the dogs. Potter had agreed most recently because Sabathne was at a hospital with her mother, who is in intensive care and may not survive. "I'm heartbroken. I'm in shock. I'm in disbelief and I just want to die. I can't believe this happened," Sabathne told Penn Live. State police said the investigation is ongoing; it's unknown if any charges will be filed.
According to the audio log files at Broadcastify.com, Potter was found inside the dog pen. [Dispatcher] "Son found mother in a dog pen facedown with blood all over her ... mother is not breathing, is not conscious, has a lot of blood around the neck area. Also, one of the dogs does have blood on the muzzle" ... [Responder] "We have a dangerous situation here. We're not going to be able to get access into the patient .... we're going to need a [17] unit on scene," he said.
A GoFundMe has been set up to help her two surviving sons and to help pay funeral costs.
---
Related articles:
08/18/22: 2022 Dog Bite Fatality: Woman, 43, Killed by Her Pack of Great Danes in Clay County
08/05/21: 2021 Dog Bite Fatality: Woman Killed by Pit Bulls She was Dog Sitting in Perry County
11/07/19: 2019 Dog Bite Fatality: Woman, 49, Dies After Being Mauled by Her Two Great Danes
---
Baseline reporting requirements:
Law enforcement departments across the United States should release consistent "baseline" information to the media and the public after each fatal dog mauling,
including these items
.