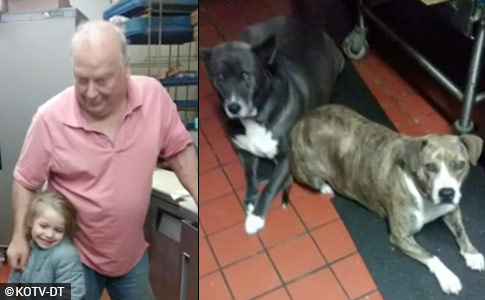 Don Gibson, 66, was killed by a rescue pit bull after trying to break up a dog fight.
Rescue Dog Kills Man
Tulsa, OK - It was reported Wednesday that a man was hospitalized in critical condition after being attacked by one or more of his rescue pit bulls and later died of his injuries. EMSA responders said there were eight dogs at the scene. Tulsa Animal Control took three of the dogs into custody. The victim's wife then asked to reclaim two of those dogs that she did not believe initiated the attack. Those two dogs were given back to her because this was a "first-party bite," officials said.
KOTV-DT identified the victim as 66-year old Don Gibson and interviewed his wife, Gena Carter. Both Gibson and Carter were trying to break up a fight between two of their pit bulls in their garage when a female pit bull, named "Isabella," viciously redirected onto Don. "Finally I just threw up my hands and said 'let them fight 'till the end,'" Carter told KOTV-DT. "And Don said 'no, no.' And I said, 'Don I got to go get help, look at you.' My garage looked like a slaughterhouse," Carter said.
"What made [Isabella] turn, I have no idea," Carter said. "It's just all a shock to me. But after I seen what she did to Don, I said 'no, no more."'
Sgt. Brian Collum of the Tulsa Police Department said the injuries Gibson sustained were a "contributing factor" to his death. "There's absolutely no doubt." Collum also cautioned people who rescue dogs that may have a checkered past. "Try to find out some background, try to find out some other things before you actually take this dog into your home," Collum said. Carter said her other dogs are "all I got to live for now," but she hopes that people will learn from her story.
The attack occurred at the couple's home in the 18000 block of East 4th Street in the morning, according to media reports. Two of the dogs were put down, Isabella and the primarily black pit bull (presumably). As many as six dogs remain on the property. The fenced-in yard shows multiple dog bowls, but there was an absence of dogs outside during the interview with KOTV-DT. A Google Street view from 2015 shows a black pit bull standing in their yard before it was fenced.
More Dog Information
An update from Fox 23 Tulsa states that "Angel," a pit bull-Lab mix, was the other dog involved in the fight. "Angel came bombarding through the door and Isabella, I guess was already out of her pen, and they got in a fight," Carter explained. They broke up that fight, but Isabella wasn't done. "She came charging back in the gate to get at Angel and when she found out she couldn't, is when she went after Don and tore chunks out of his arm, his legs and everything," Carter said.
Both Isabella and Angel were put down. Carter does have six remaining dogs on the property. One of them is a rescued wolf-dog hybrid-akita mix, named "Wolfie," who bears little resemblance to either breed. Just last week, Carter said that Isabella had attacked Wolfie over a bone. Wolfie and Isabella were rescued "years ago." Isabella was not a recently acquired rescue. The couple had been married for 23 years. Gibson used to be the owner of Ralph's Hot & Juicy Burgers.
View the DogsBite.org Google State Map:
Oklahoma Fatal Pit Bull Attacks
.
Related articles:
05/14/21: 2021 Dog Bite Fatality: Pit Bull Owner Charged with Manslaughter After Multiple Attacks
06/21/21: 2021 Dog Bite Fatality: Woman Dog Sitting Pit Bulls Found Dead in Osage County...
03/11/21: Peer-Reviewed Study Examines Dog-on-Dog Attacks in the UK by Analyzing Media Articles
---
Baseline reporting requirements:
Law enforcement departments across the United States should release consistent "baseline" information to the media and the public after each fatal dog mauling,
including these items
.