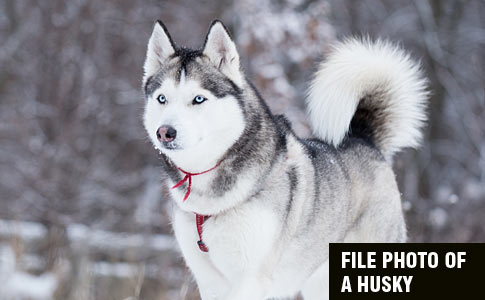 A newborn was bitten on the head and killed by a husky in Cave Springs, Arkansas.
Dog Kills Newborn
Cave Springs, AR - Benton County prosecutor Nathan Smith confirmed today that a dog killed a 4-day old infant last week. On December 14, 2022, a pet husky "put its mouth on the baby's head," reports 4029 TV. "The husky's tooth penetrated the baby's head." The baby girl was transported to Arkansas Children's Hospital, where she died. The identity of the infant was not released. Police continue to investigate the baby's death, according to Cave Springs Mayor Randall Noblett.
In a news video update, 4029 TV reported that police investigators characterized the baby's bite injuries as "severe injuries to her head."
KNWA/KFTA published the complete statement by prosecutor Smith: "On Wednesday, December 14, my office was notified by the Cave Springs Police Department that they were investigating the death of a 4-day-old baby girl. Based on the statements of witnesses and the opinions of medical professionals, it was determined that the fatal injuries were inflicted on the child by the family dog." The family's husky has been euthanized, according to Cave Springs Police Lt. Keith Lawson.
The infant's death marks the third dog mauling death in Arkansas this year, following the deaths of a 1-year old baby girl and 56-year old Sam Sullivan. Authorities did not release dog breed information in either case. The newborn's death by a husky follows a similar pattern by the breed, whose most common victims are infants. From 2005 to 2017, huskies were involved in 13 fatal attacks. 62% (8 of 13) were infants ≤11 months old and 92% (12) were ages ≤5 years old.
We added in a footnote that: "In comparison with the other top-six killing dog breeds, only 15% (3 of 20) of German shepherd victims were infants ≤11 months old, 13% (6 of 45) of rottweiler victims, 10% (28 of 284) of pit bull victims, 7% (1 of 15) of American bulldog victims, 0% of mixed-breed victims, and 0% of mastiff/bullmastiff victims were infants." During the husky-inflicted infant attacks, the baby is often sleeping too, as was the case in the 2019 fatal husky attack in Georgia.
Related articles:
12/01/22: 2022 Dog Bite Fatality: Pack of Dogs Attack Two People, Killing One, in Arkansas
11/15/22: 2022 Dog Bite Fatality: Baby Girl Killed by Dog in Washington County, Arkansas
---
Baseline reporting requirements:
Law enforcement departments across the United States should release consistent "baseline" information to the media and the public after each fatal dog mauling,
including these items
.