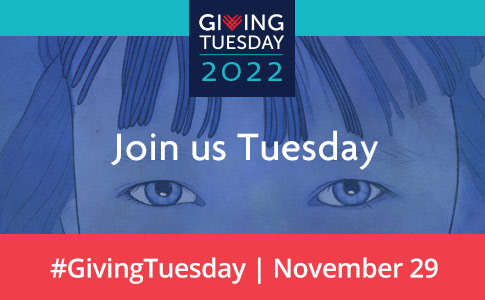 Join us on Facebook for DogsBite's Giving Tuesday Challenge 2022.
Giving Tuesday Challenge 2022
DogsBite.org - Giving Tuesday is November 29. This year, our iconic little girl, who has been part of our website for 15 years and is our social media profile image, has a critical message to share with our supporters. That urgent message is: "We need your help. Hugely," she says. "We've been under strain for the past 18 months as a well-funded opposition group continues to use the federal civil litigation process against us, effectively to silence our dog bite fatality research," she says.
This year's campaign discusses lawsuits involving three cities being sued over their pit bull bans that our nonprofit has been roped into as a non-party. This is all because our comprehensive and authoritative database of U.S. fatal dog maulings threatens powerful entities that defend pit bulls. Part of the cost of our research is defending against parties who do not like it. The burden of our advocacy is high. We are a small nonprofit too, having only one paid staff member.
Since May 2021, we have responded to three similar non-party subpoenas, each over 300 pages, that demanded our underlying data for the years 2005 to 2019. Last month, the founder had to sit for a deposition, enduring nearly 6 hours of questioning. This is despite being a non-party; our nonprofit has no direct involvement in these lawsuits. Again, the burden of our advocacy is high, as is the cost of defending our research against well-funded entities that want it silenced.
On Giving Tuesday, you can join us in defending our national research by making a donation. Your gift can be stretched too! Meta is matching up to $7 million when you sign up to donate monthly.
How Does the Match Work?
This year's match by Meta is about helping nonprofits raise money long-term. This is a shift from how Meta historically matched one-time donations on Giving Tuesday. Right now, when you sign up to donate monthly on the Facebook platform, Meta will match 100% of your donation (up to $100 per donation) after you make your second monthly donation. The match period lasts until the $7 million runs out. To be eligible, you must sign up to donate monthly between now and Dec. 31.
Ways to Participate
You can donate directly to our Facebook campaign by giving a one-time or monthly gift. Facebook also encourages people to start their own fundraiser for a nonprofit. On Tuesday morning, you can start a fundraiser for DogsBite.org by using one of our campaign graphics. You can also create a campaign "In Memory" of a special person or pet or use one of our graphics to create a theme. Then share it on your Timeline and tell your friends why it is important to act on Giving Tuesday.
Other Ways to Give
Many of our blog readers are already monthly or annual donors. Thank you so much to all of you! Giving Tuesday is always a giving day to attract new people to our cause and to invite casual readers of the blog to support our cause on this global giving day. There are other ways to give to DogsBite too. You can give a one-time gift or a monthly gift through PayPal, you can give to our ongoing GoFundMe charity page and you can give to our PayPal Giving Fund page (no fees).
Help us reach our goal of $8,000 for DogsBite's Giving Tuesday Challenge 2022!
The cities include: Council Bluffs, Iowa,
who recently won their case
(
Danker v. The City of Council Bluffs, Iowa 1:20-cv-16
). Keota, Iowa,
whose case is active
(
Droll v. City of Keota, Iowa 4:20-cv-00088
) and Williston, North Dakota,
whose case is active
(
Suckley v. The City of Williston, North Dakota 21-cv-00012
). These lawsuits are being financed by one entity.
Related articles:
11/29/21: DogsBite's Giving Tuesday Challenge 2021 - Help us Turn the Wheels of Justice...
11/30/20: DogsBite's Giving Tuesday Challenge 2020 - Rising Above & Beyond During COVID-19