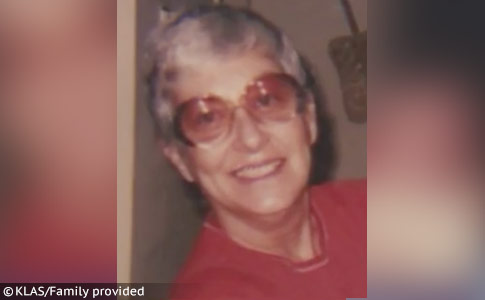 An elderly woman was found dead after being mauled by a family pit bull in Las Vegas.
Rescue Pit Bull
UPDATE 08/10/22: Family members said "Buck," a rescue pit bull of five or six years, "would never intentionally hurt her," referring to 89-year old Joan Caffiel.1 On Tuesday morning, Buck suddenly attacked and killed Caffiel. "I don't know what happened, but that is totally not like Buck at all," the victim's grandson, Peyton Faircloth, told reporters. Faircloth said his grandmother suffered from dementia. At the time of the attack, she was being watched by a hired caretaker.
"We had Buck for about five, six years. There was not a mean bone in that dog's body. That dog would sleep with us in our bed every single night. And he 'loved' grandma. Very, very protective of grandma ... He would never intentionally hurt her. He probably was trying to protect her from somebody or something." - Peyton Faircloth
Faircloth lived in the apartment with Caffiel, but was away when the fatal attack occurred. Faircloth erroneously claimed that Buck must have been "trying to protect her from somebody or something," in an effort to explain the deadly attack. Protect her from what? The caretaker? Also, why would a dog that was an alleged "guard dog" for the grandma, kill the grandma? The family, also called the fatal attack a "freak accident," a term first coined by a pit bull owner in 1985.
When Wally Roberts saw the mangled body of Deborah Pernell, he knew instantly that she had been killed in her bed by his pit bull terrier, Napoleon. "Debbie`s body was all chewed up," Roberts recalled. "Her entire face had been chewed away. Her scalp was gone. Napoleon was standing beside the bed. He was covered with blood … the dog's owner insists that the killing was "a freak accident." - Leon Daniel. United Press International, 1985
There will not be criminal charges in connection to Caffiel's death, Las Vegas Metropolitan Police Department said. Because the victim, was also dog's owner, according to police. The City of Las Vegas supplied an image of "Buck," after the dog had been detained by authorities. Buck's muzzle is seen covered in blood, an image that is far removed from the casual Buck seen wearing sunglasses on a bed lying near the victim that was supplied to news organizations by Peyton.
KLAS spoke to the hired caretaker, Gelena Kelly, who began helping full-time as Caffiel's dementia worsened. On Tuesday morning, she left Caffiel with Buck in the bedroom as she went to the kitchen. "I heard like a strange noise," Kelly said. I returned to the bedroom and saw Buck attacking Caffiel. "He had her by the neck and was dragging her body into the second room," she said. Kelly stayed in the second bedroom, too "terrified to come out" and began yelling at Buck.
"At that point, he was pretty much eating her alive," Kelly said. "The room was a bloodbath, oh my God," Kelly said. "His whole head was full of blood already." Kelly called Peyton Faircloth and 911 right away. When first responders arrived at the home, the damage was already done. Caffiel was pronounced dead at the scene. Authorities took "bloody Buck" into custody. The pit bull continues to be on a legal hold at The Animal Foundation. The family does not want the dog euthanized.
---
08/09/22: Woman Killed by Dog
Las Vegas, NV - An elderly woman is dead after being attacked by a dog, according to a statement from the Las Vegas Metropolitan Police Department. Officers were dispatched to an apartment building at the intersection of Pennwood Avenue and Luke Werner Road at about 9:43 am Tuesday. The dog was located at a nearby home and taken into custody by animal control. The apartment building is located across the street from the baseball field of Clark High School.
The victim, identified as 89-year old Joan Caffiel, of Las Vegas, by the Clark County Coroner's Office, was found in an upstairs unit, reports the Las Vegas Review-Journal. The Journal also spoke to Jayme Graver, a neighbor who has lived in the complex for two years. Graver was aware of a larger, older pit bull that roamed the area unleashed. "I pick my dog up just to be safe," she said. The elderly victim, along with a man that lived with her, moved in last year, Graver said.
Evening updates include the dog being broadly identified as a "terrier breed," by The Animal Foundation, a nonprofit that contracts with Clark County for sheltering services. In 2019, The Animal Foundation adopted out a mastiff-mix that killed its owner, Susan Sweeney, 58, three days later. A "terrier breed" isn't a mastiff-type, American bulldog or American bully. A "terrier breed" involved in a fatal dog attack is habitually a pit bull terrier with a deliberately disguised name.
Clark County, Nevada
Over the 16-year period between 2005 and 2020, there were eight recorded dog bite fatalities in Clark County, Nevada. Clark County shares the position as the fourth leading county for fatal dog maulings in the U.S. with three other counties: Maricopa County, Arizona; Cook County, Illinois; and San Bernardino County, California. The top two counties, each with 10 fatal dog attacks during the period, are Harris County, Texas (Houston) and Wayne County, Michigan (Detroit).
View the DogsBite.org Google State Map:
Nevada Fatal Pit Bull Attacks
.
1
The victim's last name is being spelled in two different ways, Joan Cafflel and Joan Caffiel.
Related articles:
04/27/19: 2019 Dog Bite Fatality: Baby Girl Mauled to Death by Rottweiler in Henderson, Nevada
04/11/19: 2018 Dog Bite Fatality: Pair of Adopted Male Pit Bulls Kill 62-Year Old Henderson Man
---
Baseline reporting requirements:
Law enforcement departments across the United States should release consistent "baseline" information to the media and the public after each fatal dog mauling,
including these items
.