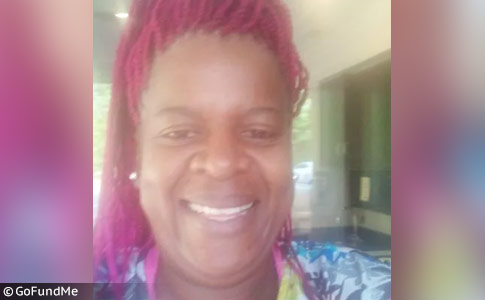 Trena Peed, 46, was killed by two pit bulls she was dog sitting at her Greensboro home.
Pit Bulls Kill Woman
Greensboro, NC - A woman is dead after being attacked by two pit bulls she was caring for at her home. Trena Peed, 46-years old, was dog sitting two pit bulls when she let them out into the backyard of her home in the 1100 block of Vance Street at about 2:00 am Thursday. Just after she let the dogs out, neighbors heard her crying out loudly for help. WGHP listened to the 911 call made by a neighbor, "It's dark. All I hear is her yelling and her dogs over there attacking her."
Hours after her death, her daughter, Waynesha Peed, created a GoFundMe to help pay for funeral expenses. "Early this morning, my mom was tragically taken away from us by a vicious attack from a dog," she wrote. She also shared the recent tragedies her family has suffered. "My siblings, grandmother, family, & I are heartbroken at her sudden passing. She has endured and overcame so much, most recently losing two of her sons two years apart, both by tragic car accidents."
Ja-h Quan Peed, 14-years old, was killed by a car while crossing a multi-lane road in Fayetteville in 2017. Ja-h Quan was a seventh grader at Westover Middle School. "No one knows the pain that I feel without you being here," Trena shared with WRAL. In 2019, Eric Lee Peed, 24-years old, was killed in a traffic collision involving a tractor-trailer in Southampton County, Virginia. All four people in the car that rear-ended the stopped tractor-trailer in the road were killed, police said.
A friend who knew Trena from church posted on Facebook, "This breaks my heart. This young lady grew up going to church with us and has suffered so much loss in her young life, losing two children to accidents, and now she was attacked by a dog and died." Waynesha hopes to raise enough funds to "bring her home to Virginia & make arrangements for her homegoing service." Anything given is greatly appreciated, she said, and please "keep praying over our family."
Greensboro Police, Greensboro Fire and Guildford County Animal Control were dispatched to the home on Vance Street. Police shot and killed one of the pit bulls to stop the attack. "Shots fired," could be heard on traffic radio, reports WGHP. "I got one dog down, it's another one out here." The other pit bull was taken into custody and is currently being held in quarantine at Guildford County Animal Services. The owner of the two pit bulls was not identified by officials or media reports.
Dog Sitting Pit Bulls
Every year, multiple people are killed while dog sitting one or more pit bulls. Last year was no exception. In September, Amber LaBelle, 42, was killed by a large pit bull she was dog sitting in Oregon. Her two daughters, 5 and 8, witnessed the violent attack. In August, Rhoda Wagner, 60, was killed by three pit bulls she was dog sitting in Pennsylvania. In June, Rebecca McCurdy, 28, was killed by two pit bulls while she was house sitting for the dogs' owner in rural Oklahoma.
The most controversial fatal pit bull mauling in 2021 also involved dog sitting. The attack occurred in Garner, North Carolina, about 85 miles east of Greensboro. Jayden Henderson, 7-years old, was attacked and killed by her neighbor's two pit bulls her family had been caring for while their owners were out of town. Her mother suffered severe injuries trying to stop the attack. After Jayden's death, the owners, Joseph and Amanda White, fought to get the dogs returned to them.
View the DogsBite.org Google State Map:
North Carolina Fatal Pit Bull Attacks
.
Related articles:
09/27/21: 2021 Dog Bite Fatality: Woman Killed by Pit Bull She was Dog Sitting in Oregon
09/10/21: 2021 Dog Bite Fatality: Child Killed, Mother Hospitalized While Caring for Pit Bulls...
---
Baseline reporting requirements:
Law enforcement departments across the United States should release consistent "baseline" information to the media and the public after each fatal dog mauling,
including these items
.