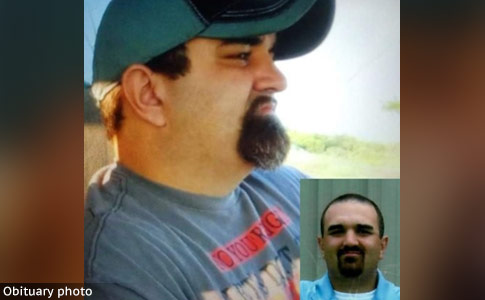 Cyrus Talkington, 38-years old, died after multiple dog bites in south Wichita.
Man Dies After Dog Bites
Wichita, KS - Wichita Police are investigating after a man died after being bitten by a dog while visiting the owner's home in south Wichita. Police identified the victim as 38-year old Cyrus Talkington of Matfield Green, Kansas. The biting incident occurred on April 20 just after 8:00 pm in the 400 block of East 37th Street South. Talkington was bitten by the dog, a canine that was familiar to him, while on the property. Talkington became unresponsive and died at the hospital.
According to police, Talkington was outside talking with his friend and their dogs when one of the dogs attacked Talkington, biting him on the arm and leg, after his friend had gone back inside the home. A few witnesses saw the attack and rushed out to get the dog away from him. Talkington was not conscious or breathing when officers arrived. Investigators believe the cause of death could be a medical condition brought on by the stress from multiple dog bites, reports KSNW.
Talkington was bitten by the dog in two different anatomical regions. The dog did not bite and release once, a far more typical bite behavior.
Peer-reviewed studies show that pit bulls were more than 2.5 times as likely than other breeds to bite in multiple anatomical locations (Golinko, Characteristics of 1616 Consecutive Dog Bite Injuries at a Single Institution, 2017) and 4 times more likely to inflict mauling wounds, ≥3 complex wounds in multiple anatomical regions (Khan, Dog-Bite Injuries to the Craniofacial Region, 2020). Police did not release the severity of injury that Talkington received in the multiple dog bites.
Related articles:
07/13/21: Man Found Dead in a Ditch After Dog Attack in McDonald County, Missouri
02/17/18: 2018 Dog Bite Fatality: Man Dies, Woman Seriously Injured by Dog in Kentucky
---
Baseline reporting requirements:
Law enforcement departments across the United States should release consistent "baseline" information to the media and the public after each fatal dog mauling,
including these items
.