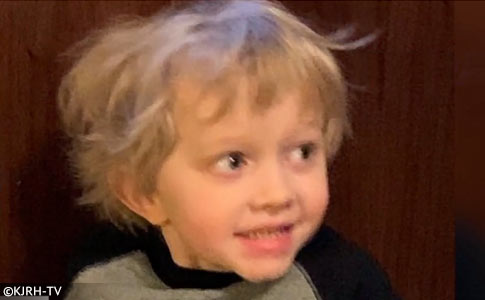 James McNeelis, 7-years old, was fatally bitten by a dog in Creek County, Oklahoma.
Mixed-Breed Dog
UPDATE 11/06/21: Michael and Hannah McNeelis spoke to Fox 23 News and clarified some information about the dog that killed their son. The male dog, named Max, was picked up by the boy's grandmother, along with several other stray dogs about three weeks earlier. James and his parents lived with his grandmother. Presumably, it was the grandmother who initially described the dog as a "sheltie-corgi" mix to media outlets, causing a stir among dog trainers and dog owners.
Michael admitted he didn't know what type of dog Max was. He said it was "about knee height, white, long hair, fluffy. It's face looked kind of like a collie, a sheep dog type breed." Max had never shown signs of aggression, the parents said. Since the attack, the dog has been held at an animal control facility. The status of Max is unknown, along with the status of the other dogs that resided in the grandmother's home. The memorial fund for James has so far raised close to $15,000.
---
10/21/21: Boy Killed by Dog
Creek County, OK - A 7-year old boy was discovered dead Wednesday night after a dog attack, according to the Creek County Sheriff's Office. The parents of the child called deputies just after 7:00 pm to report that he was missing from a home in the 5000 block of West 171st Street. The boy had been outside playing and wandered off. Deputies put together a search team and found the boy dead near West 171st Street South and Highway 75-A in Creek County, near Kiefer.
"The child was pronounced deceased at approximately 7:35 pm. Our preliminary investigation indicate the child was attacked by a family pet (dog). The dog is being held at an animal control facility. We are currently working with the Oklahoma Medical Examiner's Office on this investigation," the Creek County Sheriff's Office said. The Oklahoma Department of Wildlife was also involved, who made the determination the child was attacked by a dog, not a wild animal.
The child's family described the dog as a sheltie-corgi mixed breed. They had taken the dog in as a stray three weeks earlier, according to family members. The dog had not shown aggression before the attack, family members said. No photos of the dog were released. The dog is currently being held at an unnamed animal control facility. We have no records of shelties or corgis being the primary attacker in a fatal dog attack, not even of infants, much less a 7-year old male child.
No information was provided about the boy's injuries either. Certainly, a well-placed bite by the majority of dog breeds could kill a child, such as when a family Weimaraner fatally bit 2-year old Liam Peck in the neck in 2009. A Welsh corgi could not be excluded from a fatal attack after two pit bull-mixes mutilated and killed 71-year old Carshena Benjamin in 2007. That corgi was also found at the scene. These are the dog breeds most commonly involved in fatal human attacks.
Related articles:
06/26/21: 2021 Dog Bite Fatality: Woman Dog Sitting Pit Bulls Found Dead in Osage County
12/03/20: 2020 Dog Bite Fatality: 26-Year Old Man Dies After Pit Bull Mauling in West Tulsa
09/15/20: 2020 Dog Bite Fatality: Woman Killed by Family Pit Bulls in McCurtain County
---
Baseline reporting requirements:
Law enforcement departments across the United States should release consistent "baseline" information to the media and the public after each fatal dog mauling,
including these items
.