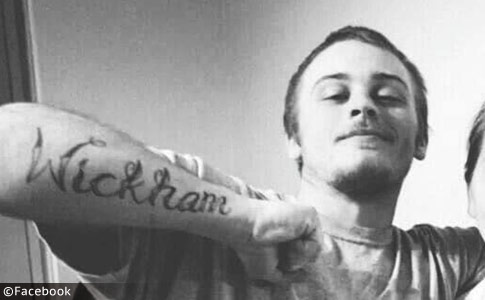 Curtis Wickham, 26-years old, was fatally attacked by three pit bulls in west Tulsa.
Suspect in Custody
UPDATE 12/03/20: The suspect accused of second-degree murder in connection to the dog mauling death of 26-year old Curtis Wickham is now in custody, Tulsa police say. Benjamin Ryan Spence, who may have gained his tattoos during previous jail stints, was charged with murder and assault with a dangerous weapon after hurling a TV at Wickham's head while he lay dying from injuries inflicted by Spence's three pit bulls that he allegedly "directed" to attack Wickham.
Spence was taken into custody on December 3 and is being held at the Tulsa County jail in lieu of more than $526,000 bail. Spence was charged with second-degree murder for "directing his three pit bulls, Boomer, Sooner and Rosie to attack Curtis Wickham causing mortal wounds," according to charging documents. Spence's girlfriend, Champaign Walker who is the "homeowner," said that Wickham begged for Spence to get his dogs, but Spence did not react, the affidavit states.
---
11/10/20: Murder Two Charges Filed
Tulsa Police have issued warrants for the arrest Benjamin Ryan Spence in connection to the dog mauling death of 26-year old Curtis Wickham. Charging documents state that Spence has been charged with second-degree murder for directing his three pit bulls to attack Wickham, which mauled and killed him. Spence has also been charged with assault with a dangerous weapon for trying to throw a television set on Wickham's head while he was on the ground, reports KTUL.
Witnesses told police Wickham was the ex-boyfriend of the owner of the home, and he had returned in search of his cell phone. Spence was the owner's new boyfriend, and he reportedly answered the door "yelling" and stepped out onto the porch before striking Wickham and starting a fight.

One witness described Wickham "getting the best of Ben" before they heard Spence tell his dogs to "sik em' (sic)," according to a probable cause affidavit.

"(The homeowner) recalled Wickham begging for Spence to get his dogs, but Spence did not react," the affidavit states. - Tulsa World
The attack occurred about 6:00 am after Wickham had gone to the home of his ex-girlfriend, Champaign Walker, to retrieve his cell phone, which he believed was inside her home. This confrontation led to a fist fight between Spence, her new boyfriend, and Wickham and to Spence's pit bulls attacking and killing him. It was previously reported that Walker had owned the dogs. Now Spence is facing second-degree murder charges. Tulsa police are still searching for him.
After Wickham's death, both Walker and Spence claimed they tried to pull the dogs off him, but were unsuccessful. Spence also blamed Wickham for the dogs attacking. Charging documents indicate that Spence (AKA "Dias Centavos") was lying. Murder charges after a fatal dog attack are rare, as are the elements in this crime: Spence directing his dogs to attack Wickham, throwing a TV at the victim's head, and a day earlier, Spense had threatened to stab Wickham in the face.
The homeowner told police she demanded Spence to drag Wickham into the house to separate him from the dogs and he "finally" complied, but by that time, "the dogs had torn Wickham's clothing from his body and he wasn't moving."

She told investigators she could see massive injuries to Wickham's body and that he was losing a significant amount of blood as he lay on the floor, but Spence, who was "still worked up pacing back and forth," grabbed her flat screen TV and threw it at him, narrowly missing his head. - Tulsa World
---
10/23/20: Updates & Clarifications
On Thursday, 26-year old Curtis Wickham was killed by three pit bulls. Wickham had gone to Champaign Walker's home, his ex-girlfriend, at about 6:00 in the morning demanding his cell phone, which he believed was in her home. This confrontation led to a fist fight between Walker's current boyfriend and Wickham and then to Walker's dogs brutally mauling him to death. Walker claimed she and her boyfriend tried to pull the dogs off Wickham, but were unsuccessful.
Police were dispatched to the home due to a "shots-fired" call. A neighbor had fired a single shot into the air to stop the dogs from attacking. It was previously reported that police were unsure who had fired the gun. Police have not yet determined if Wickam's death could lead to any charges. Notably, Walker was wearing a pit bull tee-shirt when speaking to the media that displayed: "I'm telling you I am not a pit bull. My mom said I'm a baby and my mom is always right."
Between these two repellent dog owners and the loss of a 26-year old man's life, it is hard to know where to begin. However, domestic pit bull violence routinely starts when an argument erupts or a fight occurs between two or more people. That was the scenario in Plainfield earlier this year. A family argument led to Devin White's pit bull going on a rampage attack, killing Devin and injuring three other family members. When pit bulls erupt, they typically do so without specificity.
This lack of "specificity" in their victims -- which is akin to a hand grenade going off -- is why 53% of all pit bull fatality victims live in the pit bull's household or are considered well-known to the dog. If Champaign Walker and her boyfriend, "Dias Centavos,"1 had "actually" tried to intervene to help Wickham, they likely would have been injured in the attack -- neither appears to have suffered a single scratch. Walker also wore a "promotional" pit bull tee-shirt for her media interview.
One neighbor said the attack "went on for 10 or 15 minutes."
---
---
10/22/20: Man Killed by Pit Bulls
Tulsa, OK - A man is dead following a disturbance Thursday morning in west Tulsa. Police are also investigating if he was shot. According to Tulsa police, the victim, whose identity has not been released, was causing a disturbance with the homeowner in the 5000 block of West Admiral Boulevard. The two got into a fist fight and the homeowner's dogs attack him, Tulsa Police Homicide Lt. Brandon Watkins said. Police were initially called to the home as a "shots-fired" call.
KJRH reports the incident occurred at about 6:00 am near West Admiral Boulevard and North 49th Avenue. When police officers arrived, they found a young man had been attacked by three pit bulls. The victim was taken to a hospital, where he died. A neighbor told KJRGH the dogs are known for being aggressive and had attacked them and their dog before. Police took the homeowner into custody for questioning. Police are treating the investigation as a homicide.
Police told News on 6 that the man had been mauled so bad, they aren't sure exactly what killed him (the mauling or possible gunfire). "There is definitely a self-defense aspect to it," said Lt. Watkins. "The guy who was mauled and died was over here and up to mischief. So, it's just determining exactly what happened right now." Watkins said detectives would be at the scene investigating for some hours to come. All three dogs were taken into custody by animal control.
Fox 23 spoke to a neighbor, John Efird. He said he heard a woman screaming and saw a man swinging something while three dogs circled him and another man that looked injured. "Another guy was slumped over the fence and I didn't see him move or anything," Efrid said. Police have been called about these dogs before, he said. "They even killed my girlfriend's daughter's chicken, which is buried back there," Efrid said. Police are questioning "all the players" in this "drama."
Police later identified the victim as 26-year-old Curtis Wickham. According to police, interviews with witnesses and neighbors at the scene showed that Wickham went to the residence this morning to contact a former girlfriend and a fight broke out between Wickham and the homeowner. During the fight, the homeowner's three pit bulls viciously attacked Wickham. The homeowner was transported to the Detective Division and released pending further investigation, police said.
Pit Bulls Used in Crimes
In January, a 55-year old man in Kentucky died after being attacked by a female, who went "redneck" on him, then commanded her pit bull to attack him. The coroner's office said that Donald Abner suffered dog bite wounds, but the cause of death was asphyxiation. Melissa Wolke was charged for murder in connection to his death. "The way I look at it is that she used her animal, a pit bull, as a weapon to help her in this altercation," Trooper Scottie Pennington said back then.
---
Tulsa police are investigating the case as a homicide and also noted a "self-defense" aspect. "We have everybody that we are aware of right now, who are players in this drama" in custody. Will this be the first case where an owner can claim "self-defense" by siccing his pit bulls on a person? 
View the DogsBite.org Google State Map:
Oklahoma Fatal Pit Bull Attacks
.
1
The current boyfriend's name on Facebook appears to be an alias, as it translates into "Days pennies." He also has a pit bull tattooed on his lower chest.
Related articles:
01/22/20: 2020 Dog Bite Fatality: Woman Charged with Murder After Violent Pit Bull Attack
Statewide attacks:
Vicious Dog Attacks in Oklahoma by Butch Bridges, a log of Oklahoma vicious dog attacks.
---
Baseline reporting requirements:
Law enforcement departments across the United States should release consistent "baseline" information to the media and the public after each fatal dog mauling,
including these items
.