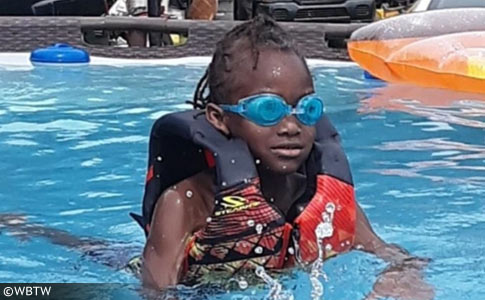 Shamar Jackson, 7-years old, was killed by a pack of loose dogs in Marion County.
Dog Owner Charged
UPDATE 06/29/21: On Monday, a man was charged with felony manslaughter in connection to the dog mauling death of a 7-year old boy on June 13. Lorenzo Cardenas, 41, of Marion, was charged with involuntary manslaughter and owning a dangerous animal that attacks and injures a human. Shamar Jackson was attacked and killed by up to six dogs belonging to Cardenas as he tried to escape them. Shamar's two older brothers, who were with him at the time, were able to escape.
One day after the attack, Marion Animal Control took six dogs into custody from Cardenas' home. One of these dogs has since managed to escape the shelter. It is unknown if it will be located by authorities. Cardenas was booked at the Marion County Detention Center. A bond hearing is scheduled for Wednesday and requires an interpreter, as Cardenas said he does not understand English well. Cardenas faces up to 5 years in prison if convicted of involuntary manslaughter.
---
06/14/21: Family Helped by Community
A funeral for Shamar Jackson was held on June 24. The funeral was paid for by a fund set up by the Marion County Sheriff's Office, as well as contributions from NFL player Darius Leonard and an anonymous donor. The Reverend Raymond Johnson, who was affected by the tragedy, raised money for the family to send them on vacation. "We're going to send this family and their children and all the other people who were with them that night to Walt Disneyland," Johnson told WBTW.
Johnson said the family will travel in a fully-stocked motorhome. They will also attend a Clemson game and a Carolina Panthers game, reports WBTW. The boy's father, Carnell Jackson, was thankful for everything the community had done. "I did not know that when I went to work that day, I would come home and my son would be gone," he said. Carnell also wants justice for his son. "Whoever lives in that house should be charged," he said. "I will not stop until they get charged."
On June 13, Carnell's youngest son was mauled to death by one or more loose dogs. Shamar and his two older brothers had gone outside to search for their pet chihuahua, named Remi, when five dogs confronted them. One of his brothers escaped by jumping a fence. Shamar climbed the fence too, but fell backward. One of the dogs "just dragged him back. And ripped all of his clothes off of his body. You know, mauled him," Carnell said. Police continue to investigate his death.
Reverend Johnson is also harnessing his team of attorneys to try to get the family compensated. All of this support for Carnell's family -- the Marion County Sheriff's Office setting up the funeral fund, an NFL player and private donors stepping in, the Reverend Johnson sending the family on vacation, as well as providing the family legal assistance -- truly is miraculous. Carnell said his son's favorite scripture was Psalm 23. "He lives by that scripture, and I teach in it," Carnell said.
---
06/14/21: Dogs Kill 7-Year Old Boy
Marion County, SC - A 7-year old boy is dead after being attacked by dogs. The attack occurred at the intersection of Wilbur and Cleo Roads just after 10:00 pm Sunday. The child's father, Carnell Jackson, had prayed that his son Shamar Jackson would live. "I was just like, 'Lord just let him live, breathe into his lungs, but he had lost a lot of blood," Carnell said. Shamar and his brother had gone out to find their chihuahua, named Remi, when they were confronted by five dogs.
Shamar's older brother, Aiden, was able to escape by jumping over a fence, Carnell said. Shamar, being smaller, had tried to climb the fence, but fell backwards. "One of the dogs came down here and ran to that side and just dragged him back. And ripped all of his clothes off of his body. You know, mauled him," Carnell said. WBTW camera crews captured police and animal control at the scene Monday afternoon, where they seized all of the dogs from a property on Cleo Road.
Police issued a release earlier today: "The Marion County Sheriff's Office along with the coroner and animal control are investigating the death of a 7 year old boy in the Wilbur Road area of Marion last night. The SLED crime scene unit was called in to assist. It appears the small child was mauled by dog(s) while walking in his neighborhood with his brother who was able to escape. The investigation continues and we are actively seeking the dogs and their possible owner."
Evening Updates
The boy's heartbroken father appeared in several evening segments, including WBFM. Neighbors told media outlets the dogs suspected in the attack had gotten out multiple times in the past and have intimidated neighbors in their yard. Carnell said there are holes in the owner's fence-line and that on one side, there are no signs. "How you going to warn somebody?" he asked. "If you know the dog bite and you got children out here, keep the dogs up or get rid of them," Carnell said.
The child's uncle, Anthony Parsley, also spoke to media outlets. "I'm hurt. I want to cry but I can't cry anymore," he said. Parsley said the owners of the dogs had not even apologized or offered condolences to the family. Earlier reports called all five dogs mixed-breed adult dogs, though a younger dog is also seen in the footage. It appears authorities may be obtaining DNA samples from the dogs. However, the dogs were not seized until many hours after the fatal attack.
Related articles:
01/21/21: 2021 Dog Bite Fatality: Mother Live Streams After Rescue Pit Bull Killed her Son...
10/02/20: 2020 Dog Bite Fatality: 32-Year Old Woman Killed by Dogs in Laurens County...
---
Baseline reporting requirements:
Law enforcement departments across the United States should release consistent "baseline" information to the media and the public after each fatal dog mauling,
including these items
.