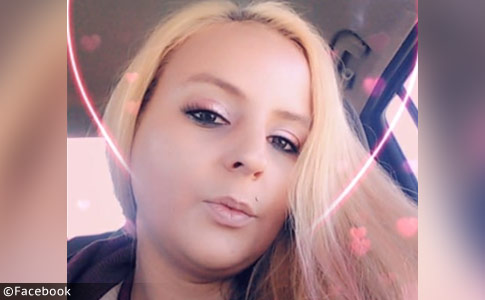 Jacqueline Robinson, 32-years old, died after being attacked by dogs in Laurens County.
Dog Owner Arrested
UPDATE 10/02/20: Just after we listened to the long telephone interview with the victim's father, John Robinson, we learned that an arrest has been made. "They tore her up. They tore her all to pieces," Robinson said during the interview. "I want justice for Jacqueline." Today, Jeffrey Sullivan, the alleged owner of the dogs involved in the death of 32-year old Jacqueline Robinson, was charged with involuntary manslaughter and three counts of possession of a dangerous animal.
"This is such a tragic, senseless death," Laurens County Sheriff Don Reynolds stated. "My thoughts and prayers go to Ms. Robinson's family. I pray that justice is served and that her family feels some peace knowing that this individual believed to be responsible is being held accountable for his reckless actions." After her death, multiple dogs were removed from the property. Police officials have not released the breed of dog involved, but Robinson stated the dogs are pit bulls.
Reporter: Tell me a little bit about your daughter.

John Robinson: First of all, to me, she is as beautiful as an angel. She never wants to see anybody go hungry. If she met you, made friends with you, she's got a lot of people, you are automatically her family. You know, she made friends real easy. She treated everybody with respect. Even when I would talk to her she would say yes or no sir. She just, I pray...she was just a beautiful baby girl. She would never want to hurt anyone or see anyone hurt or go without. She would welcome you into her home. And you know, she just lived life with a beautiful smile. She was happy in any way she could. She'd give you her shirt off her back. You know. She was a good mother. She loved her kids. She'd go to the last mile for her kids. She just was a great kid when she was young. And growing up, she loved to ride the horses. She loved animals. And she was a dog groomer.

You know, I just can't believe that she had to suffer a death like this. It is horrible. This is tragic. She did not deserve it. The owners of these dogs need to pay in more ways than one. Because my baby's death. You're responsible for your pets. I don't know how it is...well I talked to a deputy. He told me the laws are different in South Carolina. You let pit bulls run loose?

In the state of Kentucky, a dog, a pit bull is almost extinct -- they don't like them here. But you have to have a vicious dog. A killer is what they are. On a chain and in a fenced in yard. These dogs were running loose. He got a hold of my baby. Three of them and killed my baby. Destroyed my baby. Destroyed my life. Destroyed her mother's life. This is Mary Ann Robinson. Two beautiful kids. Cameron Blake Gamble…Cameron is 15. Destiny Nicole Gamble. She's 11 and will be 12 on October 17. And they have to bury their mother for absolutely no reason. She just had a birthday. We celebrated her birthday -- 32 years old. Too young. Too young. Her life has been snatched away. She's supposed to bury me, not me burying my daughter.

I want the laws changed. I will go to my last breath. Talk to a senator or whoever I have to, to get those laws changed, and I want it named after my daughter, called Jacqueline's Law. I'm going to do everything possible to make sure that my daughter's death doesn't go in vain. I want something done in South Carolina about these dogs. I want charges on these people that own these dogs. They should already been in jail. They would have been in jail in the state of Kentucky. They should already be locked up.

My beautiful little angel. She's gone. I've got to bury her. I will do everything in my power for my baby. She's in heaven looking down on me. I can't let her death go without justice.

Reporter: No charges have been filed at all at this point?

John Robinson: Not to my knowledge. I talked to the deputies, I don't know how many times yesterday, and they said it's an ongoing investigation. They got to meet something, like criteria or elements. You know, it doesn't make sense. I mean, it's not like these dogs attacked another dog and killed it. Or a cat and killed it. These dogs killed a human being. They killed my baby girl -- killed her. These people ought to be charged with murder because they are responsible for their dogs. No charges have been brought. And I don't understand why. Nobody has been punished for this. It is my understanding that they have the dogs that killed her in quarantine…they are supposed to swab them and...you know. But no. Nobody has been arrested. Nobody has been made responsible for these dogs and for the death of my baby girl.

Reporter: My thoughts and prayers. I'm so sorry...

John Robinson: We're lost. I can't wrap my arms around it. Mary Ann, her mother, she's just 12 pieces…Out of her mind, like me. I can't, I can't comprehend this. This is wrong. It's tragic. She should never had to go through the pain of a pit bull -- or any dog -- attacking her and ripping her throat. I mean they tore her up. Tore her all to pieces. Just think of the pain my daughter went through. And nobody has been made to pay for this? This is wrong! This is wrong! I want justice for Jacqueline Nicole Robinson. My beautiful daughter. My baby girl. I want justice. I will not stop until I get justice. Somebody is going to pay. - John Robinson
We will address a few points the grieving father made. Since 2005, only 20% of fatal dog attacks have resulted in criminal charges. That this same attack would quickly result in criminal charges in Kentucky is untrue. There are jurisdictions in Kentucky with breed-specific laws that can file charges more easily because prosecutors do not have to prove the owner had "knowledge" of the dog's vicious propensities (the ordinance already declares pit bulls dangerous or vicious).
The definition of a fatal pit bull mauling is always an extremely violent attack. Ripping out the victim's throat, severing the carotid artery, breaking the cervical spine, tearing off the full scalp and ears, and tearing out "chunks of flesh" -- wounds with massive soft tissue loss -- are injuries common in fatal pit bull attacks. These horrendous injuries, compared to shark attack injuries in medical journals, are even more horrific when there is more than one pit bull involved.
Only three states have felony dog attack statutes that are in consistent use: California, Michigan and Texas. Otherwise, to the horror of this grieving father, these barbaric maulings on public streets and within residential alleyways by recognized dangerous dog breeds continue to be tolerated by state policymakers. They cannot even be bothered to enact a felony dog attack statute. In South Carolina, involuntary manslaughter carries a sentence of up to five years.
Finally, during 2019 and 2020 a modest attempt was made in the South Carolina legislature to reign in the pit bull problem. House Bill 3709 essentially sought to have all pit bulls sterilized to bring their population numbers down and microchipped for identification purposes. All persons breeding pit bulls would be required to register and microchip their dogs. The bill never made it out of the House Committee on Agriculture, Natural Resources and Environmental Affairs.
"Whereas, the pit bull dog is the most desired breed for dogfighting and is dying at a higher rate in local animal shelters than any other breed of dog in South Carolina; and

Whereas, fertile dogs are more likely to be territorial and therefore more likely to bite. Most dog bite fatalities are committed by dogs that were not altered; and

Whereas, requiring registration to own a fertile pit bull dog would provide a safety component for the public and the dog." - H 3709, 123rd Session, 2019-2020
---
09/30/20: Woman Killed by Dogs
Gray Court, SC - A 32-year old woman was found dead in a yard on Allegra Lane Tuesday morning, according to the Laurens County Sheriff's Office. A home healthcare worker discovered her body. The Laurens County Coroner's Office conducted an autopsy Wednesday morning. Chief Deputy Coroner Patti Canupp identified the woman killed as Jacqueline Nicole Robinson, 32. Canupp said the autopsy showed that her cause of death was due to being "mauled by dogs."
Deputies responded to the home about 10:50 am Tuesday. Laurens County Animal Control removed several dogs from the scene. Robinson had been breeding pit bulls at her home for several years (litters in 2019 and 2018), according to her Facebook page. Photos show a "Momma" and "Daddy" pit bull -- both were staked out in the yard. Multiple adult, adolescent and pit bull puppies appear in her photos. Other photos indicate the victim was a dog groomer.
Police have not confirmed the breed of dog involved. Last October, we issued trends in fatal pit bull mauling victims. Between 2010 and 2018, women 30-years and older had risen to the most frequent victim of fatal pit bull maulings. One can see this rise more clearly when comparing three recent periods. In the 5-year period of 2005-2009, women 30 and older accounted for 19% of people killed by pit bulls. That rose to 38% during the 4-year period of 2015-2018, a 100% rise.
View the DogsBite.org Google Map:
South Carolina Fatal Pit Bull Maulings
.
Related articles:
09/30/19: 2019 Dog Bite Fatality: Woman Dies After Vicious Attack by Her Own Pit Bull...
03/23/19: 2019 Dog Bite Fatality: Pit Bulls Attack, Kill Owner While She Visited Her Dogs...
---
Baseline reporting requirements:
Law enforcement departments across the United States should release consistent "baseline" information to the media and the public after each fatal dog mauling,
including these items
.