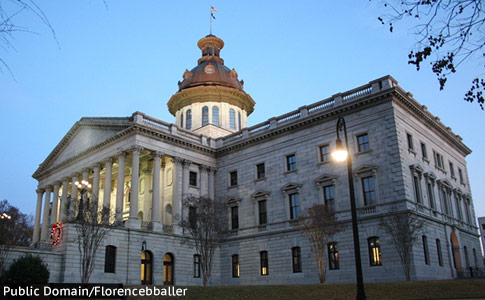 The "fertile pit bull" bill has been reintroduced in South Carolina with lower fees.
Reducing Pit Bull Births
Columbia, SC - Last week, it was reported that House Bill 4094 was filed by Rep. Chip Huggins. The "fertile pit bull" bill only affects pit bulls that are not spayed or neutered in the state. If an owner chooses to keep an unaltered pit bull, the registration fee is only $25. Similar legislation introduced in 2019 required a $500 fee. The new fee reduces the incentive to sterilize, but at least there would be language in the state code that recognizes the uninhibited breeding of pit bulls.
Pit bulls "account for a disproportionate number of dogs both entering shelters and euthanized at an even higher rate in shelters," said Joe Elmore, president and CEO of the Charleston Animal Society. "It's simple supply and demand -- there are far too many [pit bulls] then there are homes. It's costing taxpayers and donors millions of dollars each year." Taxpayers have long footed the bill for housing unwanted pit bulls in public shelters, but as Elmore states, donors are paying too.
Huggins' bill is called "Jayce's Law," in honor of a boy killed in January by a stray pit bull his mother had recently taken in. His grieving mother live streamed on Facebook afterward, "My 6-year old little boy was attacked early this afternoon by the pit bull that I had been trying to find a home for. It had been abandoned on our property." She added, "I was an advocate, supporter for pit bulls. What happened, happened so fast that there was nothing that anybody could do."
State-Level Data
Included in the article is rare state-level dog bite data by breed. In 14 years, we have only come across one other state, Delaware, which has centralized bite reporting that includes breed data. The South Carolina Department of Health and Environmental Control released the data. In 2019, there were 7,499 bites from known breeds. Of those, one-third, (2,433 bites), were inflicted by pit bulls and their mixes, three times more than the next top-biting breed, Labradors with 833 bites.
Unlike the 2019 bill, which sat untouched in the House Committee on Agriculture, Natural Resources and Environmental Affairs, House Bill 4094 was sent to the House Judiciary Committee. Huggins said he hopes the bill can pass the House this year and be sent to the Senate for consideration next year. As one would expect, pit bull owners and out-of-state lobby groups strongly opposed the 2019 bill. As a result, the $500 bill never even had a hearing.
While trying to defend the 2019 bill, Elmore penned a bold piece titled, "Endangered Species?" He wrote, in part, "No other dog breed or grouping of breeds poses the overcrowding problem for animal shelters as does pit bull type of dogs. It is critically important to distinguish this strategy as reducing the overpopulation, not advocating for a breed ban, which we all vehemently oppose." However, pit bull owners and defenders of the breed rarely listen to logical humane arguments.
"A mandatory pit bull sterilization law is the most basic safety step a community can take when pit bulls are disproportionally biting, disproportionally occupying shelter space and disproportionately being euthanized. This is the right side of the issue to be on." - DogsBite.org, October 24, 2019
Elmore also pointed out that mandatory pit bull spaying and neutering laws are already working in jurisdictions in South Carolina and across the country. Beaufort County, South Carolina enacted the first mandatory pit bull sterilization law in the state and shortly thereafter saw excellent results. After the ordinance passed in October 2015, the pit bull sterilization rate more than doubled in just 14 months. Jurisdictions in California and Michigan have seen similar successful results.
Lowest Sterilization Rate
Back in January, we published a letter from a person who previously worked at an open intake shelter who stated, "pit bull breeders seem to be less responsible with spaying and neutering their dogs." This has also been documented in a peer-reviewed study. A 2011 study examining the prevalence of castrations evaluated at US veterinary hospitals found the overall castration rate of dogs was 64% and pit bulls (27%) were the least likely of all dogs breeds to be castrated.
This is not a new problem, nor is it an unknown problem. Animals 24-7 has been reporting on the low sterilization rate of pit bulls for many years. Staff members of shelters and humane groups, who see intake dogs on a regular basis, know this. Pit bull rescues know this. As the 2011 study shows, employees at veterinary hospitals also know this. Yet, most shelters, humane groups, pit bull rescues and veterinarians strongly oppose mandatory pit bull sterilization laws.
The solution to this opposition, according to Elmore and Rep. Huggins, is to lower the cost of registering a fertile pit bull to $25, the cost of "one cheap bag of dog food," Elmore said. It seems a fee of $75 would send a much stronger message, certainly a fee of $150 would. State legislation is often a "baby steps" phenomenon. Likewise, it's better to have the pit bull problem codified into law than not. Expecting significant results from the $25 law, however, may be wishful thinking.
More Wishful Thinking
Speaking of wishful thinking and recent legislative news, a top lobbyist for Best Friends Animal Society, Ledy VanKavage, recently showed her complete failure of due diligence regarding the National Defense Authorization Act (NDAA). It's either failure of due diligence on her part or cultivating a lie. She's certainly capable of both. She falsely claimed on March 22 and April 1 that the NDAA signed into law by President Trump contained a "breed neutral" mandate.
On March 22, Ledy VanKavage, a lobbyist for Best Friends Animal Society, falsely claimed to Bruce Dickey that the National Defense Authorization Act (NDAA) 2020-2021 forced the Department of Defense to eliminate long standing breed-specific polices within military divisions. The U.S. Army, U.S. Marine Corps and U.S. Air Force have banned a small group of dangerous dog breeds from military housing—chiefly pit bulls, rottweilers and wolf-dog hybrids—for over a decade.

The final language of the reconciled NDAA that President Trump signed into law did not contain a "breed-neutral" mandate. Clearly, VanKavage, a top paid lobbyist for pit bull causes, never bothered to read the reconciled version of the Act. This is a failure of due diligence on her part. The removal of the "breed-neutral" mandate was in part due to advocacy by Responsible Citizens for Public Safety (RC4PS.org) and DogsBite.org. - DogsBite.org, March 22, 2021
Watch part of the March 22 interview where VanKavage makes the false claim on the Big Talk with Bruce Dickey show, and again on April 1, when she makes the false claim in the "unlisted" Best Friends Grassroots Advocacy video. Advocates for dog bite victims left comments on the latter video, stating that the breed neutral mandate was not signed into law and that VanKavage had failed to even read the reconciled version of the NDAA -- those comments have been deleted.
The part about U.S. Senator Duckworth (Illinois-D) sending a "demand letter" to the Department of Defense is the most amusing part. VanKavage has little congressional legislation experience (chiefly local and state), if she did, she would have understood that many changes are made during the reconciliation process. Until the NDAA 2020-2021, this nonprofit had little congressional legislation experience either, but we knew that monitoring the reconciliation process was critical.
Pit bull lobbyist can't stop lying about the NDAA. Here we go again on April 1, 2021 (35:01) marker. Failure of due diligence; and now, cultivating a lie. https://t.co/wAvSrPUUJd READ the reconciled NDAA! https://t.co/a5m2fWb0tC pic.twitter.com/xxaAX5uUlq

— DogsBite.org (@dogsbite) April 4, 2021
Related articles:
01/22/21: 2021 Dog Bite Fatality: Mother Live Streams After Pit Bull Killed Son in South Carolina
01/04/21: Working at an Open Intake Shelter: Deliberate Breed Mislabeling, Aggressive Dogs...
10/03/20: 2020 Dog Bite Fatality: 32-Year Old Woman Mauled to Death by Dogs in South Carolina