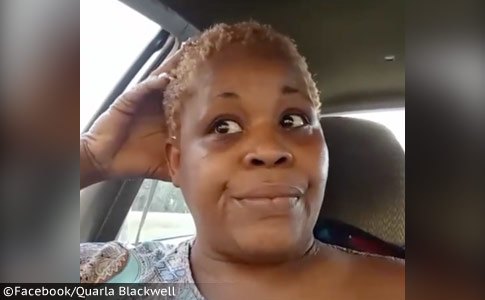 Quarla Blackwell filmed part of the attack that occurred at Lenoir County SPCA.
Repeated Attack
Kinston, NC - On November 16, a pit bull-mix being housed by Lenoir County SPCA at 2455 Rouse Road Exd broke out of a new kennel and attacked Dillon Grant, a shelter worker. According to witness Quarla Blackwell, who filmed part of the attack, the dog escaped the kennel twice and attacked twice. Quarla began filming after the first attack and captured SPCA staff trying to secure the dog. Grant was taken to UNC Lenoir Health Care where he was treated and released.
"My legs just got turned into chew toys," he said. "I'm the one who finally stopped him long enough for them to put him in a crate." - Dillion Grant
According to SPCA president Jerry Henderson, the pit bull-mix broke out of a new kennel the SPCA had implemented just two weeks earlier at the shelter. The county owns the shelter and the city insures the building through a contract with the SPCA, reports the Kinston Free Press. "He was strong and aggressive enough to break through a door lock," Henderson explained. "These are brand new kennels, and the lock mechanism must have been a little faulty," he alleged.
Henderson continued with his claims, including that all employees and volunteers receive hands-on training and are required to study from a manual on animal care and safety procedures, reports the Free Press. "The thing you worry about are animals brought in and you don't have any history on them," Henderson said. "They have triggers that take them back to some unpleasant experience they had in the past, and they just snap." Henderson meant to say that "pit bulls snap."
The Lenoir County SPCA website is branded with a young pit bull and 95% of the dogs available for adoption are pit bulls. The SPCA is currently trying to raise $1.5 million dollars to build a new shelter, according to a brochure on its website. A donation of $50,000 will get the donor's name placed in the reception/lobby. The goal of the new shelter is not to ensure the safety of staff members, but to "ensure the safety, health and well-being of more homeless animals."
Quarla's Video
Again, Quarla did not start filming until the second attack -- the dog breached the new kennel twice, each time to attack Grant. Staffers have no noticeable equipment during the video except for the brief showing of a pole. Instead, they jimmy-rigged a contraption to contain the dog. They placed a kennel over the dog and fortified one side of the kennel with a fan until animal control arrived. Two officers, each with a catch pole, later loaded the dog onto an animal control truck.
Quarla is the star of her own video. She is absolutely amazing. She does, however, make several erroneous conclusions, including that the dog was a "red-nose" (slang for fighting dog). It was not, this pit bull was white. The viciousness of the "repeated" attack was so profound to her that she mistakenly believed that Grant "must have done something" to the dog. Pit bulls do not need provocation to attack; they were bred for explosive aggression to excel in the fighting pit.
What Quarla witnessed is "gameness." The continuing tenacity and tendency of a pit bull to attack repeatedly for the purpose of killing.
Quarla is correct that the pit bull targeted Grant. We have seen this trait in numerous fatal pit bull attacks and these victims are often children (Benjamin Cobb, Daxton Borchardt and many more). We most commonly see this trait when pit bulls attack other dogs. 10 people may rush in to stop the attack, but the focus of the pit bull is to only kill the dog. Some of those 10 people may get injured trying to save the victim dog, but the pit bull is otherwise uninterested in the bystanders.
A targeted attack is common. A rampage attack -- when one or more pit bulls severely attack three or more people -- is less common. Pit bulls will also redirect before or during an attack. The two pit bulls in the Avalon attack were after a Jack Russell. When the victim dog became out of reach, the two pit bulls began attacking each other. This pair of pit bulls also severely attacked the victim dog's owner, "All I did is lift my dog off the ground and I was being chewed on instantly," he said.
Finally, a rampage attack does not necessarily exclude a targeted attack. In the mauling of the 21st Century, three pit bulls attacked for 1.5 hours before they were shot by police. Six victims were rushed into emergency care that night; two were children who suffered massive injuries. The dogs attacked everyone who intervened -- including their owner -- but were dead set on killing the two children. Deputies used a shotgun and a CAR-15 assault rifle to end the rampage attack.
If one has not seen a pit bull fight match -- the extreme concentration on fighting and attacking -- one might have a similar reaction as Quarla.1
We have marked areas of Quarla's video and added commentary. Also, in comments on the video, Quarla nails the true nature of many shelters today. "I never knew the SPCA was a jungle," she said. A jungle without the proper equipment to house potentially dangerous dogs. Housing pit bulls -- many with unknown backgrounds -- is not a snuggly story. Housing biting pit bulls is even more dangerous and many no-kill shelters, like the City of Los Angeles, have poor safety protocols.
Video Excerpts
(1:35) "When I tell y'all some red-nosed pit bull just shook him like a salt shaker … he must have done something to that dog." No. This is called gameness. "Relentlessness" is not the same as "vengeance."
(2:15) "When we were signing that paperwork, we heard somebody hollering. It was him, y'all. The dog had been shaking on him for about" ten minutes. (During the trauma of an attack, ten seconds can seem like ten minutes. It is unclear how long the attack lasted). "The ladies went in there to get him and I jumped in my car -- locked the doors and rolled up the windows."
(3:18) The bizarre jimmy-rigged cage contraption is seen. There is a kennel, trash can and a large outdoor fan, somehow securing the dog.
(4:10) "Y'all shoot the damn dog!" Remember that Quarla is traumatized from seeing the attack and from recognizing that she could have been the victim. She does not understand what they are doing with the dog, nor is she a shelter worker nor perhaps does she have any experience with firearm protocols. "If that were me, y'all would have shot me." (Painful societal commentary that we could not leave out).
(4:50") "I don't know what I got myself into! I was just coming to get my dog. I am 100% going to get him away from this." Quarla surrendered her dog Willie (a "Puggle" according to video comments) to the shelter, but then changed her mind.
(5:19) Slight zoom in. There is no noticeable safety equipment anywhere.
(5:33) In a classic moment, Quarla blurts out, "Grandpa, you know you ain't ready for that dog! That's a red-nosed pit bull" (a generic term that refers to a fighting dog).
(6:42) "Oh my God, in the name of Jesus. It's crazy out here. I wasn't looking for this." Quarla was an accidental witness to the speed, ferocity and relentlessness of a pit bull attack. No normal person is "ever" looking for this!
(7:00) "That cage is still shaking. She just got him caged in. She put it over the dog's head and caged him in. And they are using the fan to cage him in."
(7:50) Quarla recounts the events. "We were in the building talking. We hear somebody hollering and screaming and she take off running. And a pit bull busted out of his chain (kennel). They thought they had him locked into another cage and he was smart enough to lift the handle on that …

Moral of the story is, you gotta have better equipment when you dealing with them dogs … them pit bulls will turn on you."

(8:15) He must have done something to that dog. "He broke out of two fences to get to him. It was like no stopping him. I ain't never seen nothing like that before in my life. He [would] shake it like a red-nosed -- he shook it like a red-nose. I'm not lying to you. My God! All of us were standing around when he broke out the second time. He didn't come for neither one of us. He only went for his 'subject' … when that dog hit that chain, he didn't have me in mind. I couldn't even get the video going fast enough. I was gone, back to my car to lock myself in. But he didn't come after nobody, but exactly who he wanted. He had his 'target.'"

The dog had extreme focus and concentration on fighting and attacking its subject.

(9:15) "Only him and the dog know why the dog attacked him." Many people refuse to believe in unprovoked violence by a dog. Quarla even understands what a red-nose is, a pit bull specifically bred to fight to the death. Quarla still can't believe what she saw, yet she mistakenly presumes provocation, even vengeance, was involved.
(9:36) "Got yourself a hell of a lawsuit. That is what you call worker's comp. If they was paying him and it wasn't under the table…he definitely gets some unemployment now." Quarla is right about this, but notice how the CEO was quick to blame "product failure" to escape liability?
(10:15)

"They can't spare his life. He just tried to kill somebody."

Quarla is right on the mark. If human intervention had not occurred, Grant would have ended up like Christine Liquori, who was attacked by a pit bull-mix that was up for adoption at the Humane Society of St. Lucie County. She was found dead and disfigured two hours later by a shelter volunteer.
(11:00) "Is that dog dead already?" She asked. Not yet, the deputy responds. It is a natural reaction for Quarla to be fixated on this question. She wants the dog dead so that she can safely get out of her car and so that it cannot harm anyone else.
(15:00) Another recount of events.
(18:07) The back of the animal control truck is seen.
(18:22) "Is it safe to get out now?" She asks. No, says a person off screen.
(18:53) Loading the dog into the back of the truck.
(19:30) "I was here to pick up a dog. That could have been me! … All of us were standing out there. He only had one 'target' that he wanted," she said.
(21:10) "She was the closest one! He passed her to get to him." In this moment (and throughout the video) Quarla can't wrap her head around an unprovoked, relentless and targeted attack by a pit bull, despite this being the very behavior pit bulls were selected for.
---
This discussion of "unpredictable aggression" pertaining to an animal is relevant given that one of the chief reasons pit bulls are regulated under breed-specific laws in over 1,000 jurisdictions in the U.S. and jurisdictions within 53 countries worldwide is specifically due to the breed's "unpredictable aggression." Fighting breeds were selected for impulsive aggression, unbridled aggression, and the willingness to attack in the absence of species-specific signs. Multiple appellate court decisions have also remarked on this characteristic of the pit bull. - DogsBite.org, public comments to the Department of Transportation, April 2020

---

Pit Bulls also possess the quality of gameness, which is not a totally clear concept, but which can be described as the propensity to catch and maul an attacked victim unrelentingly until death occurs, or as the continuing tenacity and tendency to attack repeatedly for the purpose of killing. It is clear that the unquantifiable, unpredictable aggressiveness and gameness of Pit Bulls make them uniquely dangerous ... While these traits, tendencies or abilities are not unique to Pit Bulls exclusively, Pit Bulls will have these instincts and phenotypical characteristics; most significantly, such characteristics can be latent and may appear without warning or provocation. - Vanater v. Village of South Point, June 1989
---
Quarla continued to post about the attack. On November 18 she wrote, "They need to do something about this place. It's loaded with dogs and cats and the workers are at HIGH RISK. I watched an employee get attacked and no one had any protection. With all those dogs around and all the money that is donated to the SPCA, they should at least have dog mace there to control these stray dogs." Instead, the CEO blamed the attack on a "faulty" lock mechanism.
In 2018, the Lenoir County SPCA took in $463,000 in donations and $162,000 in program service revenue (Animal Control and Care for Lenoir County). Total revenues were upward of $736,000. Thus far, it appears that no other information about the SPCA's investigation has been released. The dog was expected to be "put down and tested for rabies," according to Henderson. Without Quarla's Facebook video, this violent attack on a shelter worker would have remained hidden.
Lenoir County is situated right in the middle of dogfighting territory. There is no doubt the SPCA has taken in a share of fighting dogs too. There are no excuses for the SPCA -- whose building is owned by the county and is insured by the city of Kinston -- to lack proper safety equipment and protocols. "Throw a kennel on the dog and fortify it with a fan," is unacceptable. Grant is young, but certainly could have endured permanent injuries. We hope that he is properly compensated.
SPCA Fails Inspection
After we published this post, it came to our attention that there was a surprise inspection at Lenoir County SPCA two days after the dog broke out of its new kennel twice and attacked the shelter worker. "The future of the Lenoir County SPCA is in serious jeopardy after failing a recent state inspection citing multiple major violations and management issues," reports the Kinston Free Press. The inspection report was disapproved by the North Carolina state inspection agency.
The inspection notes that new enclosures have "damaged chain link, bent poles and gate laches are not sturdy enough to contain a large breed aggressive dog." - Kinston Free Press, November 24, 2020
"Major faults include lack of proper records, inadequate facilities and enclosures for the dogs, poor cleaning, not enough staff, lack of toys for long-term animals in care, lack of rabies vaccinations and being over capacity for dogs and cats," reports the Free Press. Management at the shelter has 48 business hours to respond in writing with a corrective action plan. The report also states that recent enclosures added to the facility since August may not meet basic safety requirements.
1
Visualize the concentration of a racing dog racing. Visualize the concentration of a herding dog herding. Visualize the concentration of a pointing dog pointing. Now, visualize the concentration of a fighting dog fighting.
Related articles:
04/08/20: Traveling by Air with Service Animals - Public Comments from DogsBite.org
01/23/20: Attacks by Vicious Dogs Inside Shelters Are Rising; A Closer Look at the...