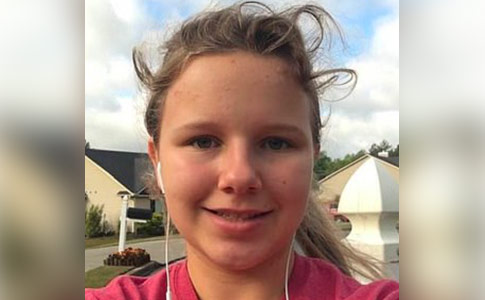 Joslyn Stinchcomb, 15, suffered critical injuries and a crushed trachea in pit bull attack.
Medical Condition Updates
Winder, GA - Last Friday, Joslyn Stinchcomb, 15-years old, was walking in her neighborhood near Bowman Mill Road NE when two pit bulls belonging to a neighbor escaped their owner's property and viciously attacked her. The dogs attacked her head, neck and body; they crushed her trachea, ripped off her scalp and an ear. Joslyn continues to undergo multiple reconstructive surgeries and has been transferred to Children's Healthcare of Atlanta, where long-term treatment is planned.
Among the horrific injuries she endured, doctors continue to try to reconstruct her badly damaged trachea. Doctors placed a stint in her airway to keep it open, and hopefully allow her to breath through it. Currently, she is able to breath due to having a tracheotomy procedure. The girl's grandmother, Sandra Stinchcomb, who is her legal guardian, and her aunt, Charity Stinchcomb Montgomery, provide regular updates to a Facebook group that our nonprofit has joined.
On August 6, Sandra provided another update. "It has been just over 6 days since Joslyn was attacked. Since then she has been in surgery for nearly 24 hours. The majority of this time has been spent to reconstruct and restore her a viable airway," she said. Sandra also described Joslyn's injuries as being worse than a horror movie. "Nothing I have ever seen, in EMT school or on any horror movie is as disturbing and graphic as seeing what these demons did to Joslyn."
"Then came the pictures of the skull. Nothing could have prepared me for that and no words can describe just how horrific they are. With this, we are being told it could be several months before she will be ready to see if they can try to get skin grafts to take. Right now Paul and I are just broken." - Sandra Stinchcomb, 08/06/2020
The family was originally told the tracheotomy could come out in about a month. However, doctors are unsure now how long it could be. Doctors "are saying it could be months, years, or possibly not ever that her tracheotomy can be removed. They are not certain if she will ever talk again and even if she does, her voice won't be the same." Sandra asks people to continue to pray for Joslyn's recovery and pray for her medical teams. This "is so far from being over," she said.
In an earlier update, Charity said that Joslyn will never have hair again. "As we have previously shared, Joslyn's trachea was crushed and lacerated. She had surgery to repair it but it will take weeks to heal." The dogs "also grabbed her hair hard enough to pull her entire scalp off. She only has a small portion of skin left on her head. At this moment she does not have any hair left. She will never have her hair again." It will be over a year before those discussions can even begin.
Joslyn's family is accepting donations at the #StayStrongJoslyn PayPal page.
Classic City News is also following the family's private Facebook group and is providing regular updates. Please check there for additional updates about Joslyn's current medical condition.
---
Owner of the Pit Bulls
Fox 5 Atlanta recently spoke to Barrow County Sheriff Jud Smith, whose deputies responded to the horrific attack scene. "She's been in and out of induced commas, has a lot of damage to her spine and her throat and she's also got some plastic surgery issues as well. She's a fighter, but she's got a long road to recovery," Sheriff Smith said. "She had grit and asphalt under her fingernails where she was pulling away from these dogs and they were pulling back at her."
When deputies arrived at the scene, they found the teenager lying facedown against a cement curb, while one pit bull was grabbing her neck and the other was biting the girl's head, Classic City News reports. Deputies shot one dog in the head. That dog fled and the other released its grip and also fled. Deputies tracked the dogs back to the owner's home. Alexandria Torregrossa, 29-years old, was arrested for reckless conduct after she returned home, according to a police report.
"The reason she was charged with reckless conduct was it was determined the dogs were not properly secured and ran out the back door of the house and viciously attacked the victim," Sheriff Smith said. In the State of Georgia, reckless conduct is a misdemeanor that carries up to 12 months in jail and a $1,000 fine. In the State of Texas, this exact same off-property attack that nearly resulted in fatal injuries would be a felony and the owner would face up to 10 years in jail.
Barrow County Animal Control euthanized both dogs. The owner's Facebook page shows two large pit bulls, a male and female. Both were altered in 2016, according to the owner. The male, Capone, was altered first, because "he had been acting out more than ever," Torregrossa wrote. Sterilizing a dog does not alter breed-specific behavior and in this case, it did not reduce the need to roam either. The only benefit is that neither of these pit bulls can continue to reproduce.
Torregrossa is yet another exhausted cliché pit bull owner. Prior to her privatizing her Facebook photographs, we were able to capture several. In a January 2019 post, she states: "It's their world I'm just living in it." Torregrossa is admitting in this statement that she does not own her pit bulls -- her pit bulls own her. Torregrossa has little control over her dogs. In another exhausted cliché, Torregrossa had no clue why her puppies in 2015 were so fat. Folks, that's a belly full of worms.
---
Related articles:
05/15/20: 2020 Dog Bite Fatality: Suspected Fatal Pit Bull Mauling in Crawford County, Georgia
05/10/20: 2020 Dog Bite Fatality: Doctor Killed by Suspected Roaming Dogs in Lyons, Georgia
04/28/20: Reward for Information Leading to Arrest and Indictment of Pit Bull Owner in Atlanta