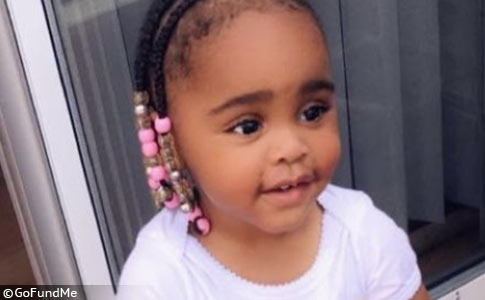 Demi Witherspoon, 2-years old, was killed by a family pit bull in Portsmouth, Virginia.
Pit Bull Kills Child
Portsmouth, VA - A young child is dead after being attacked by a family pit bull in Portsmouth. On Monday, police were dispatched to a home in the 5600 block of Darby Close at 1:53 pm, according to Misty Holley with the Portsmouth Police Department. When officers and paramedics arrived, they found the 2-year old suffering life-threatening injuries. The child was transported to a local hospital, where she died. The family surrendered the 1-year old male pit bull to animal control.
One neighbor said the child's family had moved in over the weekend.
In the audio dispatch file from Broadcastify.com, the dispatcher for Portsmouth Police and Fire, states: "We have a pit bull who just bit the complainant's daughter's face completely off. She's not breathing." After Engine 3 arrives at the scene, the fireman reports, "We have a pit bull that's covered in blood here." Listening to this dramatic audio paints a portrait as vivid as any person would need to comprehend the dangers of bringing a pit bull into a home with a young child.
Since 2017, there have been three high-profile fatal pit bull attacks in Virginia. In June 2017, Margaret Colvin, 91-years old, was savagely killed by a pit bull her daughter had acquired from a rescue group earlier that day. In December 2017, Bethany Stephens, 22-years old and a pit bull advocate, was attacked and eaten by her two pit bulls in Goochland County. In September 2019, Morgan Crayton, 31-years old, was brutally killed by her 92-pound male pit bull in Hampton.
Finally, when pit bull aggression "turns on" for the first time, it is often between the ages of 1.5 and 2-years old, when the dog reaches sexual maturity. Owners of these dogs can always say, "The dog's never been aggressive before," because as a puppy or adolescent, the dog had not been. Adoption agencies and humane groups never share this information with the public. Also, many pit bull owners refuse to acknowledge the genetic heritage of this breed: fighting to the death in a pit.
Victim Identified
The obituary for the victim identifies her as Demi Marie Witherspoon. The GoFundMe created for her funeral expenses has reached over $6,000 and states, "Demi just lost her father a year ago. This alone was an experience no daughter or mother should ever have to face." Photographs from her mother's Facebook page indicate her father was Eric Witherspoon, Jr. He died of gun violence in Hampton, Virginia in November 2018, according to a national gun violence memorial website.
The little girl's family now has two family members on national memorial websites prior to each reaching the age of 25. Demi became the 601st American killed by pit bull violence since we began tracking this data at Fatal Pit Bull Attacks - The Archival Record. Demi also became the 238th child killed by pit bull violence since 1980, when the pit bull problem began to emerge, and the 187th child killed by pit bull violence since the CDC stopped tracking breed data in 1998.
View the DogsBite.org Google Map:
Virginia Fatal Pit Bull Maulings
.
Related articles:
09/30/19: 2019 Dog Bite Fatality: Woman Dies After Vicious Attack by Her Own Pit Bull in Virginia
02/02/18: 2017 Dog Bite Fatality: 22-Year Old Woman Dies in 'Grisly Mauling' by Her Pit Bulls...
11/17/17: 2017 Dog Bite Fatality: Adopted Out Pit Bull Kills Elderly Woman in Virginia Beach
---
Baseline reporting requirements:
Law enforcement departments across the United States should release consistent "baseline" information to the media and the public after each fatal dog mauling,
including these items
.