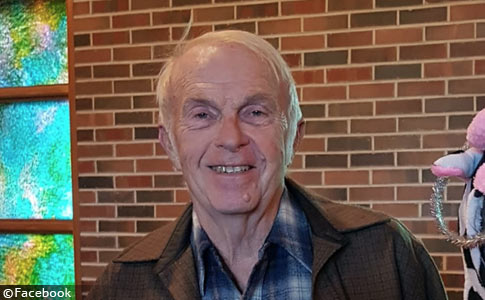 Cledith Davenport, 79, died after being attacked by a pack of dogs in Broken Bow.
Man Killed by Dogs
Broken Bow, OK - On Tuesday, the McCurtain Daily Gazette reported that a 79-year old man and his dog were killed by a pack of dogs over the weekend. The newspaper is not online, but we were able to obtain some screenshots. McCurtain County deputies were called to the scene at 12:52 pm after a postal carrier found Cledith Davenport lying halfway in a ditch in the 700 block of Canoe Road. The man had been "repeatedly bitten" by the dogs and the pack also killed his small dog.
The postal carrier did not immediately recognize Davenport, reports the Gazette. She ran up to his home and began knocking on the door and shouting his name. After not receiving a response, she returned to her vehicle. Only then did she realize the injured man in the ditch was Davenport. In her statement to police, she said the canines were chewing on him. She then drove toward a neighboring home, where the dogs' owner resides, and called the sheriff's department.
Two deputies responded along with the Broken Bow Fire Department and McCurtain County EMS. They described Davenport as "severely bloodied" and had sustained serious injuries to multiple body parts, including his head, reports the Gazette. While at the scene, both deputies were approached by a cattle-mix dog. As the dog barked at them, a pack of 8 or more dogs ran to the scene. Several of those dogs had red-stained fur on their chests, feet and snouts, officers said.
Today, a family member began a "Justice for Cledith" Facebook page. There were up to 11 dogs involved in the deadly attack, all pit bull-cattle dog (blue heeler) mixes,1 states the page. "Laws need to change. Vicious dogs should not be allowed to roam free. Strict fines and jail time should be enforced for the owners," states the page. "People living their lives on their own property should not have to fear vicious animals coming onto their property and killing them and their pets."
The Owner of the Dogs
We located the dogs' owner on Facebook and confirmed this with a Davenport family member. In early September 2018, the owner's female pit bull-cattle dog mix had a large litter of puppies. There were at least three adult dogs at the home and possibly more. According to the Gazette article, eight of the dogs were seized. Four were sent to the Broken Bow pound and the other four were sent to the pound in Idabel. A dangerous dog hearing is scheduled for January 3, 2020.
Late Wednesday, KXII confirmed many of these details in the first "accessible to all" reporting of this man's mauling death. They also interviewed the victim's son, Aaron Davenport, who said that stricter laws need to be in place to prevent these attacks. "Just to keep people safe," Aaron said. "So this doesn't happen to anybody else -- because I promise you, nobody wants to go through what we're going through right now." Sheriff's officials continue to await the official autopsy report.
On Thursday, the state medical examiner's office determined that Davenport's cause of death was due to canines, reports KTBS. Authorities believe that eight dogs are responsible. The district attorney's office is seeking the destruction of these dogs. Outside of state parks in the county, McCurtain County does not appear to have a leash law. No criminal charges are anticipated. This dog owner is free to continue breeding "packs of dogs" and allowing them roam at large.
---
1
In case some readers do not know, the terms cattle dog, blue heeler, red heeler and Queensland heeler are interchangeable. We use the name "cattle dog" when referring to this dog breed.
Related articles:
12/14/19: 2019 Dog Bite Fatality: Multiple Dogs Killed Teenage Boy in Hollis, Oklahoma
09/30/19: 2019 Dog Bite Fatality: Man Dies After Vicious Dog Attack in Bennington, Oklahoma
Statewide attacks:
Vicious Dog Attacks in Oklahoma by Butch Bridges, a log of Oklahoma vicious dog attacks.
---
Baseline reporting requirements:
Law enforcement departments across the United States should release consistent "baseline" information to the media and the public after each fatal dog mauling,
including these items
.