Coroner Rules Manner of Death "Suicide" in Dog Mauling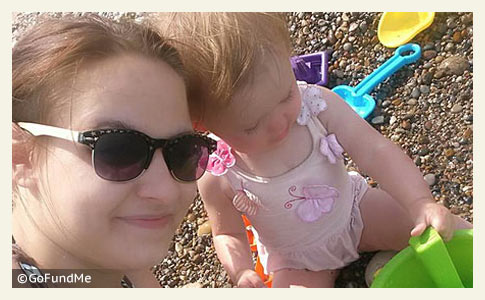 Rebecca Hardy was fatally attacked by a pit bull. The manner of death was ruled suicide.
Minor Charges Filed
UPDATE 02/10/16: The owners of two dogs that fatally attacked Rebecca Hardy, 22, in Port Huron last year will be charged with having unlicensed dogs. The primary attacker, a pit bull, mutilated her face and severed her carotid artery. Now Andrew Scott Miller and Jessica Rae Johnson each face this misdemeanor, which carries a 90-day sentence and/or a $500 fine. The charges were authorized Wednesday, St. Clair County Chief Assistant Prosecutor Steve Guilliat said.
On December 3, Hardy climbed part way over the couple's poorly maintained fence and was pulled into the backyard by the male pit bull that latched onto her leg, a witness states in the police report. The dog then viciously attacked her face and neck. Oakland County Medical Examiner Ljubisa Dragovic later ruled the manner of death suicide. Dragovic said the investigation showed that Hardy knew the dogs were dangerous and that her climbing the fence was a "purposeful act."
Just days ago we learned more details about this attack when the Times Herald published parts of the Port Huron police report. Part of the information learned was the name of the pit bull, "King," likely short for "Kingsley," as seen on Johnson's Facebook page. In this horrific, gruesome and surreal fatal pit bull mauling that made national headlines, we finally now also have images of the dogs. The second photo of King shows the dog curled up in an infant seat in the couple's home.
02/05/16: Redacted Police Report
Under the Freedom of Information Act, the Times Herald obtained a copy of the Port Huron Police report on the death of Rebecca Hardy. She was brutally attacked and killed by a pit bull on December 3. The dog ripped out her throat, chewed off her ears and tore into her face, including ripping out an eye and part of her nose, according to the report. The dog severed her carotid artery and broke her cervical spine, states the report. Injuries common in fatal pit bull attacks.
The police report reveals information that we and many others have long sought: Who, if anyone, actually saw Hardy climb the fence? According to the police report, a witness did. At least he saw her part way climb the fence. The pit bull intervened by latching onto her leg and pulling her fully into the unnamed owner's backyard. This yard became her graveyard after a horrific, violent pit bull attack. Oakland County Medical Examiner Ljubisa Dragovic ruled the manner of death suicide.
"(Name redacted) states he did observe a white female, that was later identified as HARDY to be at the fence of his neighbors (redacted) and (redacted) property. (Redacted) states that he did observe the brown Pit Bull and the white Husky to be outside barking at HARDY as she was at the fence. (Redacted) states that he then observed HARDY to climb the fence and have one leg over the fence onto (redacted) and (redacted) property.
"(Redacted) states that as HARDY was on the fence, the brown Pit Bull, named King, grabbed HARDY by the leg area and pulled her on the ground," according to the police report on the fatal mauling of the 22-year-old Port Huron woman. - The Times Herald, February 4, 2016
The last words her boyfriend, who has a child with Hardy, ever said to her was, "Get out."
12/10/15: Victim Had Knowledge of Danger
A report from CBS Detroit cleared up some questions about the horrific mauling death of Rebecca Hardy. It seems her death was "suicide by pit bull attack." Oakland County Medical Examiner Ljubisa Dragovic had earlier called the dogs "attack dogs," but offered no explanation as to how he knew this. CBS Detroit states: "Dragovic said an investigation revealed that Hardy knew her neighbor's dogs were dangerous and, in the past, had gone to great lengths to avoid them."
"It's akin to someone jumping into a cage with tigers or lions at a zoo." - Oakland County ME Ljubisa Dragovic
Dragovic also left no doubt about how Hardy entered the yard. "She did climb the fence over and enter that space," Dragovic said. "She did not get through a gate or through the front door of the house -- and that clearly is a purposeful act." The manner of death (how the death arose) was not accidental as it most commonly is in fatal dog attacks. Hardy's death was ruled suicide because of her purposeful act of climbing into the yard with knowledge that these dogs were dangerous.
Appalling New Reality
It is no longer necessary to go to a major zoo to commit suicide by a horrific lion or bear mauling. A person can accomplish this same goal in a residential neighborhood at a home that keeps dangerous pit bulls fenced outside. This is a terribly sad reality and speaks volumes about the regularly crappy fences used by pit bull owners that are literally the only barrier between life and death. "Suicide by dog attack" is a manner of death ruling that we hope to never hear again.
12/09/15: Previous Suicide Attempt
The Detroit Free Press reports that Hardy had attempted suicide in the past and that she had recently been kicked out of her house. Oakland County Medical Examiner Ljubisa Dragovic said, "These were attack dogs. These were vicious dogs in an enclosed space. She obviously was aware of that, because she climbed over the fence to subject herself to this threat." In previous media reports, Port Huron Police have not stated if the dogs had a history of aggression.
This could only be suicide if Hardy had crystal clear knowledge of the dogs' vicious propensities. The entire suicide theory hinges on it.
A toxicology report is still pending. However, Dragovic also said, "If (drugs or alcohol) were a factor in general behavior, it still does not eliminate the purposeful act of climbing into the dangerous area." Again, assuming that Hardy knew it was dangerous and that the dogs would attack her. Her fiancé, Matt Grattan, said, "I, in no way, shape or form believe that she was looking to hurt herself on that day. She had a little girl ... She wanted us to be a family," Grattan said.
Information Based on Witnesses
The Detroit News reports that the manner of Rebecca Hardy's death (suicide) "was determined based on information given to police by witnesses during the investigation," Port Huron Police Captain Jeff Baker said in a statement Wednesday afternoon. We know so far that one witness was a neighbor that came to her aid and beat the male pit bull with a two-by-four. Another witness is the dogs' owner who was alerted to the attack by the neighbor and also intervened to help.
"It's a sad story, but these are the facts." - Oakland County ME Ljubisa Dragovic
By late afternoon, The Times Herald had updated their earlier breaking news story to include these details and more. Dragovic told The Herald, "She climbed the fence and jumped in and basically subjected herself to the attacks, which constitutes a purposeful act." The Herald also reported that police turned over a request of charges for the dogs' owner, which is a very strong indicator that these dogs indeed have a history of vicious acts. The investigation continues.
12/09/15: Mauling Death Ruled Suicide?
In a breaking news update, the Oakland County Medical Examiner's office has ruled the death of 22-year old Rebecca Hardy a suicide. Of the 400 plus fatal dog attacks we have reviewed at DogsBite.org over the last 8-years, we have never seen an ME office rule the manner of death a suicide. Every now and again, somewhere in the world, a person will enter into a lion's pen at a zoo to commit suicide. Entering into a residential yard with two dogs is hardly comparable.
Why would Hardy assume these dogs would kill her? She had a pit bull in her own household, according to family Facebook photo albums.1 Two days after her death, her fiancé posted publicly defending the breed stating, "its not the breed its the people that teach them.i know countless pitbulls that would never hurt a fly." [sic] In the wake of her death, her mother also defended the pit bull breed. "It's all how you raise them," Terresa-Jesse Engel told the Huron Daily Tribune.
12/07/15: Dogs Euthanized After Attack
Two adult dogs, a male pit bull and female pit bull-husky mix,2 and one puppy were euthanized Friday after the mauling death of a 22-year old woman. Both adult dogs were involved in the vicious attack that killed Rebecca Hardy on December 3, according to Port Huron Police Captain Jeff Baker. The owner of the two dogs and four pit bull-husky mix puppies gave consent for the animals to be euthanized after the attack, according to St. Clair County Sheriff Tim Donnellon.
The euthanizations were carried out by St. Clair County Animal Control. Both adult pit bulls and one puppy were euthanized before the owner submitted a letter rescinding the consent Friday afternoon through a lawyer, Donnellon said. "At that point, we stopped and returned the three puppies to the lawyer," he said. Regardless of the letter, neither of the adults would have been returned to the owner. "We would have sought a court order to move forward," Donnellon said.
Apparently, "foster-based only" Michigan Animal Crew rescue was hoping to rehome them all.
12/05/15: Barefoot in December Theory
The facts leading up to the mauling death of Rebecca Hardy remain sketchy, but several have been confirmed. There was an argument between Hardy and her fiancé. Then in December in Michigan, Hardy left the couple's home barefoot, according to new details from the WXYZ video. The video also shows the fence Hardy climbed over, where a pit bull and pit bull-husky mix3 were contained and barking at her. As soon as Hardy got over the fence, the pit bull attacked her.
The dog latched onto her neck and ripped out most of it. The pit bull also attacked her face. "A dog that is that vicious, it almost ate her head right off," her step-father said. "Ate her ears off, tore the esophagus right out of her throat, her jugular vein. To have a dog like that in a city like this?" he asked. Hardy's mother, Terresa-Jesse Engel, added, "It was murderous. It was criminal and evil." A neighbor who witnessed the attack had to beat the pit bull with a two-by-four to free Hardy.
In Summary
Shortly before the grisly attack -- police arrived at 4:40 pm -- Hardy left her home barefoot after an argument with her fiancé. We estimate it was about 40 degrees outside.4 Media reports say she lived one or two blocks away from the scene of the attack. Her fiancé said they lived a "few doors down." Hardy did not know anyone who lived at the home. Despite the yard having a gate, Hardy climbed the fence in her bare feet then was fatally attacked by a male pit bull contained inside.
12/04/15: Port Huron Police Statement
Port Huron, MI - Yesterday, just a day after a 4-year old boy was savagely killed by four pit bulls in Detroit, a young woman was flown to a major medical center after a brutal attack involving a pit bull. Port Huron is about 55 miles northeast of Detroit. Family and friends began posting to Facebook late last night that she did not survive her injuries. Port Huron Police confirmed today that Rebecca Hardy, 22, died after suffering severe facial and neck injuries from a dog attack.
At about 4:40 pm Thursday, officers were dispatched to 1721 10th Street for an injured female that had been attacked by dogs. Responding officers found the woman in the backyard of a residence at that location with severe facial and neck injuries. The early investigation indicates that Hardy entered into the fenced-in backyard for an unknown reason. A pit bull in the backyard then viciously attacked her. A second dog believed to be a husky later joined in the deadly attack.
Hardy was transported to a local hospital by EMS then air lifted to Beaumont Hospital, where she died. Both dogs were taken into custody by the Port Huron Police Department's animal control officer and are being quarantined at the St. Clair County Animal Control Center. Port Huron police continue to investigate the victim's death and are working with two medical examiner's offices along with the St. Clair County Prosecutor's Office to determine if any charges are warranted.
An Argument with Fiancé
The Times Herald reached out to her fiancé, Matthew Grattan who made a public status update on his Facebook page last night, announcing Hardy's dog mauling death. Grattan told The Herald the couple had an 18-month old daughter together. "She was full of life, Grattan said. "She loved her daughter with everything." Grattan also said that he is not sure how she ended up in the neighbor's backyard. "Nobody was there, nobody knows what happened and why," Grattan said.
Grattan explained that he and Hardy had an argument at his home a few doors down shortly before the attack. She then left the house, he said. Grattan then speculated that she went down the alleyway behind the 10th Street homes and attempted to cut across the neighbor's backyard to get to 10th Street. After hearing ambulance sirens down the street, Grattan walked over to the scene. Other nearby residents were also shaken by the arrival of multiple first responders.
Witness & Owner Intervened
According to the Port Huron Police Department's statement, a witness attempted to free Hardy while under attack by the pit bull. Not succeeding, the person then went into the home and had the dogs' owner come out to help. As this unfolded, the second dog, later described as a pit bull-husky mix5, also attacked the victim. The owner of the dogs was eventually able to free Hardy from both dogs and give aid to her. Police say the dogs' owner is cooperating fully in their investigation.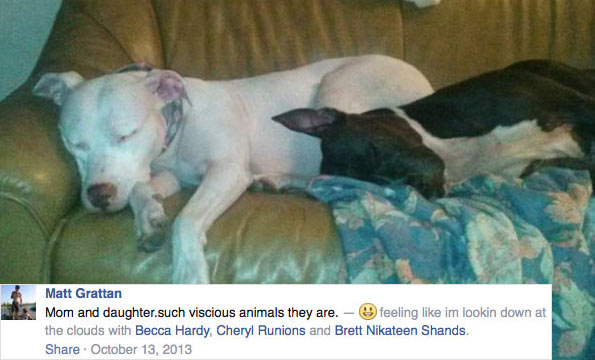 Grattan sarcastically comments about his own "vicious" family pit bulls. We've included this to show his "attitude" about pit bulls. The pit bull that killed his fiancée belonged to a neighbor.
View the DogsBite.org Google State Map:
Michigan Fatal Pit Bull Attacks
.
1
The image shows Hardy's daughter Molly with her fiancé, Matt Grattan's, young male pit bull. This places the dog in the direct household. The couple got the pit bull at about the same time Molly was born, 18-months ago.
2, 3, 5
In February 2016, it became clear from the Port Huron Police report that the second adult dog involved in the attack was a "white husky." We are leaving in the earlier media reports of the dog being a "pit bull-husky mix" because that is what was reported at that time. The "pit bull-husky mix" label originated with the dog's owner, according to Port Huron Police Capt. Jeff Baker. "The dog owner said the second dog was a pit bull-husky mix, Baker said." (Beth LaBlanc, "Dogs involved in fatal mauling euthanized," The Times Herald, December 7, 2015).
4
According to Weather.com, the temperature high in Port Huron on December 3, 2015 was 44 degrees. By 4:30 pm, we estimate it had fallen by at least 4 degrees. Sunset was at 4:55 pm, 15 minutes after police arrived.
Related articles:
12/03/15: 2015 Dog Bite Fatality: 4-Year Old Boy Killed by Pit Bulls in Detroit
09/25/15: Detroit Man Suffers Catastrophic Injuries in Violent Pack Attack by Pit Bulls