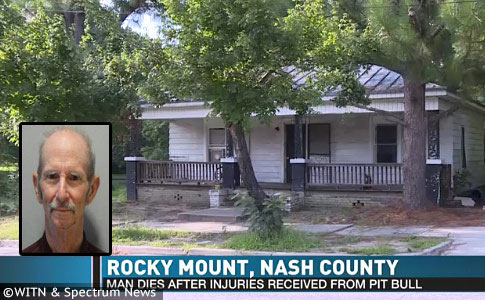 Rocky Mount Police found Gurney Walker, 75, dead inside a home with pit bull injuries.
Victim Identified
UPDATE 08/22/18: Police released the name of an elderly man who was killed by a pit bull over the weekend. Gurney Walker, 75, was found dead inside a home at 408 Buena Vista Avenue about 2:35 am Saturday morning. Police were called to the home for a suspicious event, reports WRAL, but they did not elaborate on who called for help. Cpl. Brad Summerlin of the Rock Mounty Police previously stated that Walker was "staying at the home" of the owner of the pit bull.
When officers arrived at the scene, the pit bull was inside the home. The Pitt County Medical Examiner's Office performed an autopsy on Walker's body Sunday, reports WITN. The cause and manner of death results remain pending. Anyone with information is asked to contact the Rocky Mount Police Department at (252) 972-1411, Twin County Crime Stoppers at (252) 977-1111 or Text-A-Tip (Text RMPOL) your message to CRIMES (274637). Your text is anonymous.
08/21/18: Rocky Mount Man Found Dead
Rocky Mount, NC - A 75-year old man was found dead at a home with injuries inflicted by a pit bull, Rocky Mount Police said. Authorities responded to a residence in the 400 block of Buena Vista Avenue about 2:35 am Saturday and discovered the man deceased inside. Police said the man had sustained injuries from a pit bull. The victim's identity was not released. His body was taken to the Medical Examiner's Office for an autopsy. Police continue to investigate his death.
This is the third fatal pit bull attack in North Carolina in nine months. On August 9, a 66-year old woman, still unnamed, was killed by two pit bulls while walking in a Lake Tillery development in Montgomery County. Last November, 65-year old David Baber of Hamlet was killed by two of his five dogs, a pit bull and a mixed-breed, in his fenced-in backyard in Richmond County. A 9-year old boy witnessed the attack and threw bricks at the dogs to no avail, trying to get them to stop.
A License to Kill
On Wednesday, the Rocky Mount Telegram added new information. In a press release issued by Rocky Mount Police, Cpl. Brad Summerlin said the man was "staying at the home" of the owner of the pit bull on Buena Vista Avenue when the fatal attack occurred -- yet another common fatal pit bull mauling scenario. Summerlin said he doesn't believe the owner of the pit bull will face any criminal charges. "The dog has been seized and is in quarantine at this time," Summerlin said.
Since January 1, 2018, canines have killed at least 20 Americans. Pit bulls were involved in three-quarters of these attacks. Criminal charges have been brought in only one case, 5% of fatalities this year. One might presume the lone criminal case involved an at large pit bull mauling and killing a woman walking down the street in broad daylight, such as in the deaths of Karen Brown and more recently in Lake Tillery. That is a false presumption. Having pit bulls is a license to kill.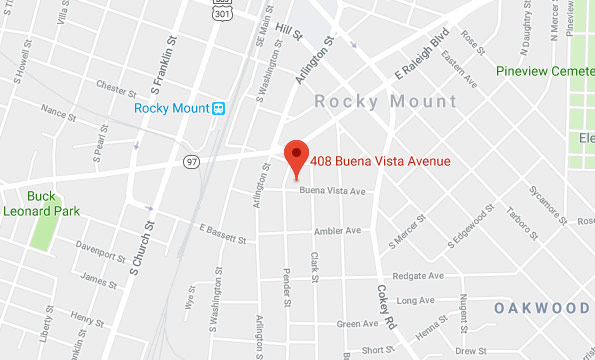 ©Google Maps | Street location of the fatal pit bull mauling in Rocky Mount, North Carolina.

View the DogsBite.org Google State Map:
North Carolina Fatal Pit Bull Attacks
.
Related articles:
08/10/18: 2018 Dog Bite Fatality: Woman, 66, Killed by Pit Bulls in Lake Tillery Development
11/09/17: 2017 Dog Bite Fatality: Senior Citizen Attacked and Killed by Own Dogs in Hamlet
---
Baseline reporting requirements:
Law enforcement departments across the United States should release consistent "baseline" information to the media and the public after each fatal dog mauling,
including these items
.