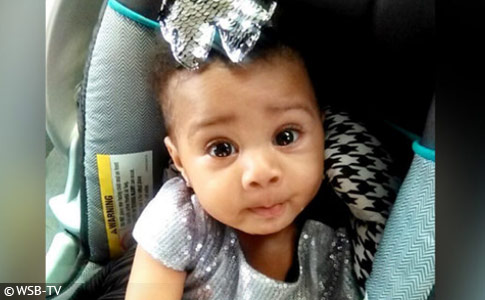 Paige Bradley, 5-months old, was killed by her babysitter's dog in Forest Park.
No Charges Warranted
UPDATE 06/15/18: There will be no charges after a 5-month old baby was mauled to death by a family dog while she was sleeping. Investigators concluded that no unlawful or neglectful act was committed. In the early morning hours of Sunday, June 10, about 2:55 am, police received a 911 call from a "frantic" caller who was "not able to communicate the nature of their emergency," according to a news release issued by the Clayton County Police Department on June 14.
Upon arrival, responding officers discovered that the family dog (German Shepherd) had mauled a 5-month-old female to death. According to the family of the child, she was placed in a bed to sleep and left in the care of her mother's roommate while her mother left the home for a few hours. When the mother returned, she discovered that her roommate had fallen asleep in another area of the home and when they went to check on the welfare of the baby, it was discovered that the baby had been mauled to death in the bedroom where she had been placed to sleep.

The family advised detectives that the dog had been around the baby since the baby's birth had never shown any signs of aggression toward the baby or anyone else in the home. The dog was removed from the home by Clayton County Animal Control officers on the night of the incident and has since been surrendered by his owner to Animal Control and euthanized.

At the conclusion of the investigation, it was determined that no unlawful or neglectful act had been committed by anyone in the home and no charges were filed. - Clayton County Police Department, June 14, 2018
The release clears up the conflicting date of death being reported by different news outlets, and more importantly (in our minds) clears up where the baby lived. Earlier, we reported that the child was visiting the babysitter's home, which is one of our 33 parameters in collecting dog bite fatality data. However, the Clayton County Police Department confirms the baby lived at the home on Watts Road with her mother and her mother's roommate, who is also a longtime family friend.
On Thursday, the baby's mother, T'erika George, spoke to WSB-TV. Struggling through emotions, she gave a slightly different version of the timeline. What is clear in her voice is her immense grief for the loss of her baby. "I told her I'm so sorry because I always take you with me," George said. When asked by the reporter, "What do you think happened?" George replied, "I can't even say. I just gave it to God and I told him to figure this all out for me." Our hearts go out to this mother.
---
06/14/18: Baby Killed by Family Dog
Forest Park, GA - An infant is dead after being mauled to death by a dog. The deadly attack occurred Tuesday at a home on Watts Road in Forest Park. At the time of the attack, the baby was under the care of a babysitter, her mother's roommate. The mother told police she left her daughter with her roommate for a few hours. When she returned, she found her infant dead and the roommate asleep. Clayton County authorities seized the roommate's German shepherd.
There is conflicting information about the date of the baby's death -- Sunday or Tuesday and whether the baby lived at home on Watts Road.
After WSB-TV updated their article, "roommate" was dropped and the babysitter became a "longtime friend" of the child's mother, T'erika George. According to police, this male friend was watching the baby that night. He put the baby down to sleep on a bed in one room then he fell asleep in another room. About 3:00 am, someone called police saying a German shepherd had killed a baby. According to George, baby Paige had been around this particular dog her whole life.
"He ate by us, he slept by us, he followed us and sometimes I had her in her car seat and he would go over and check on her and walk away. I never heard of anything like this," George told WSB-TV. No criminal charges have been filed so far and animal control already euthanized the dog, police said. The family has set up a GoFundMe page. "All proceeds go toward the funeral arrangements for Paige. Thank you for your thoughts and prayers," states the fundraiser.
The death of baby Paige while under her babysitter's care marks the fourth infant, 8-months old or younger, attacked and killed by a family dog this year, 31% of all dog bite fatality victims.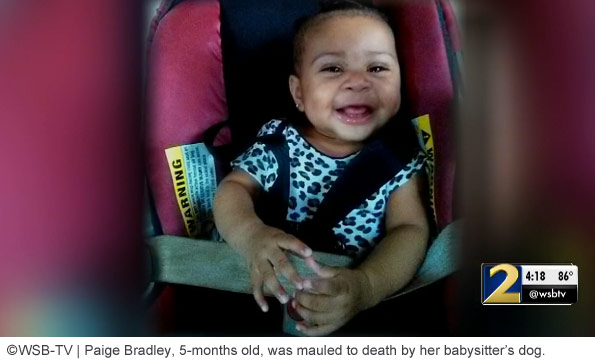 Related articles:
06/18/18: 2018 Dog Bite Fatality: Infant Killed by Pit Bull While Under Care of Grandmother...
05/07/18: 2018 Dog Bite Fatality: Baby Killed by Family Dog While Under Her Grandmother's Care
04/11/18: 2018 Dog Bite Fatality: Pet Wolf Hybrid Kills 8-Day Old Baby Girl in Virginia
---
Baseline reporting requirements:
Law enforcement departments across the United States should release consistent "baseline" information to the media and the public after each fatal dog mauling,
including these items
.