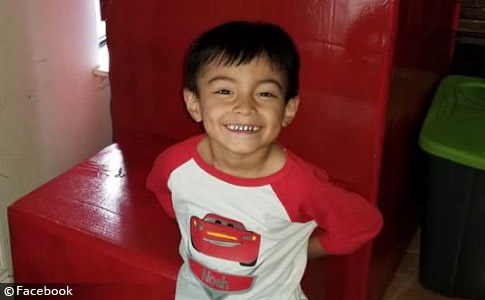 Noah died after a tethered, male pit bull-mix latched onto his neck and shook him.
Male Pit Bull-Mix
UPDATE 03/27/18: A member of Noah's family shared with KENS 5 News more details about the family dog that attacked and killed the little boy Sunday in Converse. The animal is a male pit bull-mix, named Bam Bam. The dog was given to the family as a gift three years ago. Jon Ramirez, a family friend, said he had seen Noah and Bam Bam interact well in the past. The pit bull-mix was chained to a fence in the backyard when Noah entered into the "death radius" of the canine.
Late Sunday, News 4 San Antonio reported that neighbors said the dog had previously escaped the family's property and fatally attacked neighborhood pets. The Bexar County Sheriff's Office is still trying to confirm those reports. Again, the extreme risk factors present in Noah's death -- a young child left unattended near a male (neuter status unknown) chained dog, and with a potentially lethal track record in killing animals -- is one of the most dangerous scenarios of all.
03/25/18: Family Dog Kills Boy
Converse, TX - A 4-year old boy is dead after a family dog latched onto his neck. The Bexar County Sheriff's Office (BCSO) was called to a home in the 8900 block of Twincreek Farm about 3:45 pm Sunday after a report of a dog attack. BCSO said the boy was in the backyard when the large canine attacked him. The child was airlifted to University Hospital in San Antonio with life-threatening injuries and "excessive trauma." He was later pronounced dead at the hospital.
The 4-year old boy has been identified as Noah Trevino. It has also now been confirmed the dog was tied up when it fatally attacked the child.
"It appears that the child may have gotten too close to the dog," Bexar County Sheriff Javier Salazar said. "One of the relatives of the child actually looked out into the backyard and saw that the dog had his mouth around the little boy's neck and was shaking him," Salazar said. Animal control took the dog. The dog is potentially a mixture of American bulldog, pit bull or mastiff; no confirmation at this time. Also, "too close" indicates the dog may have been penned or chained.
Late Evening Updates
A larger photograph Tweeted by David Caltabiano of News4SA shows better scale than the first one (which was a close up). Mastiff as a possibility can now be removed. This is a pit bull-type dog -- an American bulldog, pit bull terrier or a cross between these close breeds. Authorities are simply calling it a "large mixed-breed," yet the dog's behavior is very specific to these breeds: The dog latched onto the boy's throat and shook him to death. The sex of the canine is unknown.
Readers also may have noticed this statement in various news reports, "The family said the dog has never attacked people." In their evening broadcast, reporter Caltabiano stated that according to BCSO, neighbors told them the same dog had escaped the yard in the past and attacked and killed neighborhood animals. BCSO is still trying to confirm those reports. The risk factors posed by this canine -- a chained aggressor with a lethal track record -- were alarmingly evident.
View the DogsBite.org Google State Map:
Texas Fatal Pit Bull Attacks
.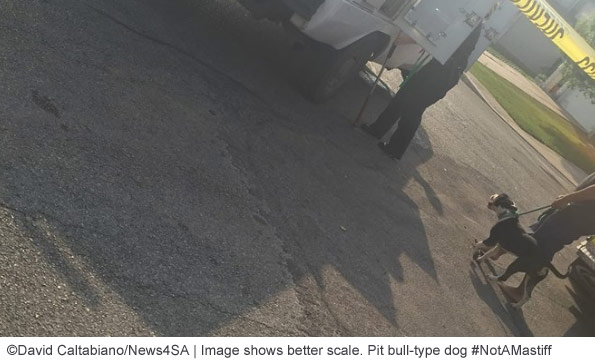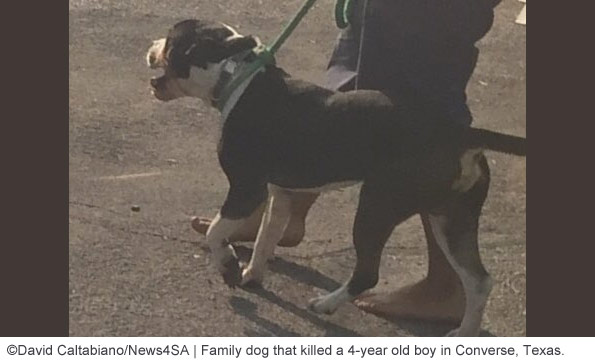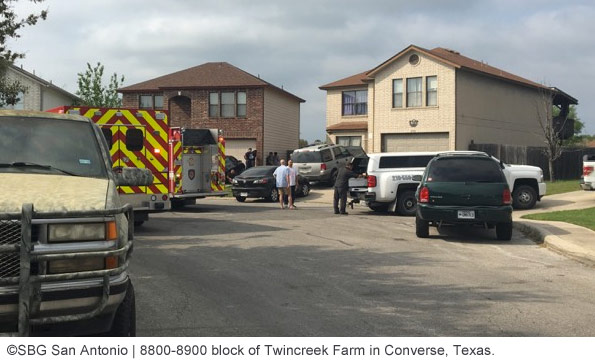 ---
Join Texas Dog Bite Victims' Advocacy - Join our Texas email list to stay informed
Related articles:
07/28/17: 2017 Dog Bite Fatality: Pack of Family Dogs Attack and Kill 4-Year Old Boy in El Paso
05/09/16: 2016 Dog Bite Fatality: Woman Dies After Vicious Dog Mauling in Southern Dallas
10/30/15: 2015 Dog Bite Fatality: Visiting Child Killed by Two Pit Bulls in Orange County, Texas
05/21/11: Texas Doctors Produce Study: Mortality, Mauling and Maiming by Vicious Dogs
---
Baseline reporting requirements:
Law enforcement departments across the United States should release consistent "baseline" information to the media and the public after each fatal dog mauling,
including these items
.