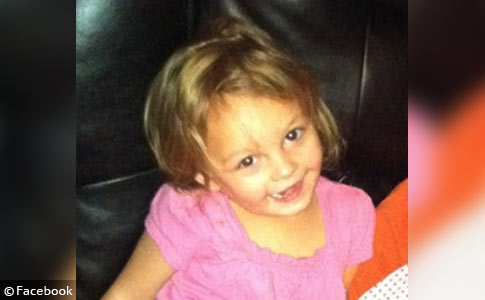 Rylee Marie Dodge, 3, was killed by her family's new pit bull in Duncan, Oklahoma.
Father Speaks Out
UPDATE 01/15/18: In a heartbreaking story, Jason Dodge, whose daughter was killed Sunday by a family pit bull, talks about the newly acquired dog. Dodge got the approximately 1-year old pit bull from a friend who said she would take the dog to the pound if Dodge did not take it -- red flag number one. Dodge loved animals and knew "what would happen to a pit bull" at a pound -- red flag number two. Someone else's misfortune and guilt led to a decision that cost his child's life.
There is no doubt that pit bull propaganda played a large role as well, generously dished out by animal welfare groups, celebrities like Cesar Millan, and the pit bull lobby. From the misunderstood Nanny Dog myth to "It's all how you raise 'em," then blanketing pit bulls in victimization by calling them unfairly discriminated against. No one ever told Dodge these are "zero margin of error" dogs that kill a person in the U.S. about every 12 days and initiate LifeFlights daily across the country.
"I got [the dog] from a friend. I had it five days. I was very cautious about it, because I don't just bring around dogs into my home. It was over a year, I was trying to do a good thing, because she was going to take it to the pound if I didn't, and I love animals. So, I wanted to take it into my house because I know what would happen to a pit bull, you know.

I took my son over there. The dog didn't attack him. It loved him, gave him a hug and licked him on the face and everything. Brought him here and my son come outside all day long and played with him. He didn't do nothing to him. Then I bring my daughter here two days prior to that and this happened." - Jason Dodge
Dodge also talked about his mother who intervened in the attack. "She actually pulled her arm out of its socket by holding the dog down so long, until I got home. She had to check herself into the hospital because her arm was so messed up from holding the dog down too long," Dodge said. "She couldn't breath. She had no stamina whatsoever. She couldn't even get up," he said. "She had the dog in a headlock laying on the back of it. The dog was trying to get out from under her."
---
01/15/18: Dog Mauling Victim Identified
A 3-year old girl killed by a family dog has been identified as Rylee Dodge. Her father, Jason Dodge, said the dog is a pit bull that he had only taken in five days earlier from a friend. In an interview with KFOR, Dodge said he left his daughter at home Sunday with Rylee's grandmother. Dodge had only been away for about 20 minutes when he received a call that Rylee had been attacked. Dodge said Rylee opened up the front door to play with the dog and it attacked her.
Police continue to investigate what led up to the deadly attack. There are now conflicting reports about how long the family owned the pit bull, five days versus two weeks. Police also continue to describe the dog as a "bulldog mixed-breed," even though the dog's owner states it is a pit bull, as do other family relatives. Rylee's body was taken to the Oklahoma State Medical Examiner's Office where they will perform an autopsy. The family's attacking dog will undergo a necropsy.
Finally, Dodge also provided photos of his dog, named Remington, to KSWO. Dodge told reporter Re'Chelle Turner that Remington is a "fully blooded pit bull," as the photo mainly indicates, erasing further breed misidentification rumors. This video has so far only been published to the KSWO Facebook page. We expect to see it incorporated into their main news website sometime later today. Meanwhile, Turner will be interviewing other family members and neighbors for reactions.
---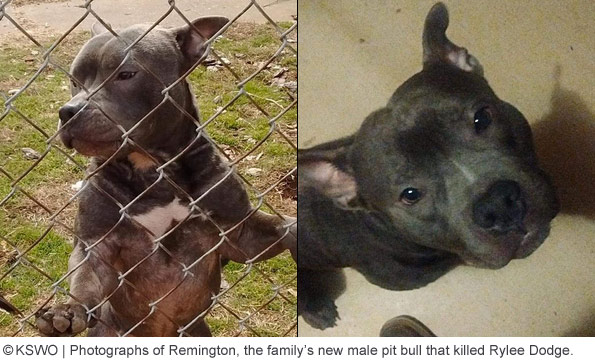 ---
01/14/18: New Family Dog Kills Child
Duncan, OK - Police confirm a child died after being attacked by a family dog. Officers responded to a dog bite report at a home near F Street at 3:19 pm Sunday, Duncan Police Lt. John Byers said. The child was taken to a hospital, but did not survive. When officers arrived at the scene, the medium sized "mixed-breed" dog fled. When the dog was located it lunged at an officer and was shot to death. The family dog will be sent to a veterinarian to determine the breed, Byers said.
"When they arrived on the scene the young juvenile female had been attacked by a dog and the dog was still in the area," Byers told The Duncan Banner. The canine was "later located by officers and that dog was put down by the officers," he said. "We are currently still investigating all of the circumstances around it right now," Byers said. More details will be released when the information becomes available, Byers said. Authorities did not release the mauling victim's age or identity.
Late Evening Updates
The Lawton Constitution published more details in a piece that will run in full in their print daily tomorrow. The mauling victim is only 3-years old. The deadly attack occurred in the 600 block of North F Street. Officers arrived at the scene and saw the dog had drug the child into the yard and was still actively attacking the child, Police Chief Dan Ford said. "Officers got the dog off the girl and dispatched the dog. They tried to do CPR on the girl but she didn't make it," Ford said.
In 2015, in nearby Lawton, 3-year old Jordan Collins-Tyson was killed by a pit bull while under the care of his babysitter. He was in the backyard of his great-grandmother's home with two dogs when he was attacked. According to police, the babysitter was watching the boy through a window from inside the home. When she glanced away then back, he was on the ground. The pit bull latched onto Jordan's throat, killing him. Police said the boy had spent time with the dog before.
---
Unverified comments by a relative on the KSWO-TV Facebook thread state the dog was a pit bull that a male individual had owned for a few weeks. Commenter, last name Robinson, states, "The little girl who passed is my daughter's half sister. Her family needs lots of prayers. She was just trying to play with the dog and it attacked her. It was not a stray like everyone is saying." Robinson states the dog's owner, "got it from some girl who was homeless and he gave the dog a home."1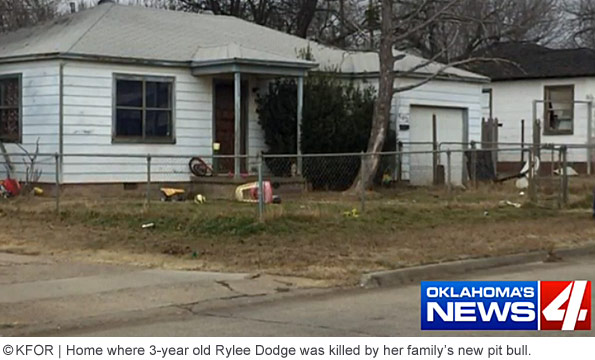 View the DogsBite.org Google Map:
Oklahoma Fatal Pit Bull Maulings
.
1
Though the dog certainly could have been "new" to the home, especially newly rehomed by someone Robinson knows, the "homeless" bit sounds a little far fetched. We shall see what police finally say about this.
Related articles:
11/04/17: 2015 Dog Bite Fatality: Oklahoma Man Dies After Vicious Attack by Five Pit Bulls
05/10/17: 2017 Dog Bite Fatality: Woman and Dog Killed by Two Pit Bulls While Walking...
06/29/15: 2015 Dog Bite Fatality: Pit Bull Kills Child Under Babysitter's Watch in Lawton...
---
Baseline reporting requirements:
Law enforcement departments across the United States should release consistent "baseline" information to the media and the public after each fatal dog mauling,
including these items
.