Pit Bull Had Also Attacked His Mother Two Weeks Earlier

Robert Laughton and his pit bull that mauled his mother twice in Roseville, Michigan.
Judge Dismisses Case
UPDATE 08/17/17: In a very anticlimactic fashion, the felony charges against Robert Laughton were dismissed yesterday. Judge Marco Santia determined the two victims, Laughton's mother and her boyfriend, were co-owners of the pit bull and knew the risks involved with this dog. On April 30, Laughton's pit bull brutally attacked Suzette Laughton and Michael Mager. Both suffered damaging injuries. Two weeks earlier, his dog attacked Suzette as well, requiring 30 stitches.
After his dog inflicted a "series" of attacks, Laughton made headlines, crying to the media, "It's not my fault" and "I didn't do anything wrong."
This "intrafamily" pit bull mauling was never going to be easy to prosecute. The two victims did not want charges pursued. All three of them live together as well. We were surprised when Macomb County Prosecutor Eric Smith filed two felony charges against Laughton in May. However, the injuries his pit bull inflicted were extreme. Paramedics initially feared that Michael would lose both arms, and Suzette's injuries required 98 staples in her right arm and 74 staples in her left arm.
The first attack occurred on April 19. At that time, Laughton was issued a citation for harboring a vicious dog -- he was placed on legal notice. Roseville officials allowed him to home-quarantine the dog for 10 days and advised him to put the animal down afterward. But Laughton and his mother did not want to pay the $200 euthanasia fee and decided to "give the dog another chance." One day after the quarantine period ended, the pit bull unleashed its second violent attack.
Summary
After his dog inflicted a "series" of vicious attacks on family members, Laughton refused to accept any responsibility. This is after he had been put on legal notice by the city and after his dog attacked a second time. "I didn't do anything wrong," Laughton told The Detroit News. "It's not my fault." Laughton gravely marginalized his mother's injuries back then too stating, "My dog bit my mom." He also failed to mention the gravity of damaging injuries suffered by her boyfriend.
Michael was "lying unconscious on the living room floor suffering from horrific bites" and "bleeding profusely from his wounds." - Roseville Police
Now that a judge has dismissed the felony charges against Laughton, can the public believe that he and his family have learned anything over the past four months? Possibly. He did have to hire an attorney and show up in court. The family also had two pit bulls. Still up to her ears in medical bills, Suzette made the remaining pit bull her Facebook cover photo on July 2. Now that the court has released Laughton, he's also free to obtain new pit bulls. So "possibly not" is a better answer.
---
05/04/17: Felony Charges Authorized
Roseville, MI - On April 30, a family pit bull brutal attacked a couple in their home in the 30000 block of Normal Street. Suzette Laughton, 52, was initially listed in critical condition and her boyfriend, Michael Mager, 51, was airlifted to a hospital due to his extreme injuries. The dog belongs to Suzette's son, Robert Laughton, 29. Two weeks earlier, his dog attacked Suzette as well, requiring 30 stitches. At that time, Robert was issued a ticket for harboring a vicious dog.
Robert lives with the couple, but was not home during the recent attack. After the April 19 attack, he home-quarantined the dog for 10 days. One day later, after Suzette released the dog from its kennel, it viciously attacked her again. When Michael intervened to help her, the dog turned on him, inflicting injuries so severe he was left unconscious. First responders initially feared he would lose both arms. On May 4, prosecutors authorized two felony charges against Robert Laughton.
      "I grew up with dogs and love them dearly. But as owners we bear complete responsibility for the training and behavior of our animals, especially regarding their interaction with the humans they encounter.
With these powerful breeds, that responsibility is particularly acute. A single aggressive episode can result in life-ending tragedy. Our office shows zero tolerance to owners who fail to safeguard their animals and the people around them from vicious aggression." - Macomb County Prosecutor Eric Smith, May 4, 2017
Why This Case is Unusual
Only a few states have a meaningful state felony dog attack law, Michigan is one of them. Under Michigan law, if a dog owner has knowledge of his dog's vicious propensities and it attacks again, seriously injuring or killing a person, the owner is subject to a felony. Laughton was charged with two felony counts because two victims were seriously injured. Prosecutors authorized these charges knowing that both victims, one being Laughton's mother, will not agree with the charges.
Due to the "intrafamily" nature of this series of pit bull maulings -- the mother agreed to give the dog another chance after the first attack, Laughton alleges -- we did not believe prosecutors would authorize these felony charges. It is a bold and courageous move by prosecutor Eric Smith (Kudos!). Unfortunately Laughton, who was given a citation previously for having an unlicensed dog and harboring a vicious animal, remains in total denial about dog ownership responsibility.
Headline Pit Bull Mauling
On Monday and Tuesday, we watched as headlines about the Roseville attack dominated the Detroit region. According to news reports, officers met Suzette bloodied outside of her home. She told police her son's pit bull had attacked her boyfriend, who was still inside the house. Police were forced to taser the pit bull to incapacitate it in order to reach the boyfriend who was, "unconscious on the living room floor, suffering from horrific bites to his arms and face," according to police.
      The dog suspected in the attack was present and was "extremely aggressive not allowing emergency personnel into the home to extricate the victim," police said in a release. - Christina Hall, Detroit Free Press, May 2, 2017
By early Tuesday, reports of Michael's injuries were so severe that we added him to our Dog Bite Fatality Watch List. While he was only on the list for a few hours, that action kicked off a deeper review of the situation by us. The first stop was the homeowner's property records to identify the victims and the second was the dog owner's Facebook page. When we landed on Laughton's page, he was publicly and gravely minimizing the victims' injuries and denying any responsibility.
Laughton had posted about "our recent fiasco" and claimed the media got the story wrong. When asked by a friend, "What happened?" He wrote, "My dog bit my mom." No mention of Michael's injuries, the airlift or this being the second time his pit bull had viciously attacked his mother. Laughton called the media "animals" and told friends to watch for an upcoming article by The Detroit News, which would undoubtedly carry his "blameless" version of the story, and it did.
In a headline titled, "Dog owner defends self in mauling: It's not my fault," Laughton tries to explain why he should not be blamed after his vicious dog attacked a second time seriously injuring two people. "I didn't do anything wrong," Laughton told The Detroit News. "It's not my fault. My dog was loved. He had toys. I did not abuse my dog. I didn't make my dog vicious. My dog did what he did. He's paid for it," he said. As if the dog being euthanized alleviates Laughton from all liability?
Laughton said that city officials recommended he put the dog down after the April 19 attack. But, he and his mother did not want to pay the $200 euthanasia fee and decided to give the pit bull another chance, he said. Now, after thousands of dollars in medical procedures, requiring "teams of surgeons," along with felony charges, the $200 fee looks like a bargain. Laughton also blamed the second attack on a "neurological trigger," a term coined by whitewasher James Crosby.
The Detroit News video interview is a dead ringer for a pit bull owner's total and complete denial after his dog viciously attacked a second time. According to his sister, Tiffany Laughton, the same pit bull attacked her fiancé's dog in January. So technically, the April 30 attack is the third attack by the dog -- three attacks in a 4-month period. Yet, according to Laughton's obtuse logic, he's not responsible for any of them. The trusted pit bull mantra, "Blame the Owner" suddenly evaporates.
"I didn't make my dog vicious. It's not like I trained my dog to fight. I didn't do any of that. He was a family pet." - Pit bull owner Robert Laughton
"My dog bit my mom and her boyfriend. He's paid for it now," Laughton states. Quite literally, he has no comprehension of civil or criminal liability after a "series" of vicious attacks. The victims in this case are family members, but they just as easily could have been a child or friend visiting the home. The two felony charges signal that in Macomb County all victims are equal. Just because "only your family members" were mauled twice by the dog, does not mean you are off the hook.
The Family Pit Bulls
The male pit bull, named Bruce, is reportedly 1.5 years old. As we have stated many times on this website, pit bulls typically begin to show destructive behavior traits, such as the "hold and shake" bite style and animal aggression, when sexual maturity is reached at about 1.5 years old. This fact is well known among many animal control officers and humane groups, but is rarely shared with the public. This is not true of all pit bulls, but it is a rule of thumb for when these traits appear.
Laughton had purchased the pit bull from a Craigslist advertisement a year earlier, according to a news release issued by prosecutors. Furthermore, the dog was scheduled for euthanasia on May 1, states the release. Apparently, during the home-quarantine period between April 19 and April 29, Laughton and his mother changed their minds about euthanasia, Laughton alleges, but failed to tell animal control officials. Then one day later, the dog unleashed its second violent attack.
The Laughtons also have another pit bull in their home -- ClickonDetroit captured it in recent footage. That dog was not involved in the recent attack, but was taken into custody by county animal control after the April 30 attack. So, when the couple returns home after being hospitalized, there will presumably still be a pit bull in the family's home. Property records show that one of these pit bulls was registered under a different breed name, a "Lab/Mix," on April 26, 2017.
Son, Mother Appear in Court
On the same day prosecutors authorized felony charges against Robert Laughton, he and his mother appeared in Roseville District Court, reports the Detroit Free Press. Robert was arraigned on the charges and given a $5,000 surety bond. He is allowed to keep living with his mother, but cannot purchase another animal until the court says so. Suzette told the court that she wants her son to "stay with me" and that her boyfriend "doesn't want anything to happen to Robert."
Meanwhile over on Robert's Facebook page, he states, "Well let the fun begin I suppose." Sadly, many commenters on his post have no comprehension of civil or criminal liability after a "series" of vicious attacks either. One writes, "He feels terrible" and "He has been through enough." As if that would be sufficient after a drunk driver seriously injured two people? Again, that $200 euthanasia fee sure was a bargain. Now add defense attorney fees to the family's mounting medical bills.
---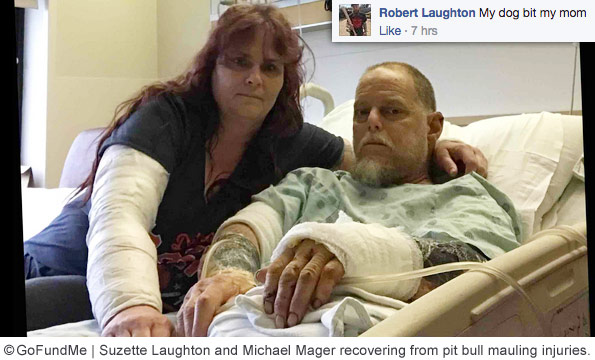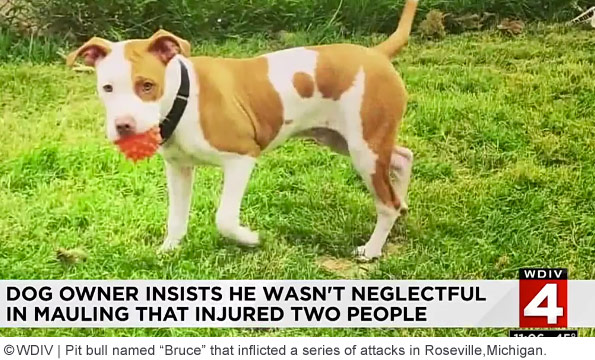 Related articles:
08/25/16: 2016 Dog Bite Fatality: Pit Bull that Killed Boy Had a History of 'Dog Aggression'
06/30/16: Criminal Trial: Detroit Pit Bull Owner Convicted on Two Counts of Manslaughter
03/17/16: Thank You Letter: Experienced Dog Trainer Shares Attack Story & Professional...