Fatal Pit Bull Attack in Penobscot County, Maine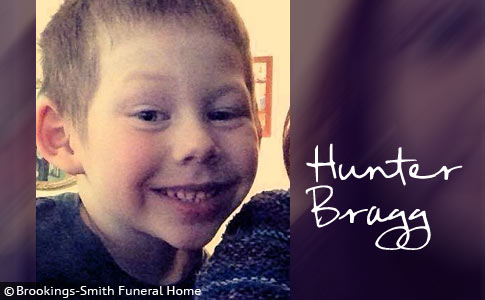 Hunter Bragg, 7, was killed by a pit bull while visiting the dog owner's home in Corinna.
Medical Examiner's Report
UPDATE 08/25/16: Local newspapers obtained a copy of the state medical examiner's report for 7-year old Hunter Bragg. On June 4, Hunter was fatally attacked in the throat and face by a male pit bull while visiting his father at the home of Gary Merchant Jr. at 207 Moody's Mill Road in Corinna. Hunter's father, Jason Bragg, was living in a camper on Merchant's property, states the report. Bragg was still trying to revive his son through CPR when first responders arrived.
Hunter died of "sharp and blunt force wounds of the neck" and "multiple blunt and sharp force injuries of [his] head," states the medical examiner's report. Injuries to his head and face included "sharp and blunt force wounds" inflicted on the boy's face and scalp. The pit bull repeatedly attacked the boy until it executed the killing bite. Our hearts go out to Hunter's father, who will live with witnessing the horrific destruction this pit bull inflicted on his son for the rest of his life.
The 1.5-year old male pit bull, named Koda, belonged to Merchant. The dog previously belonged to the daughter of Merchant's wife since a puppy. Amber, who lives in Vermont, returned the pit bull to the Merchants in early 2016 after it attacked another dog in her home multiple times. Koda was the product of an intrafamily backyard pit bull breeding operation. Penobscot County Sheriff Troy Morton said the "thorough investigation" into the boy's mauling death "remains active."
---
06/11/16: Bite Report Obtained
The Morning Sentinel obtained the dog bite report. Information in the report verifies all that we have written about since this fatality was first reported and more. The dog's name is indeed "Koda," as stated on the bite report, and is described as a brindle and white male pit bull, specifically as a "brindle with white face." The age of the dog is 1.5 years old, states the bite report. The dog we originally posted on June 5 along side Amber's comments is the killer.
The bite report contains additional information, including that the dog fatally bit Hunter in the throat, the boy had been left unattended at the time, and that Koda had previously "attacked [Amber's] other dog several times." The Sentinel also interviewed animal control officer Charles Gould who said the pit bull was chained in the yard when he arrived on scene. Gould said there were adults in the yard at the time of the attack, but he was unsure if they witnessed the attack.
---
Intrafamily Backyard Pit Bull Breeding Operation
---
To help readers navigate this "complex" case, we created a chronology of the screenshots captured while researching the pit bull involved in the mauling death of Hunter Bragg. What we discovered while researching was a classic intrafamily backyard pit bull breeding operation. In this case, there is also a strong possibility that the litter that produced Koda in October 2014 also bore two pit bulls that were legally declared vicious before the age of 1. Genetics is real and it matters.
In 2013, two bullmastiff-pit bull mix littermates killed two different people less than 10 miles apart within a 5-month period in Central Arkansas.1
In the chronology, we call to attention the widespread false and dangerous belief that dog aggression never translates into human aggression. Koda did not only have aggression toward male dogs when smelling a female in heat (the classic reason to neuter male dogs). Koda had breed-specific aggression, which is why Bandit was killed. Interdog aggression, generally, means aggression toward dogs, not killing another dog, which pit bulls were purpose-bred to do.
---
06/09/16: More Information Released
Penobscot County Sheriff Troy Morton released new information about the pit bull involved in the mauling death of 7-year old Hunter Bragg on June 4. As suspected, the pit bull had originated from the Merchant home at 207 Moody's Mill Road and was recently returned to them for reasons Morton has still not released. "That is a major part of the investigation," Morton said. "Who returned it, when was it returned, where had it been and was there any issues while it was gone."
The Bangor Daily News reports that under state kennel rules, Gary Merchant's ownership of 8 dogs qualifies him as a kennel, but he is not required to register with the town. If more than one puppy is sold in less than a year's time, Merchant would be required to register as a vendor, according to state law. Serena Bemis-Goodall, the town manager of Corinna, said Merchant does not have business license registered with the town and does not know if he is a dog breeder.
"A person may not advertise for sale, sell or exchange for value more than one cat or dog under the age of 6 months in a 12-month period unless that person has a valid animal shelter, kennel, breeding kennel or pet shop license or a valid vendor's license." - See full state requirements
The Morning Sentinel reports additional details. According to Animal Control Officer Charles Gould, the pit bull that killed Hunter was named Dakota -- the suspected dog, named "Koda," may be a shortened version of this name. Early on, a daughter of Merchant named Amber claimed it was her male, 1.5 year old pit bull that killed the boy in public Facebook comments. Amber's own Facebook page show's that Koda was part of an October 2014 litter from the Merchant family.
Sheriff Morton said that he would not provide any details about why the dog had recently been returned to Merchant after he had owned it previously, reports The Sentinel. Morton also would not comment on who else had owned the dog. "We do have some of those answers, but we're not prepared to release them," Morton said. Other key information that has not been released is the color-type of the dog (another way to verify Koda) and if the dog was tethered when it attacked.
Key Tips Sent In By Reader
To summarize events so far, details about the dog that attacked and killed Hunter Bragg are generally lining up with Amber's claim of being the former owner of Koda and that he was the aggressor in the attack. Amber is the daughter of Stacey Merchant -- who is married to Gary Merchant Jr. (from this point forward, simply called "the Merchants"). Amber did return Koda to the Merchants after we believe the dog killed her beagle, named Bandit, on Christmas Day 2015.
A week later, Amber posted that she could no longer keep the dog. Koda begins appearing on the Merchants' Facebook page in early February.
On Tuesday, a reader sent in tips that strengthen this scenario further. In September 2015, just a few months before Bandit was killed, Koda viciously attacked Bandit. The fight had to be broken up with a baseball bat and cost $353 in veterinarian bills. In the post, Amber admits that by the age of 1 year old, Koda had already had been bred once and that his dog aggression started even earlier. Amber's veterinarian knows about the September attack, possibly the Christmas one too.
The Sentinel is trying to obtain the bite report about the fatal dog attack that has been completed by animal control. The report includes the name, age and breed of the dog; the name of the victim; and a summary of the attack, along with other information such as whether the dog was up to date on shots and who its veterinarian was, accord to animal control. The last part is essential -- the veterinarian -- which should lead to the veterinarian records and answer critical questions.
As of this update, Amber has privatized her Facebook page. See more discussion in comments.
---
06/06/16: Child Identified by Sheriff
The 7-year old boy struck down by a pit bull has been identified as Hunter Bragg of Bangor. The adult male pit bull that killed him has been euthanized, Penobscot County Sheriff Troy Morton said at a news conference Monday. On Saturday, Hunter was playing in the yard with two other children at the home of Gary Merchant Jr. at 207 Moody's Mill Road when the attack occurred. The child's father, Jason Bragg, and Merchant were at the residence at the time, Morton said.
The pit bull belongs to the Merchant family. Town Manager Serena Bemis-Goodall said that Merchant has eight dogs on his property. All were registered except for the pit bull that killed Hunter. Bemis-Goodall told the Portland Press Herald, "My understanding is that (Merchant) took the dog in for someone else just within the last couple of months. It was not registered, otherwise we would have known about it." Thus matching the account of the dog's previous owner.
The "breeders" from our earlier coverage are Gary and Stacey Merchant, husband and wife, who reside at 207 Moody's Mill Road.
The Press Herald also reports that Patrick Faucher, the president of the board of directors of the Maine Animal Control Association, said that it has "probably been years" since a dog bite fatality occurred in Maine. However, the 2011 mauling death of 7-month old Annabelle Mitchell received extensive media coverage. The child's mother was also charged with a Class D misdemeanor for endangering the life of a child. Faucher apparently was unaware of this local fatal dog attack.
Sheriff Morton stated that additional details of the attack are "sensitive" and are not being released at this time. The incident remains an "active investigation," Sheriff Morton said. The Press Herald also spoke to Joshua Eldgridge, who grew up near the Merchant home. Eldgridge said the home has a number of dogs, including a pit bull that he has seen outside. Eldgridge said he heard there was a chance that another child at the home witnessed the attack, which deeply upset him.
If the dog had ever attacked before, or if it was tethered at the time, are being withheld pending the results of the investigation. - MPDN.net2
The Bangor Daily News adds that in 2012 Hunter lost his mother. The boy's aunt, Jennifer Mcclure, set up a GoFundMe page to help Hunter's family with funeral expenses. She states on the page, "He was taken from everyone at such a young age, but we all know that his mom is now with him and looking after him up in Heaven." Bragg was a student at the Down East Community School in Bangor. School officials were notified of his death by the sheriff's office, Morton said.
Sheriff Morton said he did not know if Merchant was breeding pit bulls or even the relationship between Merchant and Bragg, reports the Daily News. He would not answer further questions about the investigation, including if the pit bull was part of any previous incidents involving law enforcement -- citing "this is a sensitive, complicated investigation." The breeding evidence, however, was clear on Stacey Merchant's Facebook page, which has since been privatized.
Of the screenshots we did take of Stacey's Facebook page -- our main focus was Koda, not the other litters posted to her page -- the last round of pit bull puppies by the Merchants was produced in late March or early April and ready for delivery in mid May. Amber Morin took two of these puppies, despite having "returned" Koda to them in January due to dog-aggression; the pit bull that would later kill Hunter. The household was not limited to the breeding of pit bulls either.3
---
06/05/16: Child Was Visiting
In an email Sunday evening to the Portland Press Herald, Penobscot County Sheriff Troy Morton said that more details will be released Monday. "I can appreciate the interest in this incident; however, it is a complex incident and we believe in providing accurate information," Morton wrote. His answer came in response to questions from reporters about the dog's breed and the child's relationship to the dog. "We plan on putting out additional information tomorrow," Morton wrote.
"He is not a student from our district. He was there visiting a student from our district (when the dog attacked him)." - Interim superintendent Raymond Freve
Raymond Freve, interim superintendent of Regional School Unit 19, which includes the towns of Corinna, Dixmont, Etna, Hartland, Newport and several others, said Sunday evening the victim did not attend classes in his district. The student the 7-year old boy was visiting attends Corinna Elementary School, Freve said. Grief counselors will be available on Monday at the elementary school for students or staff members who might need to talk to them, reports the Press Herald.
06/05/16: Boy Dies in Dog Attack
Corinna, ME - On Saturday, deputies responded to a dog attack at a home on Moody's Mills Road in Corinna at 5:15 pm, states a release issued Saturday night by Penobscot County Sheriff Troy Morton. When deputies arrived at the scene, they found the 7-year old boy had died as a result of the attack. No one else was injured, and the dog was put down, states the release. Additional details were not provided, including the victim's name. An investigation into the attack is ongoing.
The Dog's Former Owner
Earlier today, on the WABI TV Facebook thread, the former owner of the suspected dog, Amber Morin, spoke freely. "Hey i can tell you right now that the dog was my dog before i rehomed it, i have a 2 year old boy and he never showed agression to any person, i will also inform you the boy he killed was my cousin!" [sic] she wrote. The dog is a brown and white pit bull-mix, named Koda. In January of this year, Amber gave the dog back to its breeders due to it being dog-aggressive.
Amber, the breeders and the boy appear to be related. The boy may have been visiting or staying at the breeders' home when the deadly attack occurred. The breeders' had a new round of pit bull puppies as recently as April. On a November 2014 post, they talk about how their dogs frequently break their chains. "Ya our male pit has broken a lot of chains...we finally had to buy a tow cable haha." [sic] Koda appears in Facebook photos on the breeders' page starting on February 5, 2016.
There were other dogs at the breeders' home, but given Amber's comments and open guilt, it seems likely that Koda was the attacker. Another family member also called the dog a pit bull and named the breeders, "Our cousin Stacy's dog attacked him." Amber's Facebook page shows many photos of Koda growing up with her son. Koda was 1.5 years old, when the breed reaches sexual maturity and aggression often first appears. However, Koda was already dog-aggressive.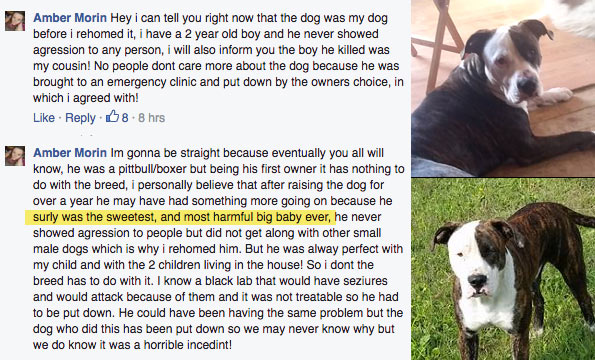 Commenter Lisa pointed out the Freudian slip Amber made above: "most harmful big baby ever."
1
Woman, 75, Killed by Bullmastiff in Arkansas Gated Community, by DogsBite.org, January 1, 2014.
2
Barbara Cariddi, "June 6: Dog Attack that Killed 7-Year-Old Boy Remains Under Investigation," Maine Public Broadcasting, June 6, 2016 (www.mpbc.net)
3
There are/were multiple dog breeds in the Merchant household, each showing litters on Stacey's Facebook page. There was at least one kitten litter too. Our hearts go out to Hunter's family members and relatives. There is, however, an issue with animal breeding at the household of 207 Moody's Mill Road that should be addressed, since it is convincing clear at this stage that one of their "breedings" produced a pit bull that killed a boy. Whether authorities can require a kennel license or mandate that animals in that household be spay or neutered is unknown.
Related articles:
07/16/11: 2011 Dog Bite Fatality: Frankfort Girl Mauled to Death by Pet Rottweiler