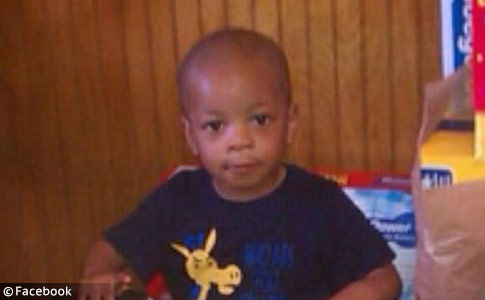 Beau Rutledge, 2-years old, was killed by family pit bull named "Kissy Face."
Rep. Waites and Mrs. Rutledge
Atlanta, GA - On April 24, Beau Rutledge, 2-years old, was horrifically mauled to death by his family's pit bull in Fulton County, Georgia. The family had owned the pit bull, Kissy Face, for eight years without any aggression issues. On Thursday, State Representative Keisha Waites posted this moving video to her Facebook Page. The video is a conversation between Rep. Waites and Angela Rutledge, Beau's mother, discussing why Rutledge supports Bully Breed Legislation.
Partial Transcript:
When I came downstairs, it wasn't because I heard anything. It wasn't because I heard a scream or any banging. I don't even to this moment understand how I did not hear anything. There was no music playing in my house.

It was so quick.

My son had puncture wounds in his neck. Gashes in his head. And he laid there, and I screamed so loud ...

I ran upstairs to go get my cell phone so I could call 911. I couldn't even call 911 because I kept slipping in the blood, and I kept dropping my phone...

The reason why I am supporting this legislation is to undo the lie.

There's a horrible rumor out there saying that nature will submit to nurture.

It's almost like if you were to get a lion as a cub -- They are very innocent and very sweet, but there comes a point … They are ticking time bombs. You cannot reach into their minds to know what is going to click on that detonator and set them off. You just don't know...

I believed that if you loved these dogs and took care of these dogs -- Kissy Face was never chained up, never tethered, never kenneled. She has slept in a bed ... She wore pink. There were times when I got a pedicure, she got a pedicure. When I was getting my nails done, she was getting her nails done.

I want to see something done where people are not blindsided by propaganda...
[Speaking to families who own pit bulls]

Ponder this one thing: Would you rather keep your dog and take that chance, and grieve for a lifetime, or would you rather put that dog down and grieve for just a moment?

There is no comparison in the grief. I have put a pit bull down, and I have also put a child down. The child is a lot more painful. - Angela Rutledge
To our knowledge, a similar type of video has never been produced or publicly aired before.
Related articles:
09/10/13: Maul Talk Manual 2.0: A Guide to Understanding the Language of Pit Bull Owners...
05/23/13: 2013 Dog Bite Fatality: Fulton County Infant Killed by Family Pit Bull
07/26/13: Beyond the Interview: Essay of a Fatal Pit Bull Mauling