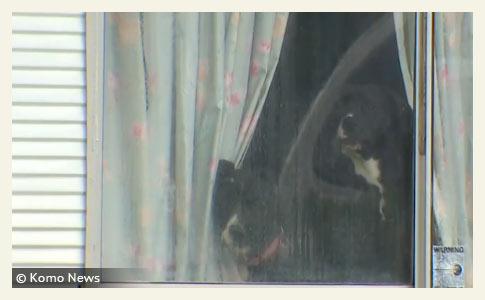 Two of the attacking dogs seen barking behind the dog owner's front window.
Dogs Put Down
UPDATE 03/25/16: We received confirmation this week from Kiro 7 News that all four dogs were put down after the 10-day quarantine. We received this same confirmation from Thurston County officials on Thursday. Also, after reviewing more online information about the incarcerated dog owner, we believe the person is the granddaughter of the name listed on the property records, but only her mother was residing at the home at the time of the attack; thus resolving that issue.
As for the dogs, which were all related to each other, they were a combination of first generation and another generation (its number unknown) of pit bull-Labrador and labrador-pit bull mixes, according to the Facebook pages of the dogs' owners and news reports following the attack. The difference being that some appeared more lab-like than others. Possibly, some heeler was mixed in as well. We discovered photographs of multiple litters on the Facebook pages of the owners.
03/09/16: Officials Impound Dogs
Gladys Alexander, 92-years old, did not survive her injuries. She died at 11:55 am Tuesday at Harborview Medical Center. On Sunday, four large dogs viciously attacked her after she entered into a neighbor's home to give her a newspaper. Animal services impounded the dogs a few hours after her death was announced. Up until this time, the dogs -- described as two adult and two younger pit bull-lab mix variations -- had been "home quarantined" in a type of comedy routine.
Friends and family members are upset that the dogs' owners face no criminal penalties. The dogs were legally confined to the owner's home when Gladys entered the home not knowing that her neighbor was away. One friend, Nancy Jenrette, told Kiro 7 News that she understands why nothing can be done. "At the same time, it just feels so criminal that she had to have suffered so tragically and that she ended up having to die in this manner. It's just horrific," Jenrette said.
Charges in the UK
In 2014, the amended Dangerous Dogs Act in the UK came into affect that allows authorities to seize dogs "dangerously out of control" in private places, including residences, and also provides penalties when serious attacks occur in these situations. England has basically said, "We don't care where your dog is vicious." If it violently attacks a person, the dog is "dangerously out of control." These changes were in part due to the public outrage after the death of Jade Anderson.
We do not know how (or if) UK authorities would have handled a case like Gladys Alexander, due to its technically trespassing nature. This would likely need to be examined in context with how frequently the two entered each other's homes, the nature of the day-to-day tasks the dogs' owner provided to Gladys and the dogs' history. Such a case would make an excellent test case under the amended Act, which helps to ensure the safety of persons visiting a dog owner's home.
The Dogs' Owners
County records show the owner of the home on Entrée View Drive SW -- a Kiro 7 video shows the numbered address. We were able to track this to who we believe the neighbor's granddaughter is (it is very common for the media to confuse relationship levels). This person was arrested and jailed on March 3, just three days before her dogs viciously attacked Gladys. So, the answer to our earlier question of how long the neighbor had been watching the three dogs is: Not very long.
Additionally, by reviewing the Thurston County Animal Control ordinance, we now understand why county officials must have "consent" from the incarcerated granddaughter in order to euthanize her three dogs. In many places simply "keeping or harboring a dog" -- which in this case would be the neighbor -- is enough to suffice as being the legal "owner" of a dog. In Thurston County, however, an "owner" only qualifies after keeping the animal for a period of fourteen consecutive days.

9.10.030 - Definitions
"Owner" means any person who harbors, keeps, possesses or maintains a pet animal, or who encourages a pet animal to remain about their property for a period of fourteen consecutive days or more, or the person named on the license/registration record of any animal as the owner. The parent or guardian of an owner under eighteen years of age shall be deemed the owner for the purposes of this chapter. - Title 9 Animals, Section 9.10.030, Thurston County, WA
03/08/16: Crime Scene Photos
In a Kiro 7 News update, we learn that the dog mauling victim is a World War II veteran and that one of her sons, Andrew Alexander, is a physician in California. We also learn that the neighbor's daughter -- the neighbor was temporarily dog sitting her daughter's three pit bull-mixes -- is incarcerated. The picture of the dogs' owners is becoming clearer. Just before the brutal attack, Gladys Alexander, 92, had walked over to her neighbor's home to give her a newspaper.
Previous reports said that the neighbor has regularly assisted Gladys with day-to-day tasks, and the two often went into each other's houses.
As soon as she opened the door, four dogs inside viciously attacked her. The new Kiro footage shows the aftermath of the bloody carnage in the neighbor's home. According to animal control officer Iris Johnson, "It appeared that she was drug into the house about 10 feet." Again, the dogs are seen in the news footage because they are under a 10-day "home quarantine," which at this stage is appalling. County officials should have found a way to quarantine the dogs off-site.
The neighbor, who owns one of the attacking dogs, has agreed to have it euthanized. Due to the circumstances of the case -- and insufficient dog laws -- county officials have to receive "consent" from the incarcerated daughter, who by definition is a criminal, in order to euthanize her three dogs. Also, one of the female dogs is pregnant. So the neighbor has a pack of pit bull-mixes, one being pregnant, in her home and apparently was assisting a 92-year old woman with dementia.
It is unknown how long the neighbor had been caring for her incarcerated daughter's three dogs. Was it a few days, a few weeks or a few months?
The victim's son, Dr. Andrew Alexander, said that his mother's prognosis is not good. "We know she'll lose a leg," he said. "It looks like she'll lose an arm. We're not sure she's going to make it out of here alive." Alexander can't understand why a crime has not occurred. "This sort of violent act on someone to this degree," Alexander said. "I'm not convinced that there's no crime that did not happen." Alexander now must face the reality that there are no laws that protect his mother.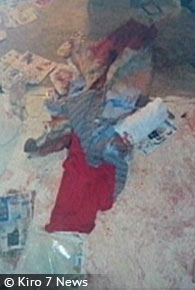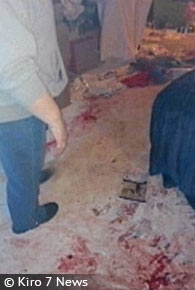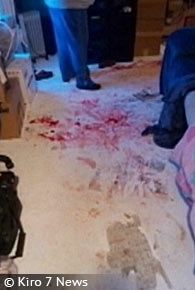 03/07/16: Victim Remains in Critical
Thurston County, WA - An elderly woman remains in critical condition after being brutally attacked by up to four dogs while visiting her neighbor's home. On Sunday, Gladys Alexander, 92, suffered life-threatening injuries when she entered into her neighbor's home who was away at the time. Her neighbor has regularly assisted Gladys with day-to-day tasks, and the two often went into each other's houses. The neighbor owns one of the dogs and was "temporarily" dog sitting the others.
Thurston County Sheriff's Office described each of the attacking dogs as pit bull-mix variations, two adults and two younger dogs.
Gladys was airlifted to Harborview Medical Center at 6:05 pm Sunday. She remained in critical condition Monday. Her son, Wayne Alexander, told The Olympian she suffered severe injuries to her skull and lost a lot of blood. She also suffered broken bones in one arm and a broken leg due to the attack. If she survives through the next two days, doctors will amputate one of her legs and one of her arms, Wayne said. "The expectations of survival are pretty low right now," he said.
At the time of the attack, the neighbor was away on an errand. As soon as Gladys let herself into the home, the dogs violently attacked her, "dragging her down a hallway," according to a Kiro 7 News report. The neighbor returned home during the attack and quickly intervened by restraining the four dogs and calling 911. Thurston County Sheriff's Office said the animals have been placed on "home quarantine" for 10-days and that no criminal charges are pending in the case.
On Monday, Komo News published part of the 911 call made by the neighbor. "Please hurry! There's lots of blood all over!" she told dispatchers. "She let herself in, which she doesn't normally do. And my dogs are protective. And she's a real small lady. And they started getting her," she said. The dogs attacked Gladys as soon as she entered the front door. The Komo footage also shows the dogs barking from the window in the home, as "home quarantine" means just that.
The three other dogs belonged to the neighbor's daughter, according to deputies. Animal Control is currently determining if any of the dogs should be designated "dangerous." Thurston County Sheriff's Sgt. Tim Rudloff said that his office is not aware of any previous problems with these dogs. On Monday, the neighbor agreed to have her animal euthanized. At that time, Thurston County Animal Services was attempting to contact her daughter who owns the other three dogs
Sheriff's Office News Release
Thurston County Sheriff's Office issued a release Sunday stating that patrol units were called to a home on Entrée View Drive SW in the Scott Lake community. Medical responders had been dispatched to the home for a 92-year old woman with life-threatening injuries caused by multiple dogs. The elderly victim, who has dementia, had gone to visit her neighbor who was not home. It was not unusual for her to enter the home because the neighbor helps her with day-to-day tasks.
According to the release, after entering the residence the victim was attacked by up to four dogs inside. Only one of the dogs belongs to the homeowner. She was "dog sitting" the other three for a relative, states the release. As the woman was being attacked, the homeowner arrived home and immediately intervened to stop the attack and called 911. The victim was airlifted to Harborview Medical Center at about 6:05 pm with life-threatening injuries consistent with a dog mauling.
There is no criminal case pending. Thurston County Sheriff's Office identified the dogs as:
One adult, male dog of Pit bull / Lab mix breed.
One adult, female dog of Pit bull / Heeler mix breed.
One Juvenile, male dog of Pit bull / Lab / Heeler mix breed.
One Juvenile, female dog of Pit bull / Lab / Heeler mix breed.
Related articles:
10/08/15: 2015 Dog Bite Fatality: Elderly Woman Dies After Dog Attack in Miami-Dade
08/19/15: 2015 Dog Bite Fatality: Multiple Pit Bulls Kill Elderly Man in Pecos, Texas
11/04/14: 2014 Dog Bite Fatality: Pit Bulls Kill Modesto Man, Critically Injure Another